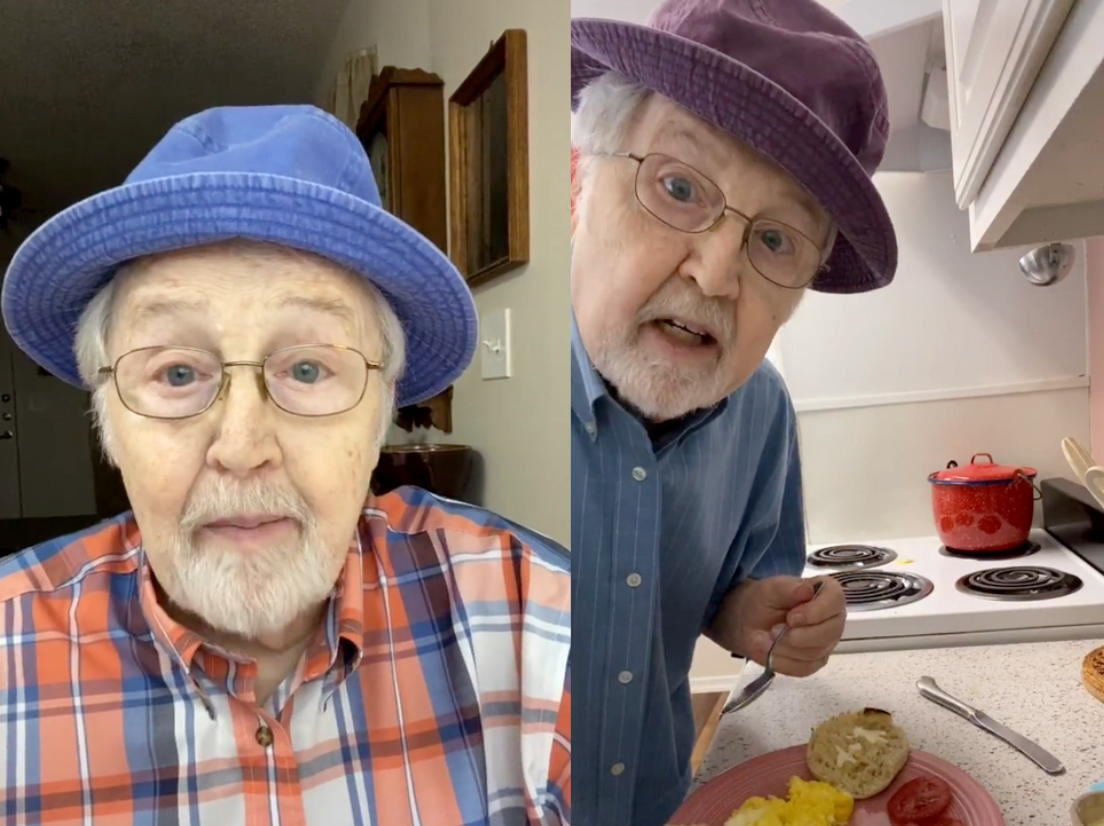 "Old Man Steve" Is 81, Adorable, and Stealing Everyone's Heart on Tiktok
By Katie Garrity

Mar. 4 2020, Updated 10:15 p.m. ET
TikTok has become one of the most popular social media apps in the world. Boasting over 1 billion users and over 123 million app downloads, the most popular social networking app right now is not going anywhere anytime soon. It has become a breeding ground for young people to dance, lip-sync, and create memes. The app's target demographic is aged 13 years old to 30 years old. So heads turned when an 81-year-old man by the name of Stephen Austin came on the app and simply made a sandwich. 
Article continues below advertisement
Stephen Austin is better known on TikTok as  "Old Man Steve," and he has quickly become a viral sensation thanks to his hilarious and light-hearted content. Typically donning a brightly colored bucket hat, Steve cooks for his followers as well as gives helpful advice from the perspective of someone who knows a thing or two about life. Basically, he is the most precious man on the planet and must be protected at all costs. 
"Old Man Steve" learned how to use TikTok with Google.
When asked on CNN how he is able to understand a social media platform made for Gen Z, he said he just Googled things he didn't understand. "I just learned by doing it," Stephen explained, "It's not really that hard. As you go along, you're gonna learn more. There were a couple of things I didn't understand, but you just Google." 
Article continues below advertisement
Steve is currently sharing his cooking adventures and words of wisdom with over 600 thousand followers. The Texas native prides himself on his wholesome content and it seems to be working for him. Many of his most popular videos have amassed over 200,000 views and altogether he has over 5.8 million likes on TikTok.
Article continues below advertisement
He just wants to make people smile and feel good.
When it comes to the motive behind his TikTok, "Old Man Steve" told TODAY that he just wants to make people happy. "I've always been a jokester, so I guess it's just me. Besides, I hope it makes people smile or laugh or maybe have a good day," Stephen explained. 
Article continues below advertisement
When it comes to the concepts behind Stephen's TikToks, he says he kind of just makes it up as he goes. "Most of the time, I just get before the camera and start talking. Some things you have to set the stage, but most are just off the cuff," he told TODAY.
His off the cuff videos make him all the more adorable and genuine. 
Article continues below advertisement
Everyone wants "Old Man Steve" to be their grandpa.
While Stephen doesn't have any children or grandchildren of his own, he feels so much love through the community he has built on TikTok. "I don't have kids or grandkids," he told CNN, "and the young people that watch me tell me in the comments that they want me to be their grandpa or that I remind them of their grandpa or they call me their "internet grandpa" and that makes me feel good."
Stephen thanks his followers and fans on a regular basis and tells them that their positive comments and love make him feel less alone. Now, what's better than that?