"Wholesome and Hilarious" — Elderly Man Accidentally Thought Visiting Neighbors Were on Phone
Two generous neighbors became worried when their older neighbor didn't answer their house call because he thought they were actually calling him.
Whether religious or not, you've likely heard the phrase "love thy neighbor" from the more extended Matthew 22:37-40 verse encouraging others to "love thy neighbor as yourself." The quote has been a popular way to remind people to care for the people beside them whenever possible.
Article continues below advertisement
One family certainly takes their commitment to love their community seriously. While bringing their elderly neighbor dinner, a mother posted his hilarious reaction to their unexpected home visit on TikTok.
Here's what happened.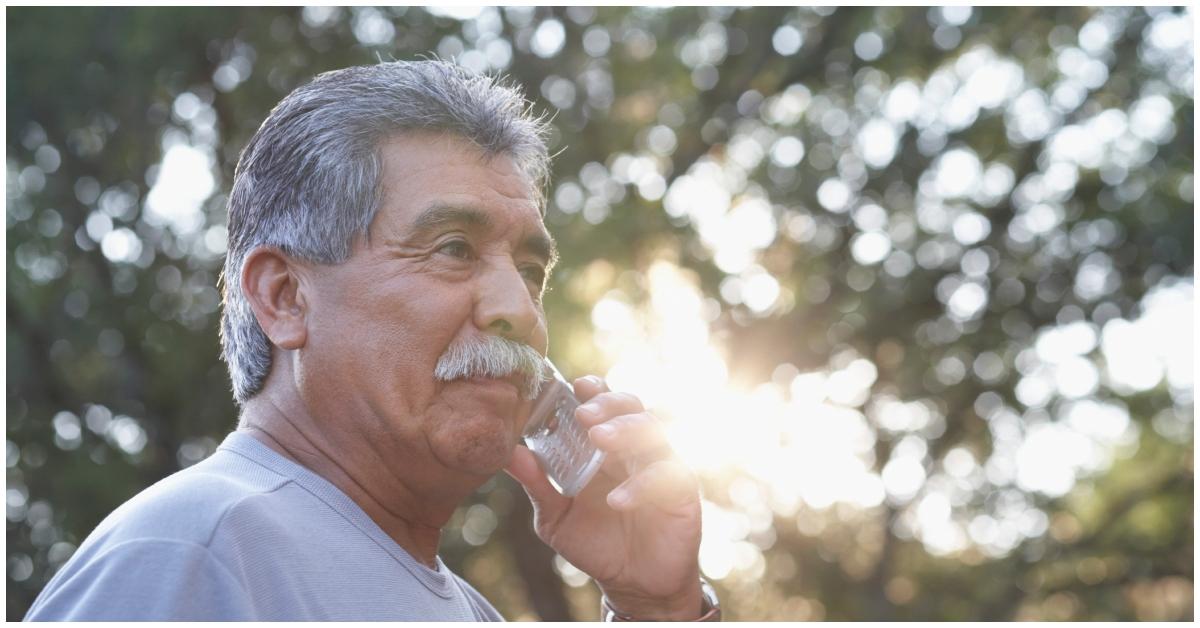 Article continues below advertisement
A confused older neighbor thought his visiting neighbors were talking to him on the phone.
In July 2023, a TikToker named Tiffany (@tiff_any88) shared a video of herself, her daughter Abby Grace, and Abby's friend visiting their neighbor, Mr. Jones. Tiffany explained through text on the video that her family brings Mr. Jones "supper" every evening and brings it to him on his porch. However, one fateful day, the family noticed Mr. Jones wasn't on his porch and became concerned for the beloved older gentleman.
In the video, once they realize Mr. Jones is in his house, Tiffany, Abby, and the friend enter the space as Abby yells, "Mr. Jooones!" multiple times. They continue walking through their neighbor's house until he finally responds. However, the older man didn't notice his visitors coming by and thought Abby was chatting with him on the phone.
"Mama, mama, he thinks I'm on his phone," Abby tells Tiffany, who is laughing uncontrollably in the background.
Article continues below advertisement
As Abby and Tiffany try to get Mr. Jones out of his room, he still believes Abby is talking to him on the phone and keeps asking the girl to "speak up." He is having an entire conversation with himself as Abby begs him to "come to the living room" so he can see they are already there with his food.
Article continues below advertisement
After about a minute of trying to get Mr. Jones's attention, Abby bravely enters his bedroom, even though they feared he might not have any clothes on. Fortunately, when Abby, her friend, and Tiffany step into the doorway of the room, Mr. Jones is fully clothed, but just as confused.
Abby proceeds to call his name. But poor Mr. Jones, who is facing the other way, still doesn't know what is happening as he continues talking to "Abby" on his flip phone. Once again, Abby calls his name and tells him she is "beside you" until he finally notices his neighbors are already at his house.
Article continues below advertisement
Abby then approaches Mr. Jones to tell him they had brought over his dinner and were "scared" because he wasn't answering the door. Mr. Jones explains that her voice was "really low" when she called his name, hence why he thought she was on the phone. It happens to the best of us!
Article continues below advertisement
The older neighbor is now a regular member of Tiffany's TikTok.
After posting her adorably confused neighbor, Mr. Jones, Tiffany received over 1 million views on TikTok. She also received many positive comments from TikTokers, who instantly fell in love with the elder upon watching the video.
Article continues below advertisement
"This is so wholesome and hilarious," one user wrote. "Thank you for checking on him and loving him. I'm sure that has enriched his life tremendously.🥰"
"I just need to know more about Mr. Jones," another demanded.
Article continues below advertisement
One user also declared that Tiffany and Abby's neighbor is "OUR Mr. Jones now." She then vowed to post more Mr. Jones-related content and has since made due on her promise.
Since the viral video's release, Tiffany has posted several more videos of Mr. Jones bonding with her daughter outside on his lawn.
The TikToker also shared in July 2023 that she created a P.O. Box for her neighbor and encouraged all of his new fans to send him a card with a Bible verse or other kind of message. The decision came after Mr. Jones received a surplus of comments from Tiff's audience asking how to support him further.