Owner Tracks Cat and Discovers She Regularly Visits 5 Different Homes
Some people just wonder where their cats go when they wander out of the house. But Aoife McAleer decided to do something about it.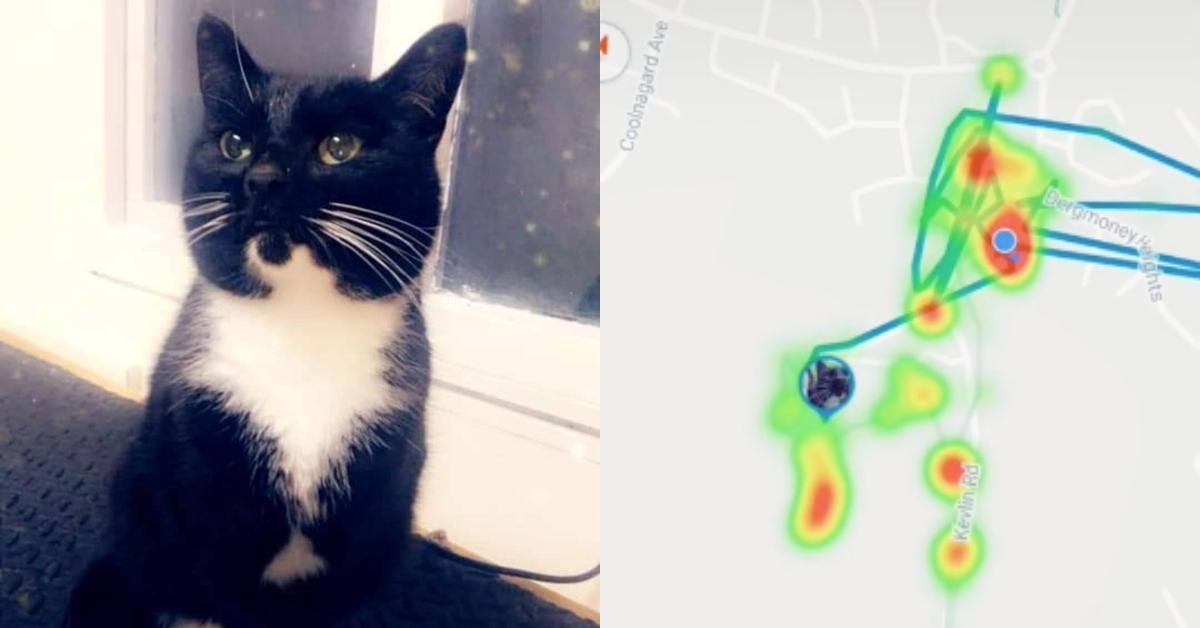 Cats are very mysterious beings. They don't like to be tied down. They're natural wanderers. And Aoife McAleer's cute cat, Jagger, is no exception. But Aoife wasn't content to let her cat live a life of mystery without at least trying to figure out where she went when she left the house.
Article continues below advertisement
So Aoife did what any conscientious pet owner / pet sleuth would do. She bought a GPS tracker and attached it to Jagger's collar. And then she realized that her cat might actually have nine lives (well, five) that's she's living simultaneously. Aoife explained her findings in a viral TikTok.
Article continues below advertisement
"So I bought a tracker for my cat," the TikTok begins. We see Aoife unwrap the tracker and attach it to Jagger's collar. And then we see the map of all the places Jagger goes.
Turns out she's been in about five houses! This cat has multiple secret families! Aoife knew that Jagger wandered around the neighborhood, but she didn't know the extent of Jagger's adventures.
Article continues below advertisement
She told Bored Panda, "I knew that she visited a few houses (in fact one household actually named her Peter) and she would always come home after her adventures each day, but I was interested to see where exactly she visited and was super shocked to see she visited many houses and it looks like she was fed at many also. More interestingly, she actually stayed there for some time."
In short, Jagger is a neighborhood moocher! Aoife, who lives in Ireland, isn't too worried that Jagger goes off and does her own thing. "I know there are risks in some countries with wild animals, etc., but thankfully here, we don't have those risks," she said.
Article continues below advertisement
"She was a product of an unneutered feral cat. So when we got her, the first thing we did was make sure she was neutered to avoid kittens. She didn't love being inside for long periods of time and got quite stressed, so we allowed her out.
Article continues below advertisement
"I know one family looked forward to seeing her come each day. They told me they feed her snacks each day, and I'm pretty sure she did the same with other houses. She would be home at 5 p.m. each night for another feed too."
Aoife's also decided to track the movements of her other cat, Cookie, but Cookie doesn't have quite the established pattern that Jagger does.
Article continues below advertisement
"Jagger's tracking data was a lot more active," Aoife said. "She traveled to so many households but she was feisty and confident, so I expected it. Cookie's data was a lot less exciting. She's a nervous cat (also feral as a kitten) and she stayed within our household area."
I suppose no two cats are alike. While Cookie preferred to stick it out at home where she knew she would be cared for and fed, it seems that Jagger has established quite a routine and quite a roster of homes and families who let her in and consider her part of their daily lives. It's the greatest con a cat could pull!