Jason Momoa Is Portraying Ozzy Osbourne in a Music Video, and We're SO Confused
Ozzy Osbourne and Jason Momoa are making a music video together, and in it, Momoa is going to portray the British heavy metal musician.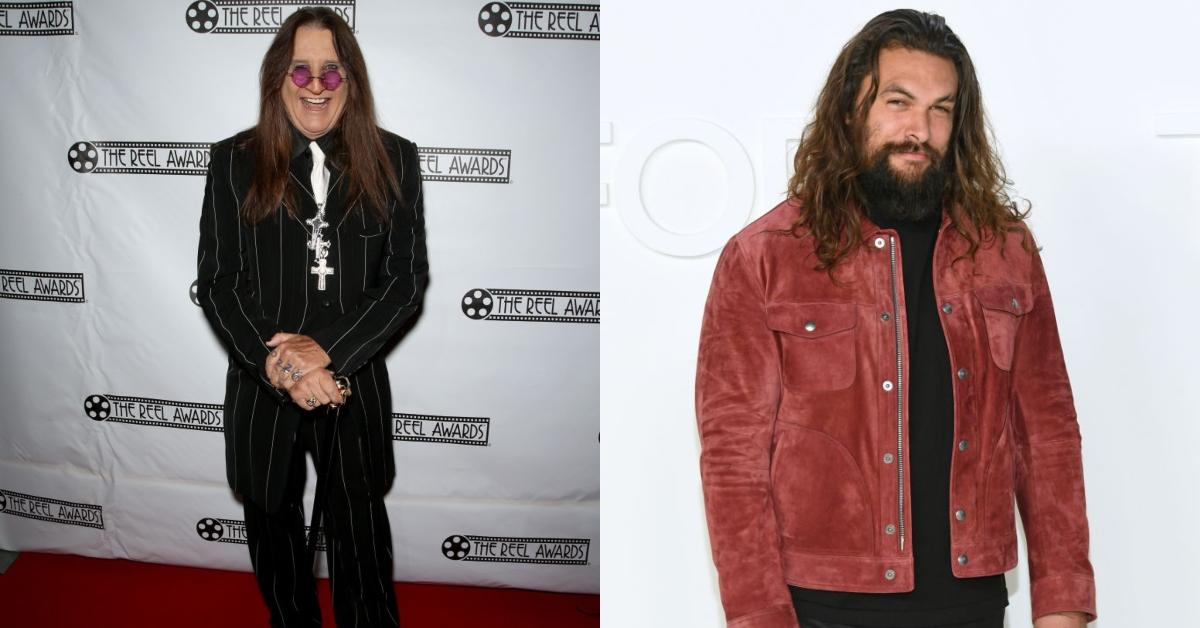 Over the last four or five decades, Ozzy Osbourne has done some things that nobody can quite wrap their heads around, from viciously biting the head off an unsuspecting bat, to setting chickens on fire. Needless to say, the heavy metal legend has successfully managed to keep fans on their toes.
Article continues below advertisement
And although Ozzy's endeavors never manage to come as a total shock nowadays, one of his latest music videos definitely has fans scratching their heads. Ozzy Osbourne and Jason Momoa worked on a music video with the Game Of Thrones hunk portraying Ozzy in the video. And since those two seriously could not be more different, we have so many questions right now.
Article continues below advertisement
Jason appeared in the promotional video for Ozzy's latest album.
Diehard Ozzy fans have been anticipating new music from the 71-year-old rockstar for quite a while now, so his latest album, "Ordinary Man" was welcomed with open arms. In the promotional video for the album, a hooded figure — who we assume is Ozzy — steps in front of the camera, singing one of the newest songs off the album, titled "Scary Little Green Men."
When the singer takes the hood off, however, viewers see that it was actually Jason Momoa dressed as Ozzy the entire time, lip-synching the song. Say what? Sporting his classic long locks and nearly 10 pounds of eyeliner, the Aqua Man star somehow looks exactly like the heavy metal singer. Take a look at it for yourself, below — it's truly shocking.
Article continues below advertisement
Why is Jason Momoa promoting Ozzy's music?
Apparently Jason helped the rockstar out promote his latest album, because he's secretly a total metal head. According to Bored Panda, Ozzy and his crew approached the Hawaiian actor after finding out that he really loves metal music. In the past, Jason has listed his inspirations as Tool, Metallica, and Black Sabbath, Ozzy's former band.
Article continues below advertisement
Apparently, the award-winning film and TV actor has been spotted at several heavy metal shows including Slayer, where he sang on-stage alongside Pantera frontman, Philip Anselmo. He also reportedly took metal singing lessons from Archspire's Oli Peters. So, although Jason doesn't look like Ozzy (re: the tan, muscles, etc.), he definitely knows a thing or two about his genre of music! Fingers crossed he appears in all the album's new music videos.
Article continues below advertisement
"Ordinary Man" is garnering positive attention from fans worldwide.
After 12 solo albums, you'd think Ozzy's music would be a little tired, but apparently, "Ordinary Man" is just as epic as the others. According to Rolling Stone, the album is soulful, depicting the artist staring down his inner demons. In the last year, he's faced a slew of daunting health problems, from Parkinson's, to a nearly-fatal staph infection.
His new tracks also confront mental health issues and self-esteem problems the rockstar often faces, after 50 long years of being in show-business. It's raw, emotional, and definitely doesn't disappoint.
Needless to say, Jason is probably thrilled to be working on this major milestone for Ozzy, which many are calling the rockstar's "comeback album."