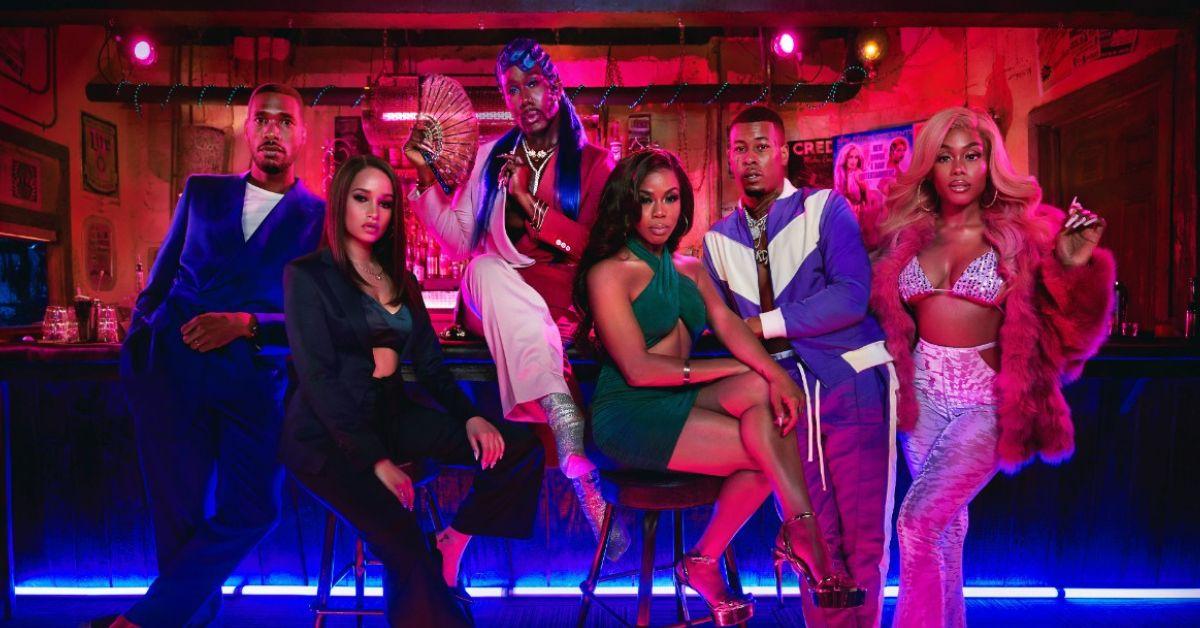 The 'P-Valley' Cast Is Active on Instagram — Here's Where to Follow Them
Starz's hit series P-Valley has an active social media presence. During its two-year hiatus, the show's fans created sensational memes about when it would return on the air. P-Valley's showrunner and creator, Katori Hall, has appeared on her socials to tease the show's new episodes. More recently, singer Nicci Gilbert has utilized her Instagram and Twitter accounts to accuse the show's writers of using several ideas from her play, Soul Kittens Cabaret.
Article continues below advertisement
Much like P-Valley, its stars enjoy updating content online. So, what are the P-Valley cast's Instagrams? We have them here!
Nicco Annan
On his Instagram page, @alldaynicco, Uncle Clifford star Nicco Annan enjoys showing many behind-the-scenes moments from his time as the Pynk's boss. Nicco also posts photos from other gigs, such as his recurring role on CW's All-American.
Article continues below advertisement
Brandee Evans
Brandee's Instagram username, @therealbrandee, perfectly fits her aesthetic. Although she's an actress and choreographer who landed her big break as Mercedes, she refers to herself as a caregiver first. In her bio, Brandee also has the Bible passage "Jeremiah 29:11," giving fans insight into her faith. She takes care of her mother, Diana Harrington, who was diagnosed with multiple sclerosis over 20 years ago, per Essence. Brandee often posts adorable photos of her and Diana in matching outfits.
Article continues below advertisement
Elarica Johnson
Autumn Knight may be a mystery, but Elarica, the actress who plays her, is pretty open on Instagram. On her account, @elarica, she frequently shares updates on her life on and off-camera. In addition to her stunning behind-the-scenes posts from filming P-Valley, Elarica gives her fans "pupdates" on her Maltese, whom she affectionately calls Poppa.
Article continues below advertisement
Shannon Thornton
Like her character Keyshawn (aka Miss Missississippi), Shannon keeps her Instagram page active. The actress's account, @shannonthornt_n, has plenty of photos of her attending press events for P-Valley or rocking a natural look at home. Shannon also posts moments with her P-Valley castmates and celebrity friends such as sports journalist Taylor Rooks.
Article continues below advertisement
Parker Sawyers
Parker enjoys updating his Instagram followers on his latest work, like playing Andre in P-Valley. His account, @parkersawyers, doesn't have a selfie as its profile picture, and the Southside With You star is even more private in his captions. However Parker has no problem sharing he's a proud father of two, as his kids make several appearances on his page. The actor and his wife, Edita Ubartaite, have a son, Winston, and a daughter, Sophia.
Article continues below advertisement
J. Alphonse Nicholson
While J. Alphonse posts his P-Valley alter ego, rapper Lil Murda, on his Instagram, his bio makes it clear that his real life is vastly different. On his page, @j_fonz, the actor told fans he is a father and husband. J. Alphonse has multiple photos of him and his wife, Nafeesha. In January of 2022, he celebrated his "pretty baby's" birthday with the couple's picture.
Article continues below advertisement
Loretta DeVine
Loretta's Instagram, @lodivadevine, updates fans on her current projects while paying homage to her roles throughout her decades-long acting career. Many of her posts vary from behind-the-scenes moments of her time on P-Valley's set to her getting her makeup done while filming Waiting to Exhale in the '90s. We're always down for some #throwbackthursday content!
Article continues below advertisement
Tyler Lepley
Tyler keeps his Instagram, @tylerlepley, balanced with his acting roles and personal life. In addition to showing clips and photos of him as Diamond in P-Valley, he shares scenes from his other parts on Harlem and The Haves and the Have Nots. Off-screen, though, Tyler posts moments with his two children. The actor also took to his page to inform fans that his girlfriend, Miracle Watts, is pregnant.
Article continues below advertisement
Skyler Joy
Skyler updates her followers on her life outside of P-Valley on her Instagram, @skylerjoy. When she's not posting photos of herself as Gidget or hanging out with her castmates, she's sharing modeling campaigns or her childhood pictures. Additionally, Skyler enjoys posting her date nights and milestones with her boyfriend, actor Liam Samuel Watkins III.
Article continues below advertisement
Dominic DeVore
Dominic might be known as Gidget's drug dealer boyfriend, Duffy, but he leads a different life on his personal Instagram. On his page, @dominicdevore, fans can find photos of the actor snuggling his dog, Archie, or enjoying time with his friends and family.
Article continues below advertisement
Catch new episodes of P-Valley on Friday nights on Starz.