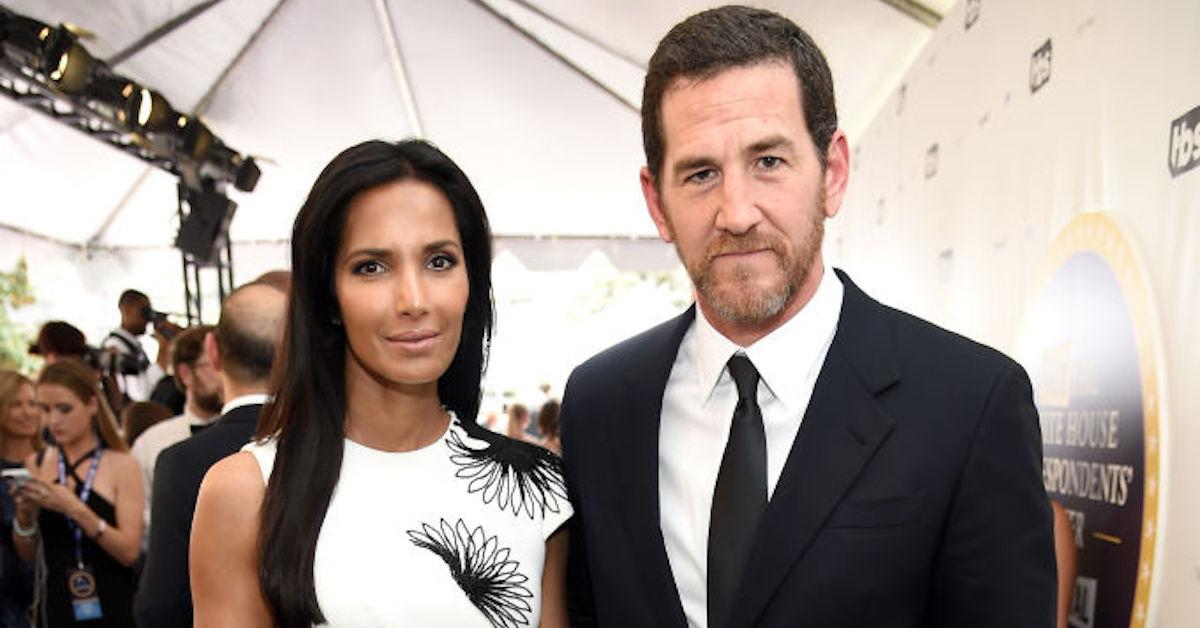 Padma Lakshmi Seems to Be Quarantined With Her Daughter and Boyfriend
On the heels of the release of her new Hulu food show, Taste the Nation, Padma Lakshmi took to Instagram on Father's Day to thank her boyfriend "so much for always being there for Krishna and for me."
Article continues below advertisement
The romance between Padma and Adam Dell has had its ups and downs, to say the least. Back in 2011, Adam sued the Top Chef host for full custody of their daughter and to have her take his last name, but the pair rekindled their relationship in 2017.
We were secretly hoping for Padma's boo to make an appearance in her Hulu show, the way Krishna, aka "Little Hands," and Padma's mom Vijaya did, so we could learn more about the author and model's boyfriend.
We'll do the research instead. Keep reading for what you need to know about Padma Lakshmi's boyfriend and their ups and downs.
Article continues below advertisement
Padma Lakshmi's boyfriend is venture capitalist Adam Dell.
Padma began dating Adam, the brother of Dell Inc. founder Michael Dell, two years after she divorced Nobel Prize-winning novelist (and by all accounts abusive husband) Salman Rushdie.
Article continues below advertisement
At the time, Padma was also dating the billionaire CEO of the global sports and media empire IMG, Ted Forstmann, and didn't want to settle down with either so soon after her marriage to Salman had ended.
Article continues below advertisement
She would become pregnant with Adam's child, news that enraged boyfriend Ted, who begged her not to involve the baby daddy, she writes in her 2016 memoir Love, Loss, and What We Ate.
Ted promised to support the child as his own, and kept his promise until his 2011 death due to glioblastoma, an aggressive brain cancer. Ted, who was worth an estimated $1.8 billion at the time of his death, left Krishna with a trust fund. Krishna's middle name, Thea, seems to be an homage to Ted, who Padma encouraged Krishna to call "papa."
Article continues below advertisement
The following year, in 2012, Adam and Padma finally figured out their drawn-out custody battle out of court. Adam had taken his ex to Manhattan Supreme Court saying that she had aimed "to minimize, if not eliminate [his] role in Krishna's life and to install Forstmann as Krishna's father," according to court papers.
Article continues below advertisement
They managed to figure out their dispute privately, and Adam succeeded in having his daughter carry his last name. "He had wanted full custody, but they came to a compromise," sources told the New York Post. "Padma maintains the same rights she always had."
In 2017, the couple attended January's Women's March on Washington D.C. together with their daughter, and Padma posted pictures of the trio on Instagram. At the time, outlets reported that the two were taking things slow and trying to rebuild their friendship to continue co-parenting Krishna.
And while they might have taken things slow, their relationship has clearly been going steady. The co-parents were spotted getting "hot 'n' heavy at a Soho eatery" in 2019, per Page Six, and seem from Padma's Instagram page to be currently quarantining together with their 10-year-old daughter.
Watch Taste the Nation on Hulu today.