This Video Proves That Spray Paint Can Definitely Ruin Your Car's Exterior
One woman reminds folks in a video to never park near a spray paint can or run over one after watching cars get ruined firsthand by the aerosol paint.
It's unreal how much useful information you can learn from social media — especially when it comes to having a car.
For example, if I ever found a water bottle stuck in one of my car's wheel wells, I'd probably think nothing of it. But this video clued me in on how it is a method criminals use to try and hijack cars. If there's a water bottle in one of you wheel wells, you could be in danger.
Article continues below advertisement
That said, one TikTok creator recently shared another thing to keep your eyes peeled for if you own a car. The video proves that parking lot spray paint can destroy cars. Keep reading for all of the details.
TikTok user shares video proving that parking lot spray paint can destroy cars.
When parking your car you probably don't inspect your surroundings to see if there are any spray paint cans nearby. That's because it's not a usual sight to see.
But on the off occasion that you do find yourself in a situation like this, you'll be happy you watched this TikTok.
Article continues below advertisement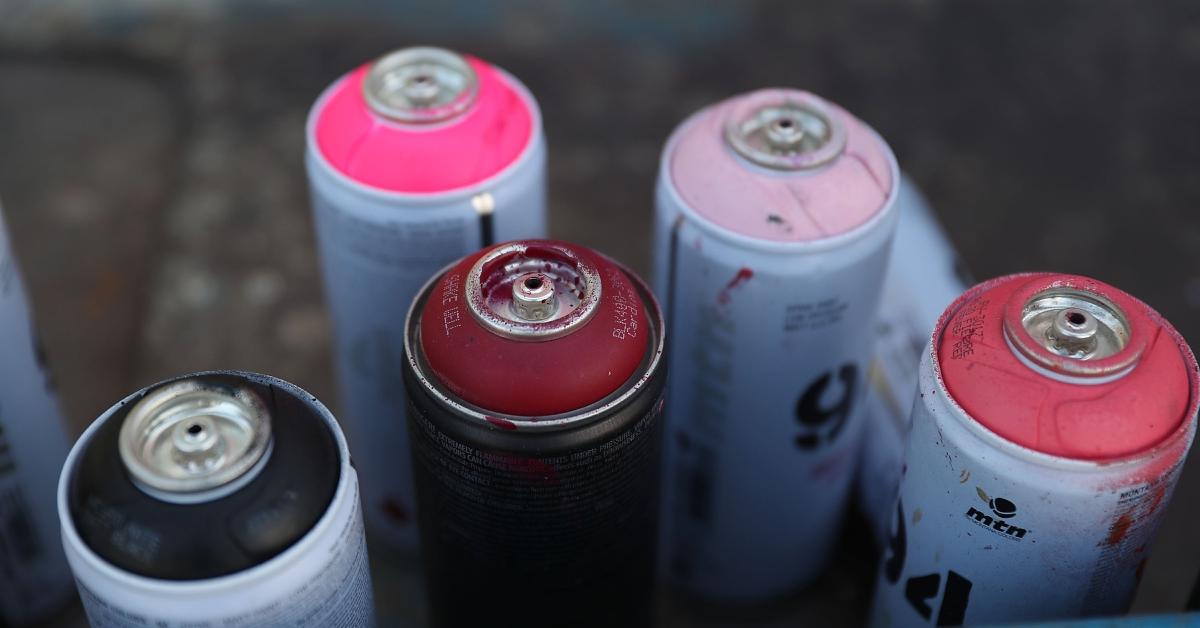 TikTok user Rebecca Valderrama (@humbleears) recently shared an important message. She wanted to warn others about the damage that spray paint can do to a car's exterior.
Article continues below advertisement
"So quick PSA, before you park, make sure there aren't any spray paint cans lying around," she says as she pans her phone to show her current location, a parking lot where she spotted three spray paint cans lying around. It's also important for drivers to avoid running over spray paint cans in the road, parking lots, or anywhere they might be driving.
Article continues below advertisement
First, Rebecca shows us a can of green spray paint that looks like it has been crushed beneath the tires of a moving vehicle.
As a result, a few splatters of paint can be seen surrounding the can. However, that's nothing compared to the nearby silver car that is saturated with green paint.
Rebecca then shows us a red crushed spray paint can that seemingly made a mess around a black pickup truck. Thankfully it looked like the exterior of the truck had barely been tainted. However, the ground beneath and surrounding the truck bled out red.
Article continues below advertisement
Last but not least, Rebecca shows us a third spray paint can — this time it's orange — that she found in the parking lot. The can was full and luckily hadn't been able to wreak havoc yet. However, if Rebecca didn't remove the can from the parking lot, it probably would have ruined another car.
In the caption, she wrote, "I hope their insurance covers the damage." She also tagged her location as San Antonio, Texas.
Article continues below advertisement
"I'd be sobbing," wrote one person in the comments. Another said: "I gasped out loud."
Others, unfortunately, claimed that their cars had been victims of spray painting incidents like this. "My mom's car is still purple from running over a paint can of mine," read one comment.
Some users claimed that it's possible to get the paint off the car's exterior, noting that auto shops sometimes have designated graffiti wipes.
However, it goes without saying that even if it's a quick cleaning job, you probably don't want this happening to you in the first place.
Article continues below advertisement
Thank you Rebecca for performing your civic duty by informing TikTok that spray paint cans should never be near your car unless you're planning a new paint job. We are grateful for the heads up!