Virulent Anti-Gay Christian Televangelist Pat Robertson Has Died at Age 93
Pat Robertson, the popular Christian televangelist who spewed homophobic rhetoric, has died at age 93. Here's what we know about his cause of death.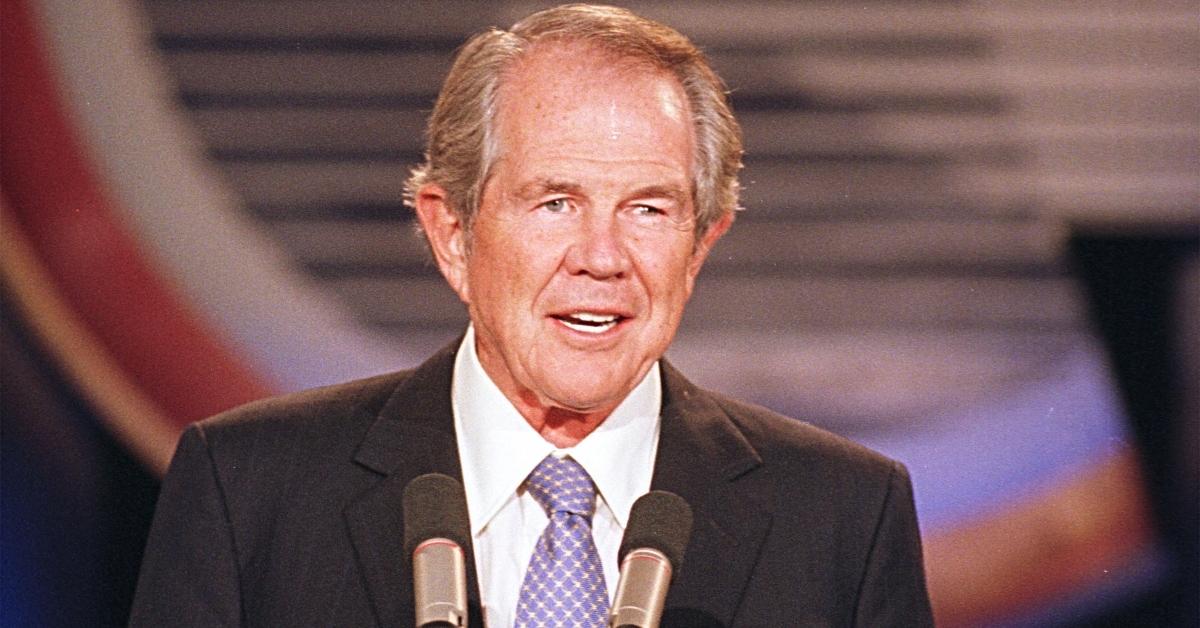 Over the years, Pat Robertson was many things. He was a Southern Baptist minister, media magnate, presidential candidate, and political commentator. In the waning years of his life, Pat devoted much of his time spewing anti-gay rhetoric on his show, The 700 Club. After the mass shooting at Pulse Nightclub in Orlando, Fla., he famously said that the liberal support of both the LGBTQ+ community as well as Islamic people was causing a "dilemma" among the left, adding that "for those of us who disagree with some of their policies, the best thing to do is just sit on the sidelines and let them kill themselves."
Article continues below advertisement
It was recently announced that Pat passed away on June 8, 2023, at the age of 93. This announcement came by way of the Christian Broadcasting Network (CBN), the religious media company Pat and his wife Dede established in 1960. Like Pat, its reach was far and wide. Here's what we know about the conservative Christian's cause of death.
Article continues below advertisement
What do we know about '700 Club' creator Pat Robertson's cause of death?
According to the Associate Press, as of the time of this writing, Pat's cause of death hasn't been revealed yet. His life, however, was marked by his ability to bring Christian conservatives and Republicans together. Historically, Pat was known for spreading some rather alarming conspiracy theories. He had "a history of extreme, bigoted commentary — including that gay people and abortion caused 9/11, that Haitians deserved the 2010 earthquake that ravaged the island nation, and that feminists are evil," reported Rolling Stone.
On his own website, Pat described a rather idyllic childhood. Born March 22, 1930, in Lexington, Va., he was raised in a political family. Pat's "ancestry includes Benjamin Harrison, a signer of the Declaration of Independence," as well as two U.S. presidents: William Henry Harrison and Benjamin Harrison. It's no surprise that he ended up at Yale University Law School, graduating in 1955 with a juris doctor degree. He would later attend New York Theological Seminary where he earned a master of divinity degree.
Article continues below advertisement
Two years after earning his divinity degree, Pat founded CBN and created The 700 Club. The religious show with a talk-show format was the first of its kind and had a strangely wide variety of guests. In its first 50 years, Pat spoke with people like President Jimmy Carter, Israeli Prime Minister Benjamin Netanyahu, James Earl Jones, and Gary Busey. Of course there were times when Pat's opinions were criticized.
Article continues below advertisement
Pat "condemned Democrats caught up in sex scandals, saying for example that President Bill Clinton turned the White House into a playpen for sexual freedom," per the AP. Two decades later, Robertson shrugged off Donald Trump's "sexual predatory" comments by claiming the former president was attempting to "look like he's macho." After Trump lost to Biden, Pat said he needed to move on and was clearly living in an "alternate reality."
Some of Pat's more dangerous opinions were rooted in his religious beliefs. In 1998, the Christian pastor said the city of Orlando should be worried about hurricanes because they allowed an annual Gay Days event to continue. Seven years later, he "warned residents of a rural Pennsylvania town not to be surprised if disaster struck them because they voted out school board members who favored teaching 'intelligent design' over evolution," wrote the AP.
Article continues below advertisement
Strangely in 2010, Pat demanded that mandatory prison sentences for marijuana possession convictions should end. In Pat's opinion, the war on drugs had failed and marijuana was no different than alcohol. This is of course was little comfort when one considers how much damage Pat did in his lifetime.
Article continues below advertisement
Pat's humanitarian work came under fire in 1994 after the Rwandan genocide, as explored in the film Mission Congo (per The Daily Beast). Apparently Pat pleaded for 700 Club viewers to pledge money to his nonprofit Operation Blessing International (OBI). The plan was to ship doctors and medicine to the war-torn country. That allegedly didn't last.
Jessie Potts, who reportedly served as operations manager for OBI in 1994, claimed that the charity was no longer sending medical teams to the refugee camp Goma just weeks into the whole operation. Instead, the planes were allegedly carrying equipment used to mine for diamonds. The donations and cargo planes were supposedly used for the African Development Company Ltd, a for-profit company of which Pat was reportedly the sole shareholder and president.
Article continues below advertisement
The responses on social media to Pat Robertson's death are quite powerful.
Many people are reminding the world about some of the most toxic nonsense Pat spewed while he was alive. Twitter user @MaceAhWindu compiled a thread comprised of several examples. Pat "called Hinduism and Islam demonic and satanic," wrote @MaceAhWindu.
Pat also went on his show after Katrina decimated New Orleans and apparently suggested this was a punishment by God because of abortion. He was still up to his racist tricks as recently as 2017 when Pat suggested that the "Las Vegas shooting was caused by NFL players taking a knee before games and disrespecting President Donald Trump."