Who Was the Late Pat Robertson's Wife, Dede? They Had a Decades-Long Love Story
Dede Robertson died in 2022. Let's get to know the late Pat Robertson's wife and their family, which includes four kids. Also here — Pat's net worth.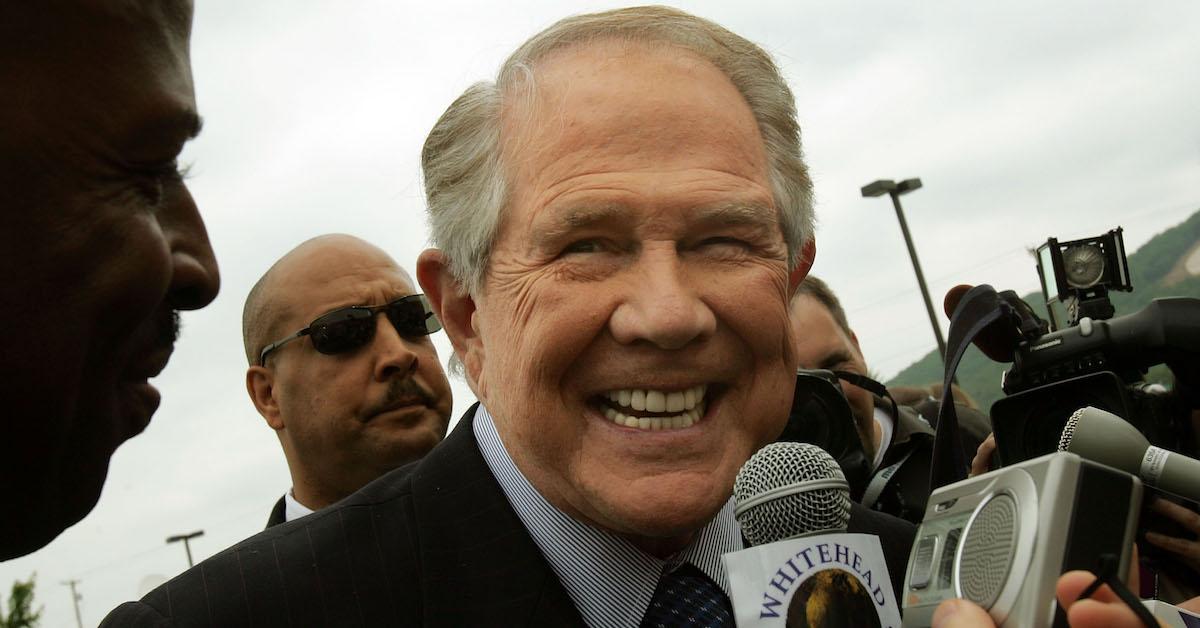 Prolific broadcaster Pat Robertson has died at the age of 93. The former presidential candidate and Christian Coalition founder's family was at the center of his life, including Pat's wife, Dede.
Article continues below advertisement
Dede died a year before her husband at the age of 94. When did the couple meet? Did they have any children? Let's get to know more about Pat and Dede's life together, which started when they met in the 1950s.
Pat Robertson met his wife in 1952 — and they remained married until her death in 2022.
Dede — born Adelia Elmer — and Pat first crossed paths at Yale University in 1952. The Ohio native held a bachelor's degree from Ohio State University and a master's from Yale.
She later converted from Catholicism to born-again Christianity when the Robertsons launched the Christian Broadcasting Network.
Article continues below advertisement
Although their marriage was an enduring one, at times, Dede struggled with her Southern-born husband's traditional beliefs. "I was a Northerner, and Northern men just generally help around the house a little more. I noticed the further south we moved, the less he did," she wrote in her autobiography.
But she also admitted that Pat's work was extremely important and Dede was a founding member of the CBN. She and Pat also raised four children, even as she served in important roles such as principal U.S. delegate to the Inter-American Commission of Women, and wrote numerous books, among other impressive accomplishments.
Article continues below advertisement
Pat and Dede Robertson had four kids together, some of whom worked at CBN.
The Robertsons were parents of four in addition to being world renowned Christian leaders. The couple would welcome two sons, Gordon and Tim, as well as two daughters, Elizabeth and Ann.
Gordon serves as the CEO of CBN.
Article continues below advertisement
At the time of Dede's death, Gordon said in a statement, "Mom was the glue that held the Robertson family together. She was always working behind the scenes. If it weren't for Mom, there wouldn't be a CBN."
Tim hosted the CBN's banner show The 700 Club and has served as a televangelist on the network in other capacities. As far as we know, Elizabeth and Ann don't work for the family business.
The Robertsons had 14 grandchildren and 23 great-grandchildren as of 2022, per .
Article continues below advertisement
Pat Robertson amassed quite a substantial net worth.
Pat was worth at least $100 million, according to Celebrity Net Worth, although some outlets report he may have been approaching billionaire status.
Not only did he launch the CBN, but Pat also founded Regent University, and penned best-selling books such as The New World Order.
Pat will be remembered for his humanitarian work, having founded non-profits such as Operation Blessing.
He reportedly lived in a million dollar-plus Virginia retreat located on 27 acres at the time of his death. In 1995, Pat said about the property, "I appreciate my privacy, and this is a sort of little place I come for my privacy. This is a rather remote, private place."