Mom Praised for Tough Parenting on Her "Entitled" Kids Who Can't Get Ready on Time
A mom is receiving praise for the way she handled her "entitled" kids in a viral TikTok post.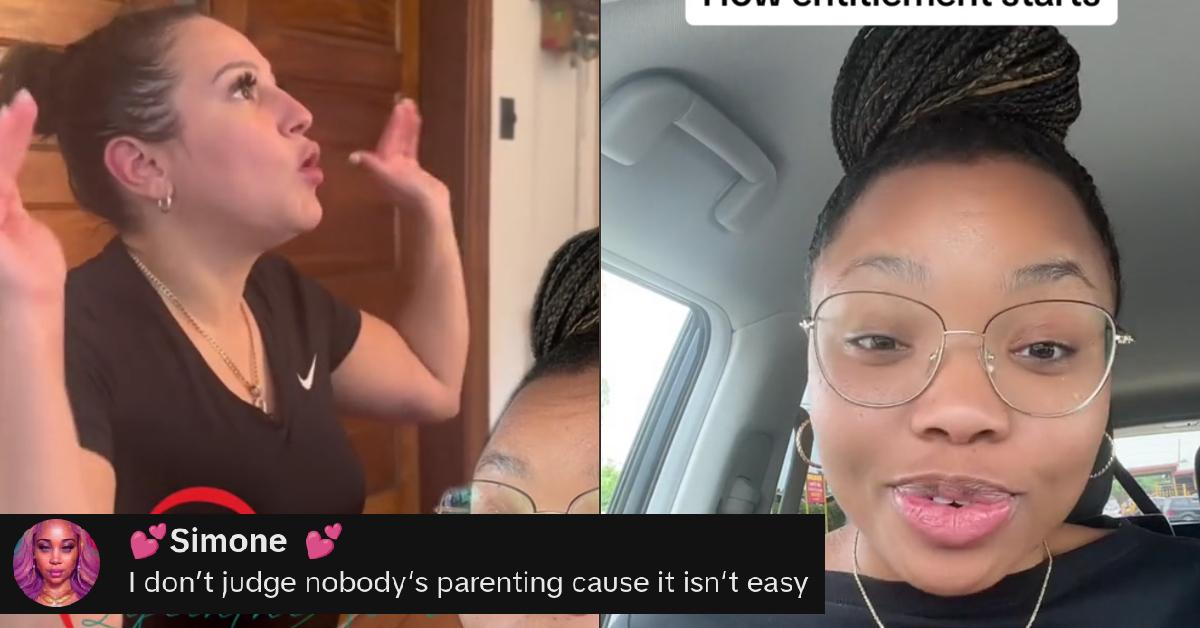 A mother is being commended after footage of her laying down the law on her kids, which appears to have been posted by her own children, surfaced on TikTok. In the clip, she can be seen attempting to talk to them about fulfilling certain responsibilities, but she is constantly being cut off and talked back to by her daughters.
Article continues below advertisement
The video, which was reposted by Ashlee Patterson (@lifeintheashlane) shows the mom attempting several times to tell her daughters to be ready to head out of the door when their father arrives to pick them up for school.
They don't seem to be taking her advice seriously in the clip until she finally goes on a rant highlighting how their behavior is disrespectful while also stressing the importance of being responsible enough to get themselves ready.
Article continues below advertisement
In the clip, they tell their mother her language is "verbally abusive," which the mom mimics and downplays before sticking to the issue at hand: they aren't ready when they're supposed to be ready for school despite knowing what they need to do in order to be ready.
Article continues below advertisement
At the start of the clip when she tries to convey the importance of being ready and on time, the mom uses the word "freaking" which her daughters then laugh about and try to call her out for using, presumably because she gave her kids grief for using it previously.
Finally, the mother says, "I'm talking to you don't cut me off. How many times do I tell all of yous, all three of yours, all three of you little m----------, I don't give a f---- no more."
One of her daughter's can be heard saying off camera, "That's verbal abuse."
Article continues below advertisement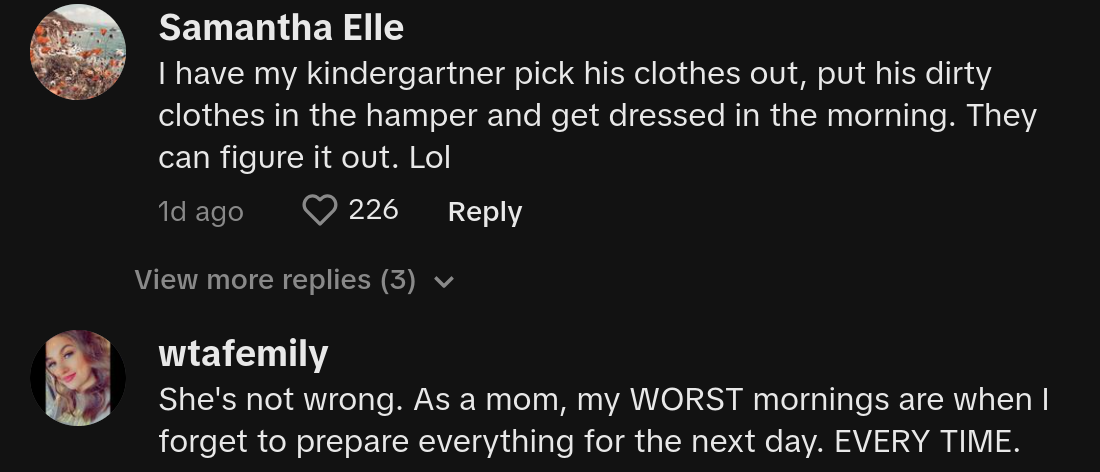 The mom continues, "Look, I tell y'all have your s--- together at night. Take your clothes out at night. Take your f----- s--- out at night, do your hair, make sure everything is out, so when the f--- you wake up in the morning, you get your s--- on, you take a shower, you do the f--- what you gotta do your clothes is laid out."
Article continues below advertisement
She goes on in the video, "You're not gonna tell me give me the f----- iron while your father's waiting for you outside to take you to school and you woke up late. That's the point have your s--- out, have your s--- ready, it's ironed, she's supposed to have a bookbag on her back, she's supposed to have a little, like she's having a picnic today."
The mom continued her lecture, "She was supposed to have money in her pocket, where was all that? Why is that not prepared? And then she's like at 8.40 when she's supposed to be out the door by 8.30...can you iron my shirt? Are you dumb? When you know d--- well you're not supposed to be doing that."
Article continues below advertisement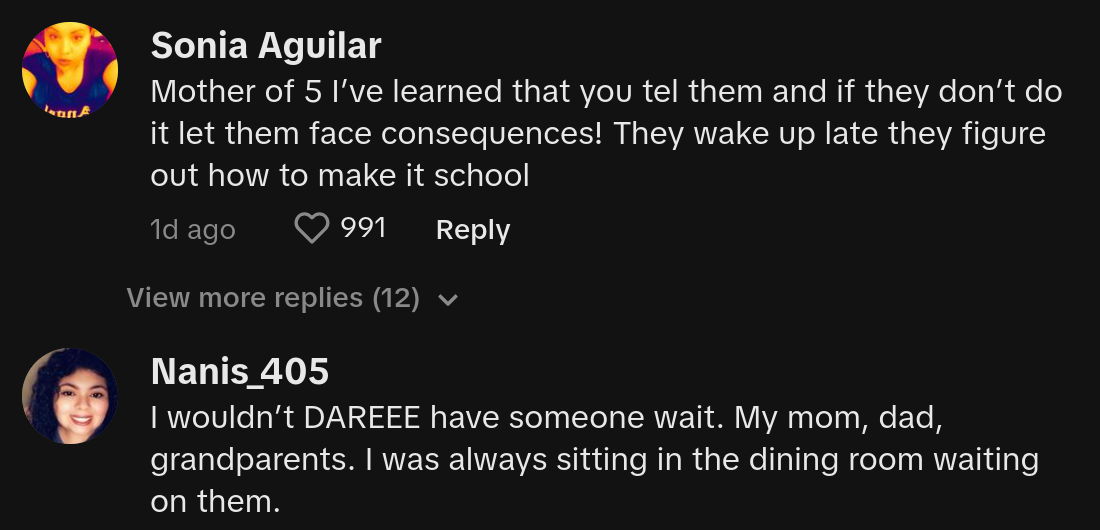 She went in even further, "Once your father's outside you're supposed to be out that door you guys don't realize that making somebody wait for you outside, for 10 minutes, 5 minutes, even 2 f----- minutes you're lucky that you're being picked up taken to school. Some kids have to take the bus and train to school."
Article continues below advertisement
"You act like little spoiled brats that's not gonna happen so when I find the need to tell you about yourself 'cause you've been talking for years, I'mma tell you about yourself."
The mom also went off on her daughter's calling her "verbally abusive" as a means of trying to exonerate themselves from the responsibility of being courteous to others and considerate of their time.
"Don't come over here with the, mom, that's literally verbally abusive. Why did you call her dumb? Are you dumb you don't f----- wait to"
The video then cuts out to show Ashlee talking into the camera stating that she would've done the same exact thing.
Article continues below advertisement

"I love it, hand clap for mom cause kids are not being raised with realistic expectations. They are not being raised to be self-sustaining. When those young ladies become 18, 19, 20, 21 and they gotta be at work at 8:30, and they think it's cool to be 10, 15, 20 minutes late, they'll realize real quick when they keep losing a job."
Article continues below advertisement
Ashlee continued her praise of the mother, "This mom is setting them up to be self-sufficient and her kids were thinking oh she's being verbally abusive, wait till they get into the workplace and their boss tells them you should've done this, you didn't, you're not meeting protocol, you're fired, then they're gonna be looking confused, why didn't you prepare me. I did, but you said you was gonna call CPS."
One TikToker who responded to the clip said that they have seen several videos with the same family and that they weren't appreciative of the way that the daughters spoke to the mom: "I've seen so many videos with them and the amount of patience she has as a mother with them girls specially Delilah idk how because I would of lost it"
Article continues below advertisement

Another quipped, "They started off all Sassy and Facetious with mom...... Then they got quiet"
While another said that they would've never dreamed of cutting their mom off: "My momma was slapping people for interrupting while she was talking"
Article continues below advertisement
Someone else said that the thought of ever making someone older than them wait for anything was unfathomable: "I wouldn't DAREEE have someone wait. My mom, dad, grandparents. I was always sitting in the dining room waiting on them."
What do you think? Was Mom too tough on them? Or do people need stern talking to when it becomes clear that they have a persistent problem they aren't proactively addressing?