Cambodian Government Issues Warning After Women Play With Endangered "Penis Plant"
A video went viral of three women playing with the endangered plant species Nepenthis holdenii, nicknamed the "penis plant." Here's why.
The weather is getting warmer and you know what that means: It's flower picking season! But for folks in Cambodia, they've been given special instructions by the government to keep their hands off one specific plant species known as Nepenthis holdenii.
Article continues below advertisement
The tropical pitcher plant, which has been nicknamed the "penis plant," has been garnering a lot of attention online after a video of a group of women toying with the plant went viral. Keep reading to learn why the Cambodian government is asking folks not to disturb the plant.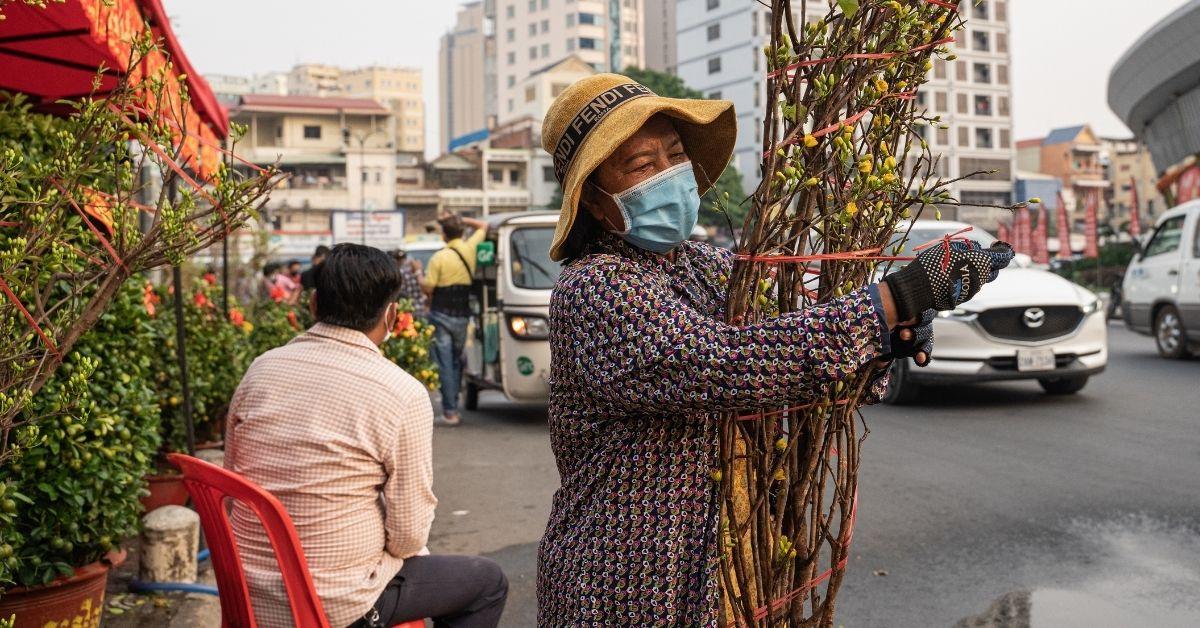 Article continues below advertisement
Cambodia's Nepenthis holdenii species resembles a human penis.
When you think of plants, you might describe them as pretty or aromatic. Generally speaking, the adjective phallic usually doesn't come to mind, right? Well, it might if we're talking about Nepenthis holdenii.
The rare plant boasts a long tube that resembles a pitcher (think: penis shaft) and is topped with a distinctive vaulted lid that covers the tube (think: penis glans). In other words, it resembles human male genitalia, which some might find amusing and/or social media worthy.
Cambodia's Ministry of Environment responded to viral video of women goofing off with a "penis plant."
A video recently went viral of three women playing around with the plant because each individual pitcher reminded them of you-know-what. In the video (which can be seen here), the trio was seen breaking off the plants' appendages, which are used to trap insects. Then, they compared the different sizes of each pitcher to the sizes of men's penes.
Article continues below advertisement
The video eventually caught the attention of the Cambodian Ministry of Environment, but not because they were impressed with by the women's wit. The ladies were actually destroying an endangered plant species that is protected by law.
Article continues below advertisement
The Ministry of Environment posted screenshots of the video on Facebook and discussed the women's actions. "What they did was wrong," the ministry wrote. "Do not do it again in the future. Thank you to everyone who loves and cherishes our natural resources. But please do not pluck the Nepenthes plant, otherwise, you will destroy it."
Per The New York Times, the women haven't been publicly identified. Currently, the government doesn't plan on punishing them.
Furthermore, Neth Sopheaktra, a spokesman for the Ministry of Environment, told the paper that Cambodia has five species of Nepenthes —all of which are protected.
"As this plant is a rare species, we need to protect it," he explained. He also said, "The Ministry of Environment is educating all people to preserve this plant."
While damage to the species is a relatively new issue, he explained that the women's video "was spreading online, which could lead to bad behavior by other visitors."
Article continues below advertisement
Bottom line: If you ever come across Nepenthis holdenii, follow the rules you would follow in real life if it was a male's actual genitalia — get permission before you proceed! Also, no one needs to see any of this on social media.