Piers Morgan Is Basically Obsessed With Meghan Markle and We've Got All the Proof
We've seen countless headlines about Piers Morgan on Meghan Markle's apparent mistakes, but when and how did this all begin? Here's what we know.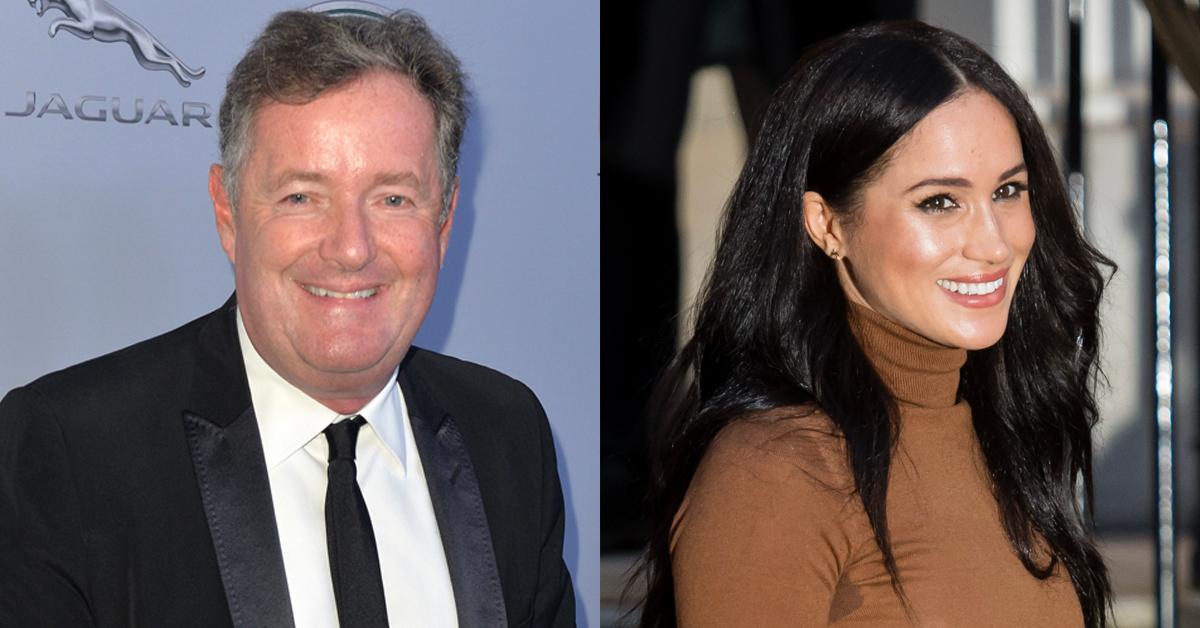 If there's one thing we've learned about Piers Morgan, it's that he doesn't take rejection well. At all.
For several years, the English broadcaster and TV personality has been firing criticism at Meghan Markle because she "ghosted" him and, quite frankly, it's gotten to a point where it's extremely disturbing.
Article continues below advertisement
For instance, in Fox's documentary, Harry & Meghan: The Royals In Crisis, Piers didn't hold back on his thoughts regarding the Meghan and Harry's recent decision to establish their independence. In fact, he went as far as calling them "renegade royals" who want to "ruthlessly commercially cash-in on their royal fame." Talk about harsh.
But why is the former Good Morning Britain host still so bitter toward Meghan this day? Did something else happen with Meghan, or is he just refusing to let go of his grudge? Let's take a look at their history, shall we?
Article continues below advertisement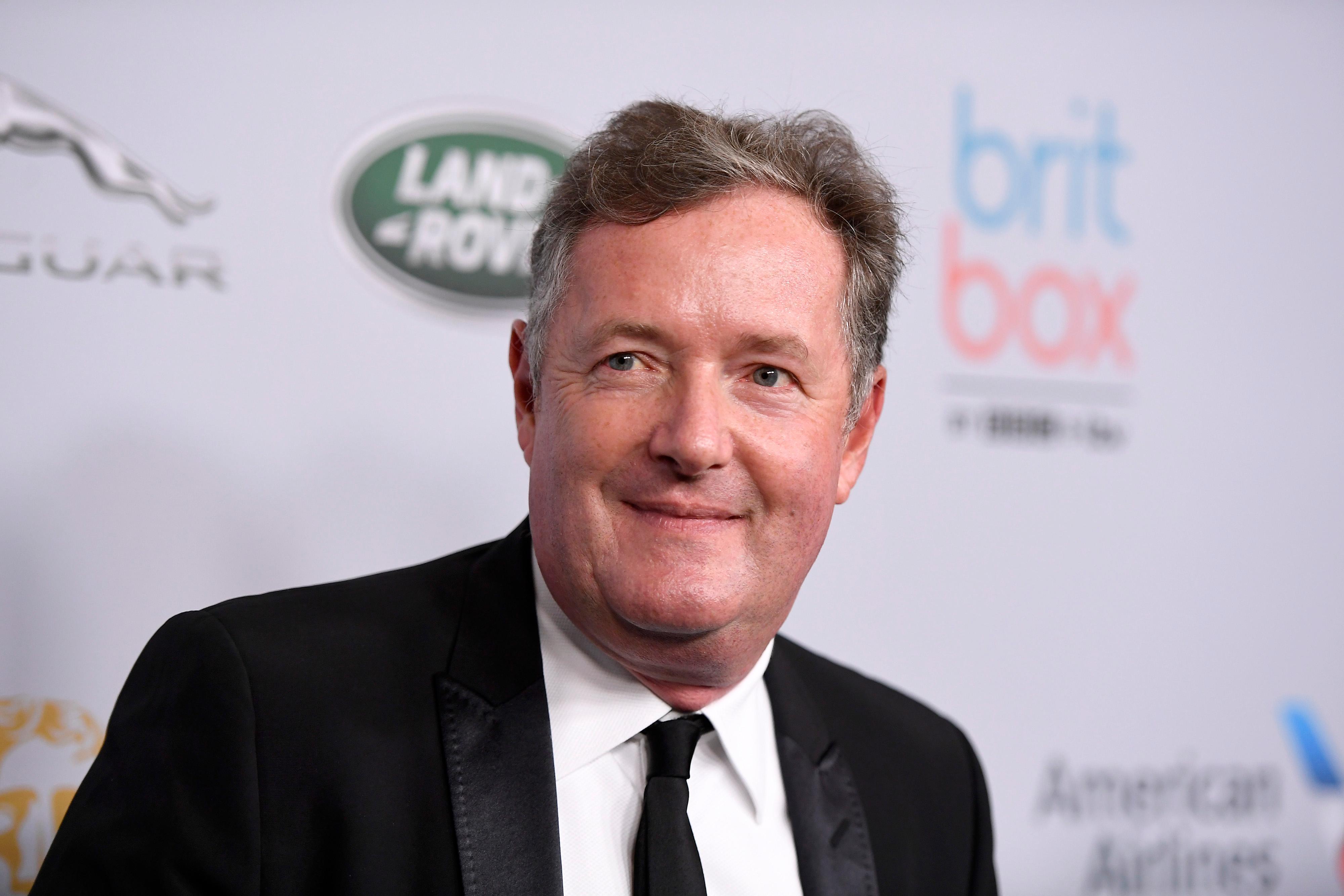 Meghan Markle and Piers Morgan first met online in 2015.
Considering how brutal his criticisms have been over the past two years, it feels weird to picture these two as friends. But according to Piers, it all began with a simple follow on Twitter in 2015. When Meghan was still starring on Suits, he followed her because he loved the show, and Meghan messaged him directly to share that she was also a big fan of his. This sparked an ongoing conversation and, eventually, led to their budding friendship.
Article continues below advertisement
So when Meghan traveled to London to support her friend Serena Williams in 2016, she reached out to Piers and asked to meet up with him. He agreed and suggested that they meet at his local pub.
He recalled: "She had the shades, the look, the whole thing. She came in and we sat there… And for 90 minutes, I had a chat with somebody who I just thought was this actress in a show that I loved, and we talked a lot about the show, it was all great."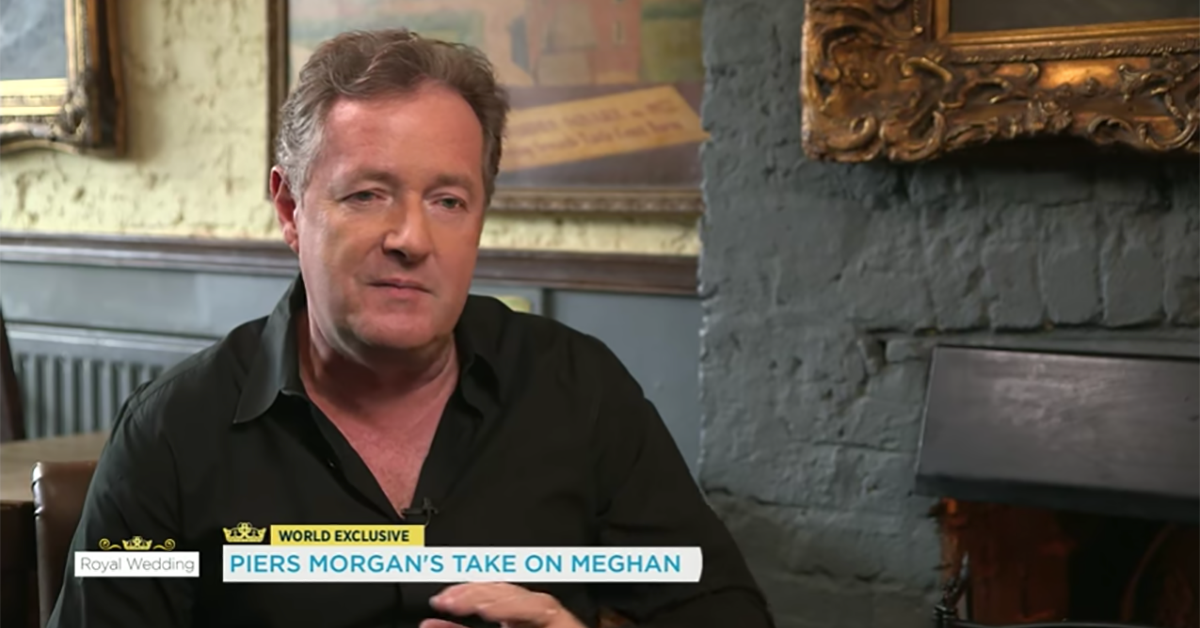 Article continues below advertisement
In another interview, he also shared: "I got the impression she was great fun, she was very intelligent I thought, very smart, very charming, very warm... she was a really nice person."
After they shared a few drinks at his pub, he mentioned that he put her in a cab that was headed to a private members club, where she reportedly first met her future husband, Harry.
According to Piers, she never talked to him again after that night.
Piers announced that Meghan "ghosted" him.
He mentioned multiple times that he felt the former actress completely ghosted him after she began her relationship with Harry. And unfortunately, this meant no more early copies of Suits episodes.
Article continues below advertisement
"That was the last I ever heard from Meghan Markle," he said on The Late Late Show in 2018. "And I never heard from her again. She ghosted me! I really liked her, this is why it hurts... I just think she's a slight social climber I'm afraid."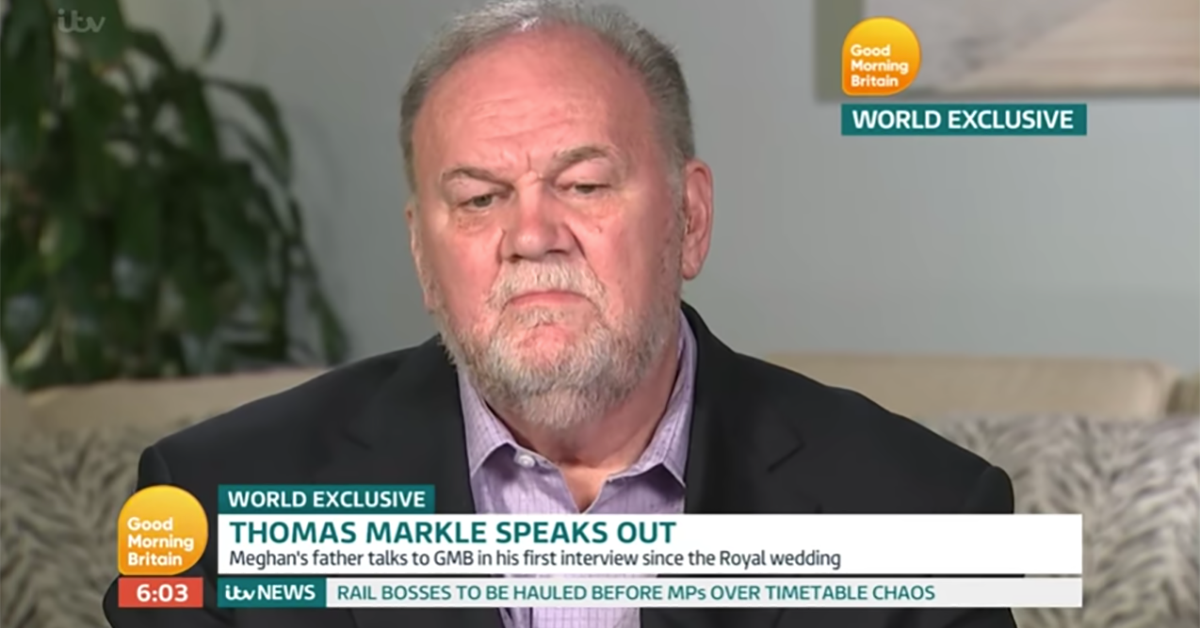 Article continues below advertisement
Piers accused Meghan of "freezing her father out" in August 2018.
Several months after their last meeting, Piers made it obvious that he still had a bone to pick with Meghan. In May, news had gotten out about her father staging photos with the paparazzi, and shortly after, it was revealed that because of health issues, he wouldn't attend his daughter's wedding.
Piers did an exclusive interview with Meghan's father, who painted the duchess and Harry in a negative light, but then, Piers took things even further by attacking Meghan on Twitter.
Article continues below advertisement
He tweeted: "Dear Meghan Markle, all your fancy new palaces, servants & tiaras won't make up for losing your father. Get on a plane & go see the poor man before it's too late. You can't just freeze him out of your life like you've done the rest of your family & most of your old friends." Real subtle, Piers.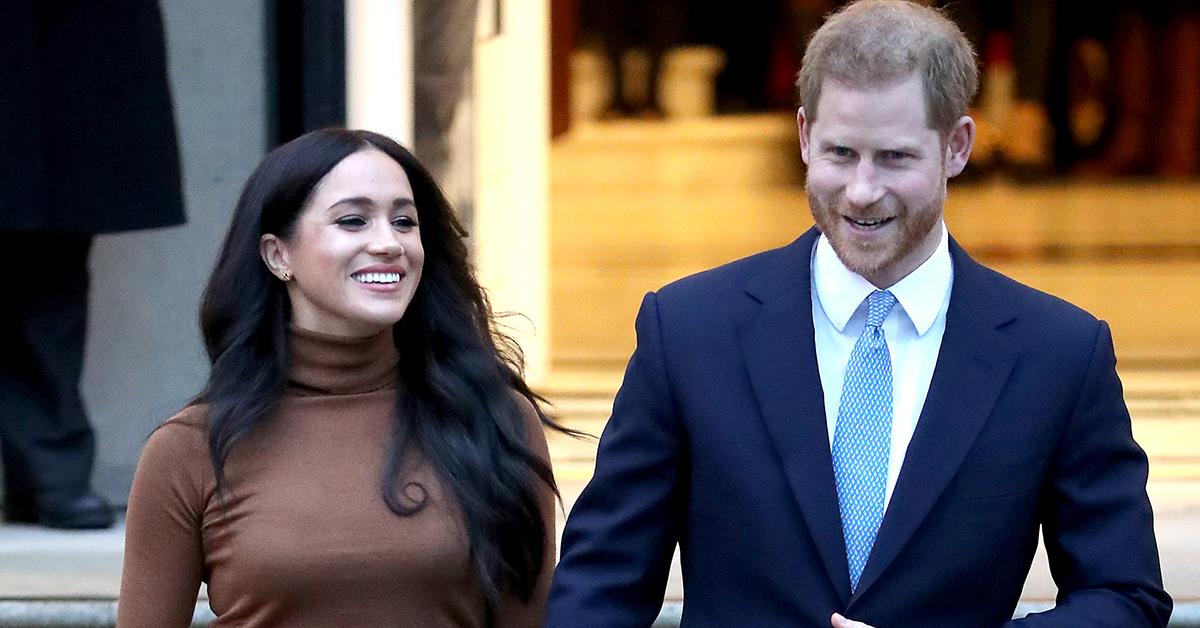 Article continues below advertisement
Piers called Meghan a "a ruthless social climbing actress."
By December 2018, Piers decided to take things up a notch by writing an entire article about Meghan being a "social climber." The very first line reads... you guessed it: "I was ghosted by Meghan Markle."
In the column, he detailed their story from the beginning, including screenshots of her old messages and everything they had discussed during that one night at his local pub. Then, he boiled it all down to one simple conclusion: That he'd apparently been "played" by a B-list actress who needed a career boost.
Article continues below advertisement
He wrote: "Meghan Markle is a self-obsessed professional actress who has landed the role of her life and is determined to milk it for all she's worth. She's spent most of the past 20 years cozying up to people until they serve no more use to her, then airbrushing them out of her life without so much as 'Goodbye, Loser!' I know because I was one of them."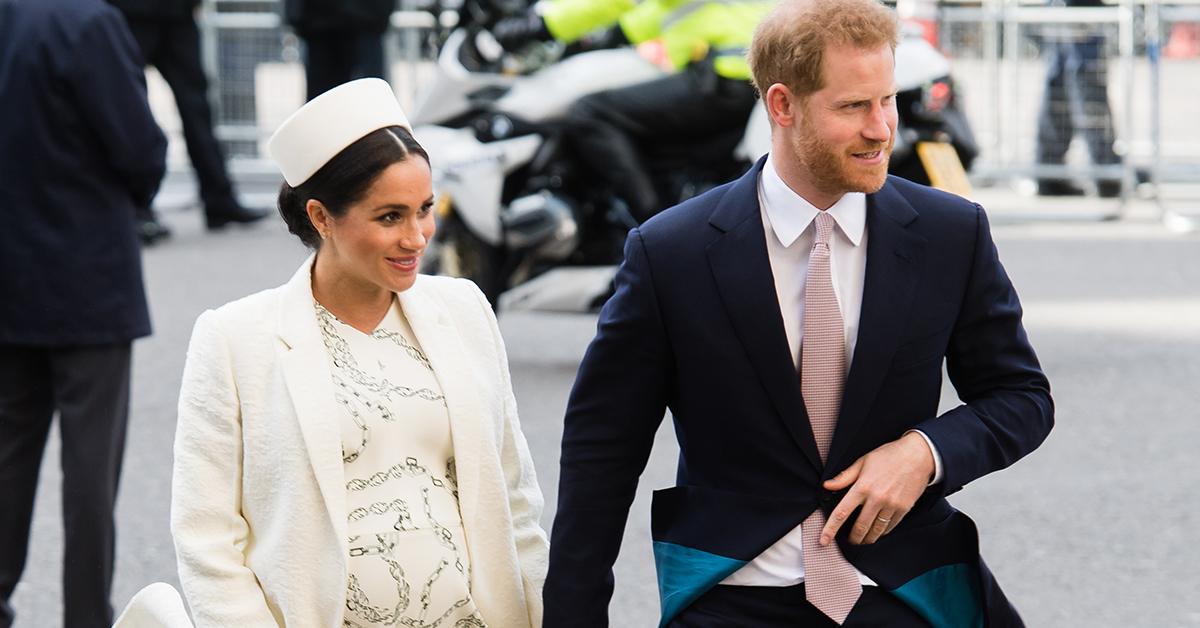 Article continues below advertisement
He also poked fun at Meghan while predicting her parenting methods.
During Meghan's pregnancy, the British journalist oddly predicted that her child would be born on April Fool's Day and be "gender fluid."
In his column, he said: "The Duchess of Sussex has her baby on April 1, and in a sharp break from Royal tradition declares her new arrival is 'gender-fluid' and will be known as both Oprah and Oliver."
He also claimed that Meghan would prefer to be called the gender-neutral "co-parent," rather than "mother." And Harry wasn't spared in this joke fest, either. Piers added: "Meghan orders Prince Harry to wear a papoose 24/7 to 'expunge the last toxins of masculinity' from his poor emasculated soul." Ugh.
Article continues below advertisement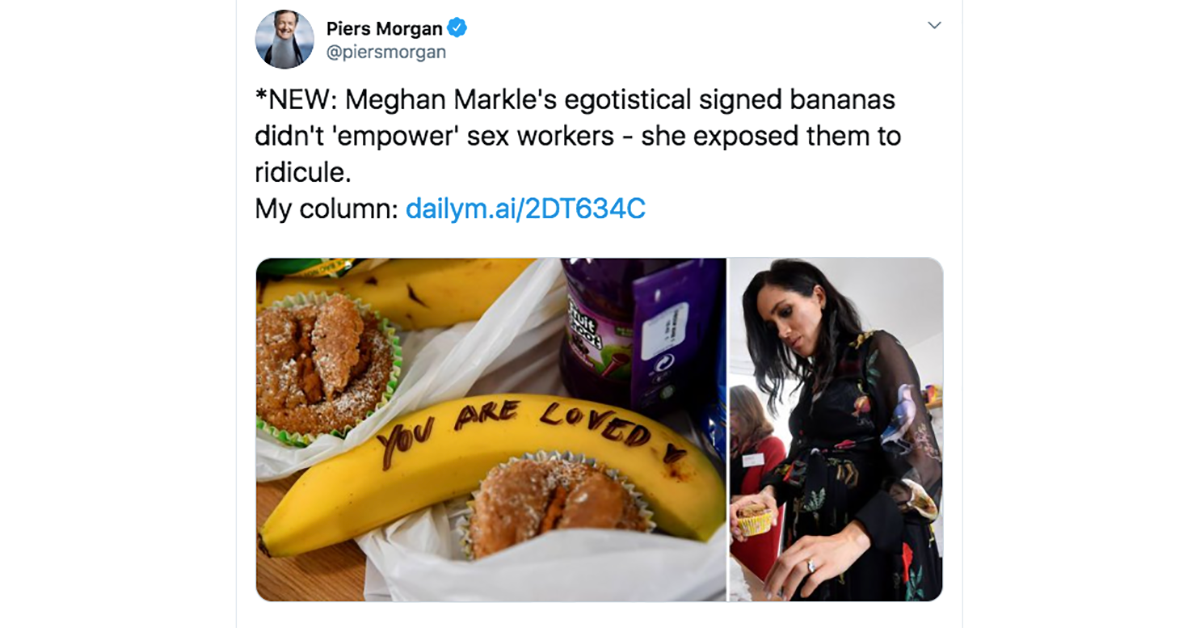 Piers mocked Meghan for putting "patronizing" messages on bananas in February 2019.
In yet another ridiculous ploy for (Meghan's) attention, Piers mocked the Duchess of Sussex for writing uplifting messages on bananas while packing lunches for the charity One25. He mentioned it was "one of the most patronizing things I've ever seen anyone do."
Article continues below advertisement
On Good Morning Britain, he thought it would be appropriate to literally pretend to be Meghan. He said: "Hand me my Sharpie, my moment has come to empower sex workers!"
He also added: "Giving a sex worker a banana is clearly exposing her to potential mockery. I'm sorry." ... Wow.
He took every opportunity to insult her on Twitter.
He basically launched an entire hate campaign against Meghan, even if that involved pulling stories that had absolutely nothing to do with her. In fact, he's probably published enough insulting tweets to make an entire book... And honestly, it's kind of scary.
Article continues below advertisement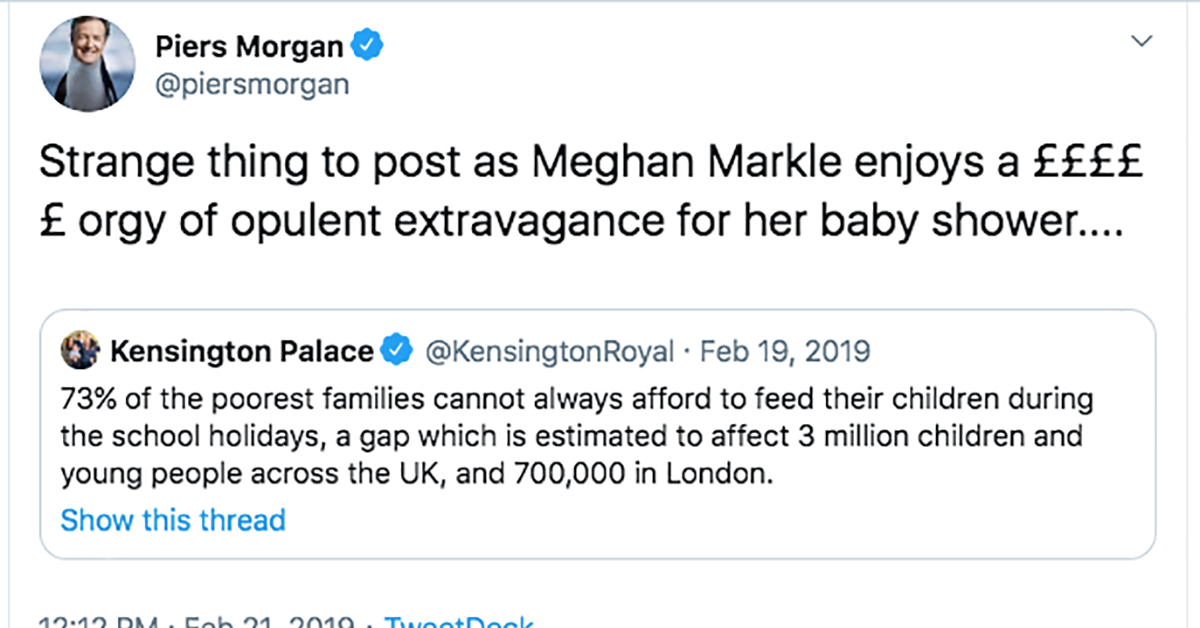 Piers publicly warned Harry about Meghan.
In his 2019 interview on Australia's Today Show, Piers actually called Meghan a "fake" and a "hard-nose social climber." After he was asked to address his previous comments about the Duchess, he recalled their time together in London pub for the 836th time and went on to "warn" Harry about her.
He said: "Good luck to Harry. I hope he knows what he's doing. If it all goes wrong don't come try crying to me. Don't say I didn't warn you."
Article continues below advertisement
Fans called Piers out on his weird obsession with Meghan.
Several viewers who saw Piers' interview tweeted about his weird fixation with Meghan and said that he should let the past go.
One user even wrote: "Why won't you let it go about Meghan? You met her once for a drink, you spoke to her on social media, hardly makes her an old friend. Of course she's going to 'drop you', she doesn't want a journalist who doesn't keep his mouth shut, as a friend."
Unfortunately, this advice would fall on deaf ears.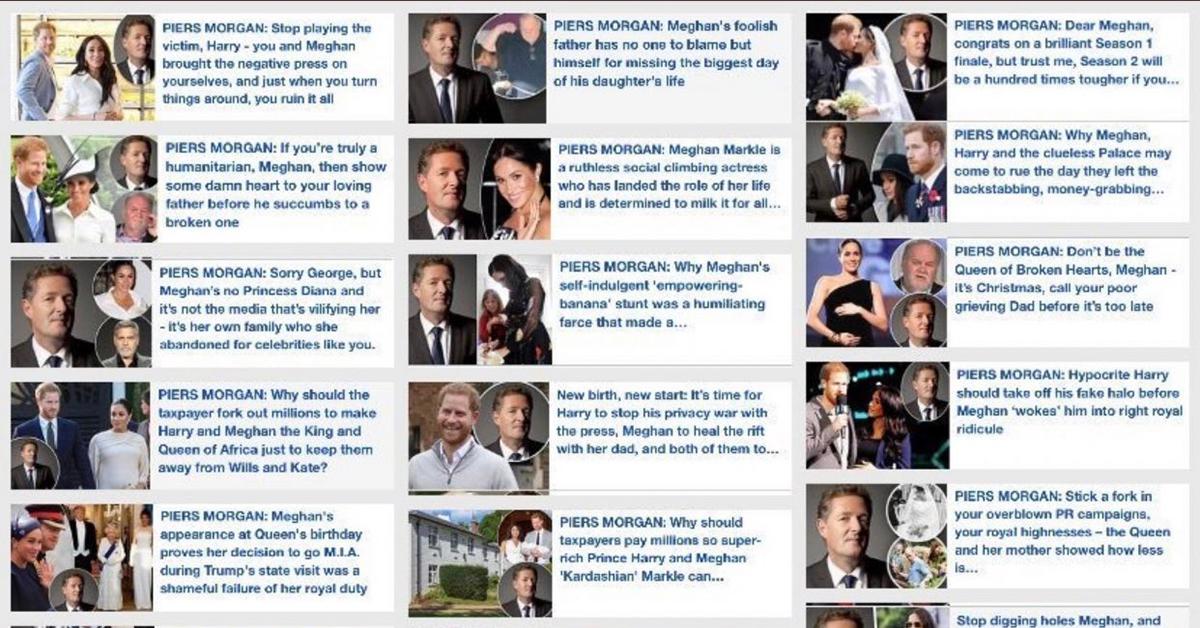 Article continues below advertisement
The journalist published even more scathing columns about Meghan.
From repeatedly insisting that she'll never be Princess Diana to calling her Vogue cover a "hypocritical stunt," Piers has gotten away with publishing countless damaging articles (and tweets) about Meghan, and it's... quite maddening. Still, the laundry-list of scathing columns just keeps on growing.
Piers accused Meghan of making Harry "boring."
When Harry gave a moving speech at the WE Day youth-activism festival in 2019, Piers wasn't impressed. He jumped at the opportunity to take even more jabs at Meghan, claiming that she made him "boring." The rant came after reports of him giving up smoking, drinking, and caffeine at Meghan's request.
Article continues below advertisement
Piers said: "What has happened to him? He can't even have a drink. He can't have caffeine."
And regarding Harry's speech, he said that the Duke of Sussex sounded like a "robot."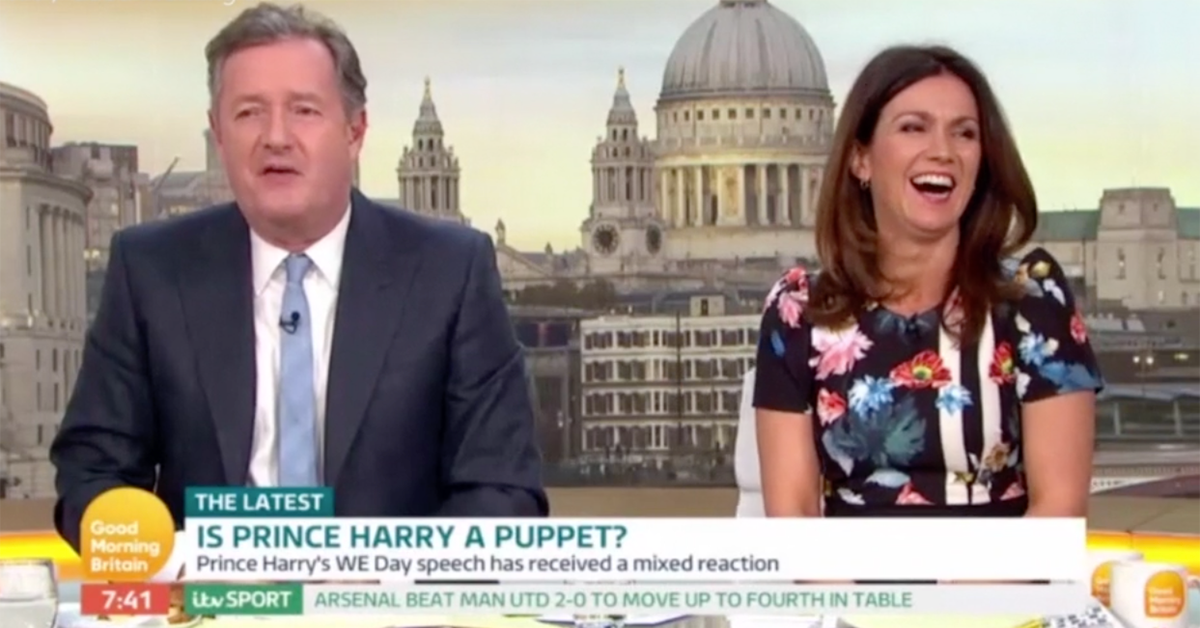 Article continues below advertisement
He criticized the duchess for wanting privacy.
When Meghan and Prince Harry decided to hold a private christening for their son, Archie Harrison Mountbatten-Windsor, it was met with backlash by the British press. Not surprisingly, Piers made sure to give his two cents, saying that she should "go back to America" if she really wants privacy.
He said: "This is so ridiculous, this obsession that her and Harry have about privacy. It's frankly hypocritical and they're not private people, they're the Duke and Duchess of Sussex. We get to pay for their mansion, we get to do all of this." Um, what??
When the other presenters chimed in to defend the duchess, Piers was still unmoved. He said: "If you want to be private, go back to America and live privately, it's pretty straightforward."
Article continues below advertisement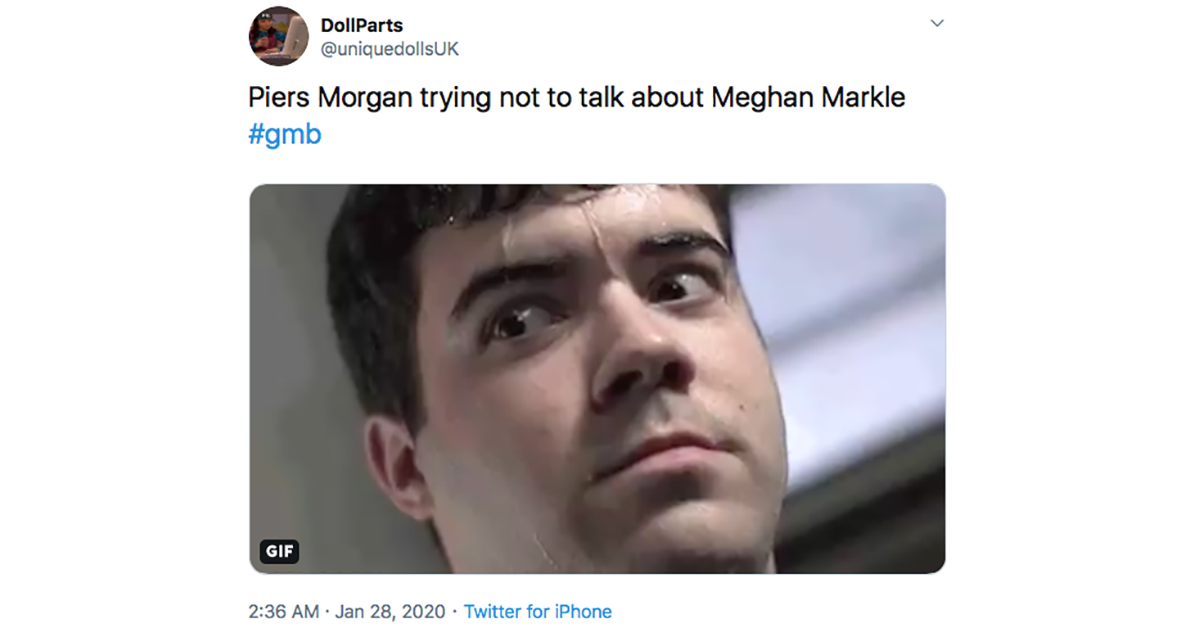 The British TV presenter also compared her to the Kardashians.
During his appearance on the British radio station LBC, Piers aired his grievances once again, suggesting that Meghan only uses people for personal gain. He said: "Look at the way she treats her family, none of whom were at the wedding, dumps her father, dumped her first husband, dumps everybody that's no longer of use to her. It's not a good look."
Article continues below advertisement
He also added: "Maybe I'm wrong about her. But there are lots of worrying signs, not least doing up their house with [$3 million] cost to the taxpayer. That's the behavior of a Kardashian, not somebody who married in to the royal family. They've got to be careful."
He thinks that Meghan is responsible for "splitting Harry from the royal family."
After the 2020 announcement about Harry and Meghan quitting their royal duties, Piers immediately started ranting on Twitter about their decision to "quit the royal family" (which was technically inaccurate). He added that this was a "disgraceful way to treat The Queen" and even offered to take Harry's place, saying, "I'm from Sussex and prepared to step up."
Article continues below advertisement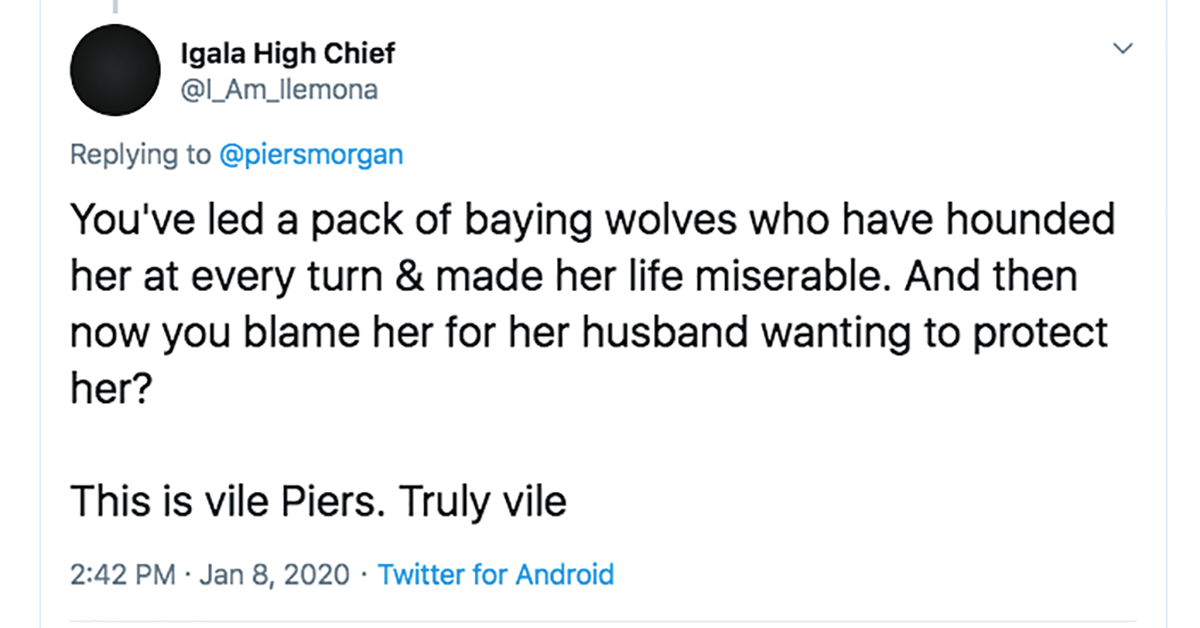 Fast forward to three weeks later and Piers was at it again in Fox's Harry & Meghan: The Royals In Crisis. This time, though, he was convinced that Meghan would become like a Kardashian: "If Meghan Markle thinks she is going to emerge from this as some kind of Princess Diana figure, she needs to think again. She's going to end up like a mini royal Kim Kardashian with all the ignominy that goes with that title."
Article continues below advertisement
To make matters worse, he also called the duchess and Prince Harry "two ego-mad, self-obsessed, virtue signalling 'progressive' young people who basically stamped their feet and the Queen rolled over." Is anyone else tempted to hit the mute button on this guy or is it just us?
The British TV Host has tried justifying his behavior.
As usual, there's been backlash from fans who accuse him of being way too harsh and divisive. However, he tweeted: "People say I'm too critical of Meghan Markle — but she ditched her family, ditched her Dad, ditched most of her old friends, split Harry from William & has now split him from the Royal Family. I rest my case."
Article continues below advertisement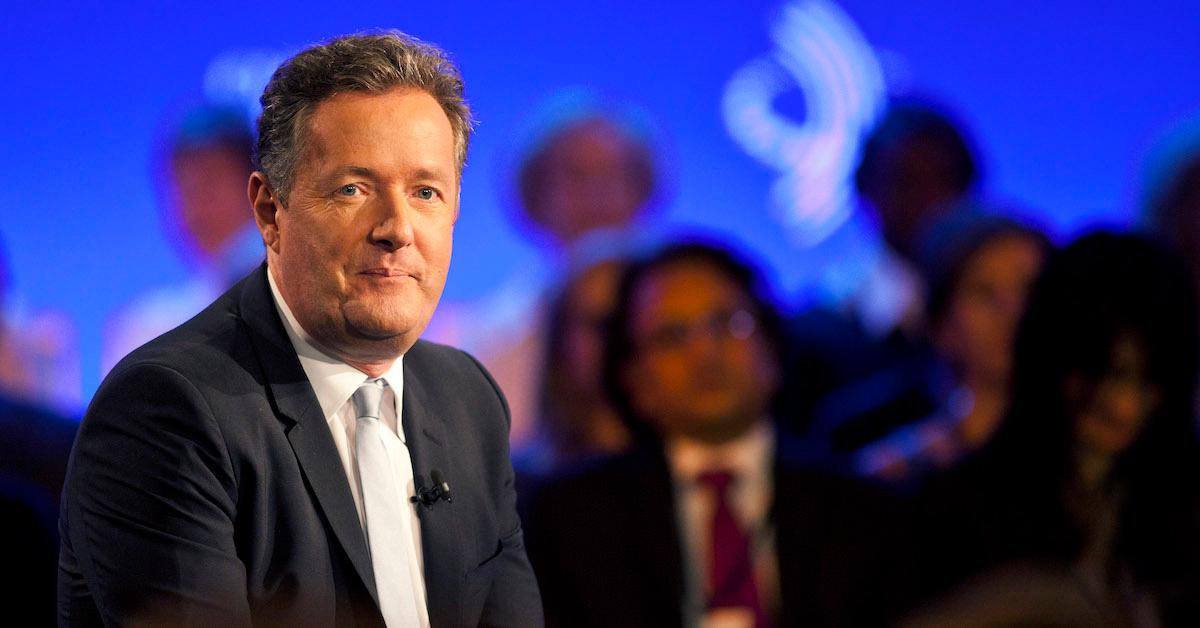 Except, he conveniently left out the part where he's been attacking her incessantly for over two years because of the fact that she hurt his feelings. In fact, if Meghan didn't ghost him, we imagine that things would've played out quite differently. And quite a few fans seem to agree.
On Twitter user wrote, "I have never seen a man with such a hard-on for a person barely knows. This obsession with Meghan Markle is beyond sad. The world is imploding. Why don't you obsess about that. Pathetic."
Article continues below advertisement
Another user wrote: "He needs to get over the fact that Meghan Markle does not want him as a friend and move on with at least a tiny piece of dignity." We imagine that it's microscopic at this point, but we couldn't agree more.
In March 2021, Piers walked off 'Good Morning Britain' when he was criticized for attacking Meghan.
On March 9, Piers stormed off in the middle of Good Morning Britain when his co-host Alex Beresford condemned him for his comments about Meghan.
The Duchess of Sussex revealed during a tell-all interview with Oprah that she had previously had suicidal thoughts amid the barrage of negative press and lack of support from the royal family. During the March 9 episode of GMB, Piers said: "I'm sorry, I don't believe a word she said, Meghan Markle. I wouldn't believe it if she read me a weather report."
Article continues below advertisement
"I understand that you don't like Meghan Markle. You've made it so clear a number of times on this program, and I understand that you had a personal relationship with Meghan Markle and she cut you off," Alex said to Piers on March 9. "Has she said anything about you after she cut you off? She's entitled to cut you off if she wants to. And yet you continue to trash her."
That's when Piers stood up and stormed off the set, saying, "OK, I'm done with this."
Apparently, Piers can dish it out but he's not so good at taking criticism himself. He quit the entire show shortly after walking off during the broadcast.