This "Real Cat" in 'Toy Story 4' Shows How Far CGI Tech Has Come
Pixar's ability to expertly animate a cat has people wowed at how far along CGI has come.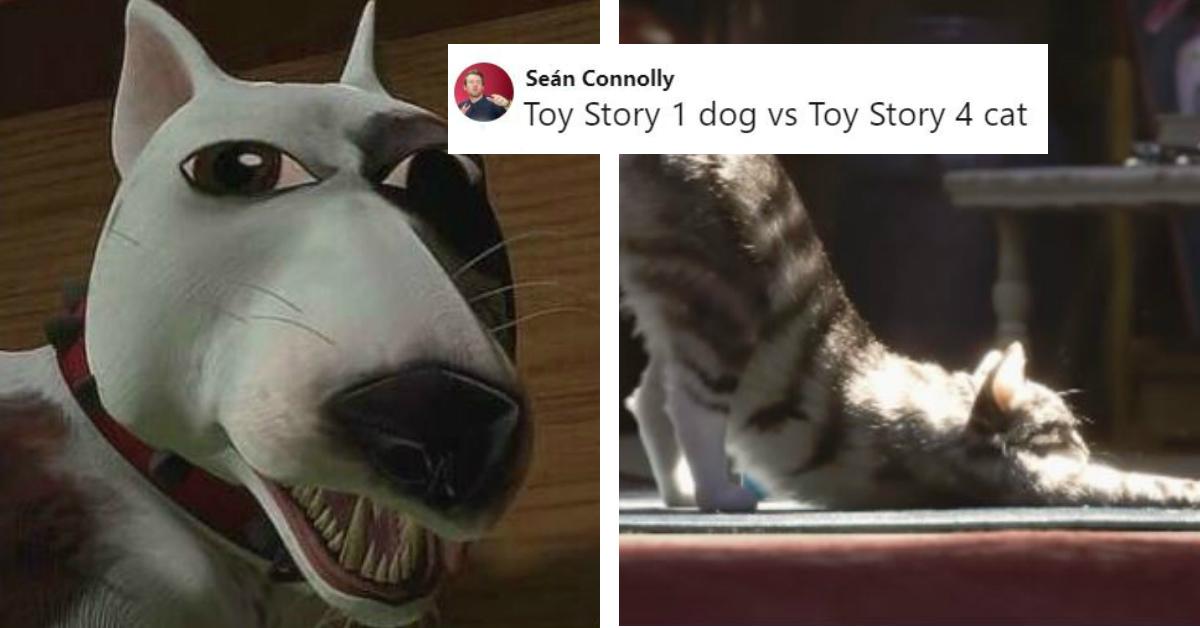 If you want to see how much CGI animation has progressed over the years, all you need to do is pop in any movie that's been recently made and compare it to a title from ten years ago.
You cannot rely on memory for this, and I'm telling you, the way you fondly remember the first Toy Story in your mind is completely different from what it actually looks like by today's standards.
This is pretty much the story of modern-day technology, however. Look back at the iPhone 4. There's no way you'd pay $650 for that phone today because your money will get you so much more. You wouldn't stand for the photo quality on that phone, or the screen size and resolution, and certainly not the old 40-pin proprietary charger Apple rammed down our throats. Well, they're still using proprietary chargers that are apparently made out of peanut brittle, so there's that.
Even though we all know tech-growth is exponential, it's kind of hard to appreciate just how much we've accomplished as a species until we're hit in the face with that evidence.
Article continues below advertisement
Consider this stretching cat from the 'Toy Story 4' trailer that slap in the face.
Seriously, this thing looks like a real life cat just waking up from a basking-in-the-window snooze, and the rest of Twitter agrees. Heck, I was fooled myself after seeing a still of the image.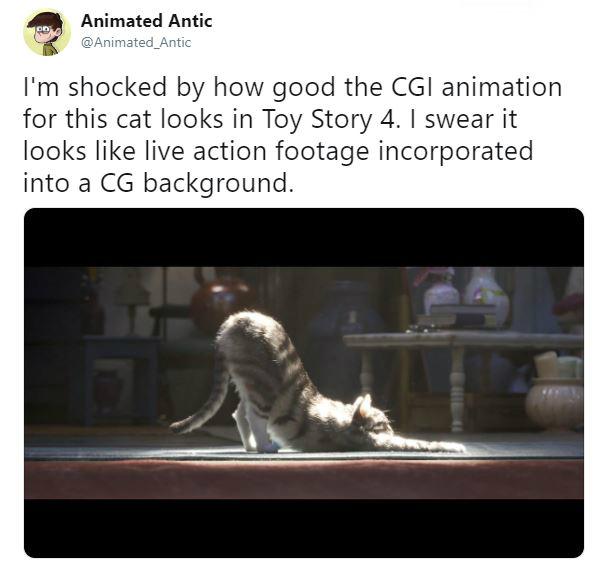 There were tons of people who thought that this was an actual cat that was just catting around on a green screen, but boy were they wrong.
Article continues below advertisement

It was difficult for people to believe, and can you blame them? From the individual, uneven hairs poking out to the way its body undulates, this is 100 percent feline.
Article continues below advertisement

Article continues below advertisement
On the flip side, some animals from the first 'Toy Story' are looking gnarly by comparison.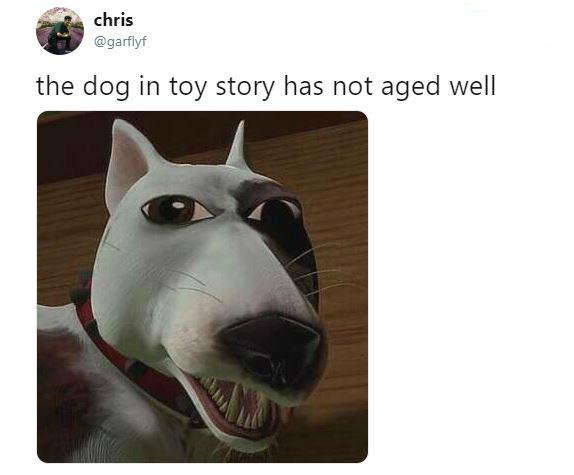 Sure, the film was revolutionary when it first came out, much like Super Mario 64 or the first Crash Bandicoot game were when they first came out. But this dog looks like a grade-school computer graphics project compared to the stuff Pixar's churning out now.
Article continues below advertisement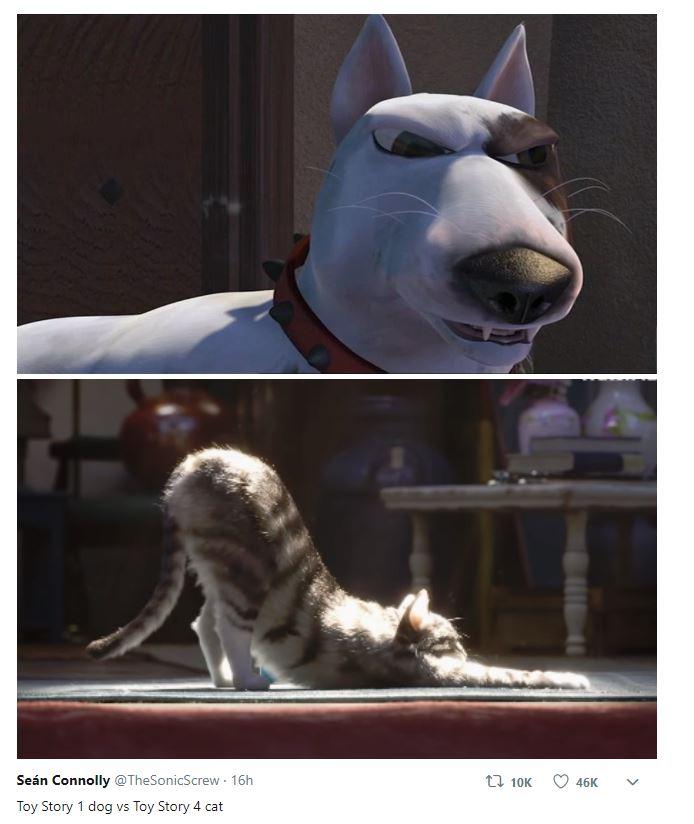 Someone tweeted the two computer-generated animals to show how far things have come and the difference is mind-blowing, even when the dog's face isn't all contorted and snarly.
Article continues below advertisement
It brought up a very good point...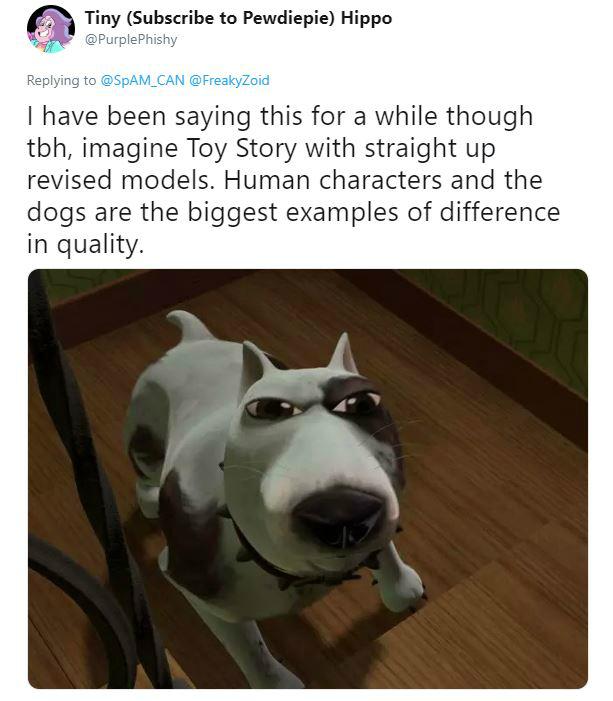 ...maybe re-release the old films with some updated CGI? Sure, that would cost a ton of money and I'd imagine getting people to pay to see a new version of a movie would be a hard sell...but then again, Pixar's got some die-hard fans, so I'd imagine a little bit of an upgrade might be worth it.
Article continues below advertisement
The difference is made even more apparent in Pixar's human models.
Just take a look at Andy from the first film and compare him to the bright-eyed boy from the Toy Story 4 trailer below.
Article continues below advertisement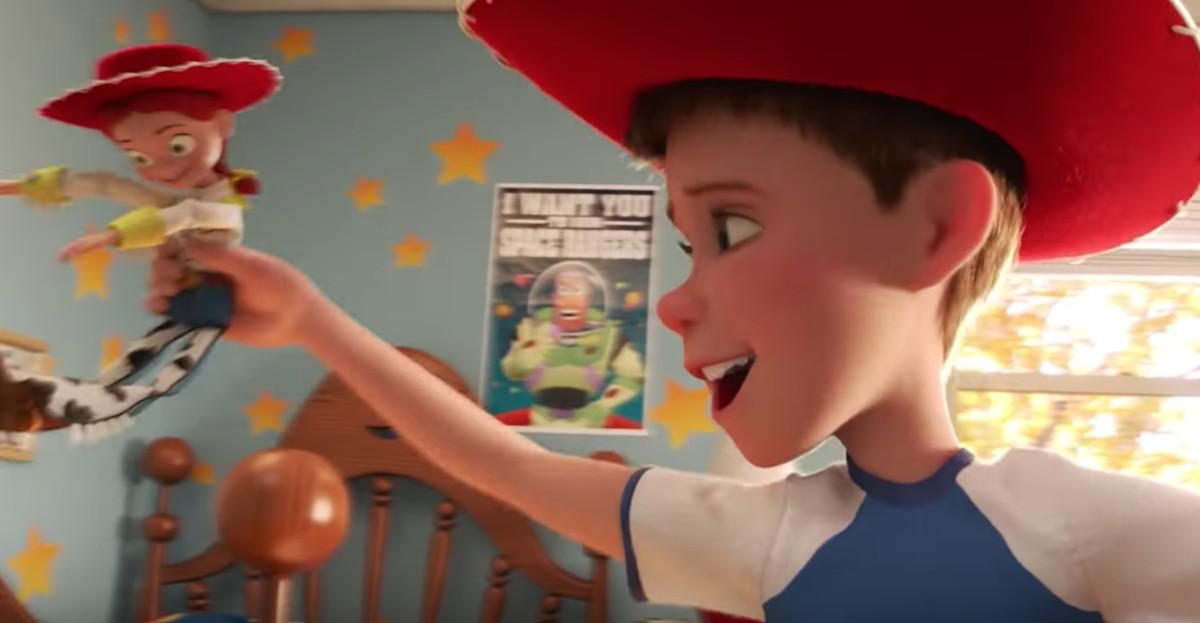 A bit mind-blowing, isn't it?
Article continues below advertisement
Both software and hardware play a huge part in this upgrade, however.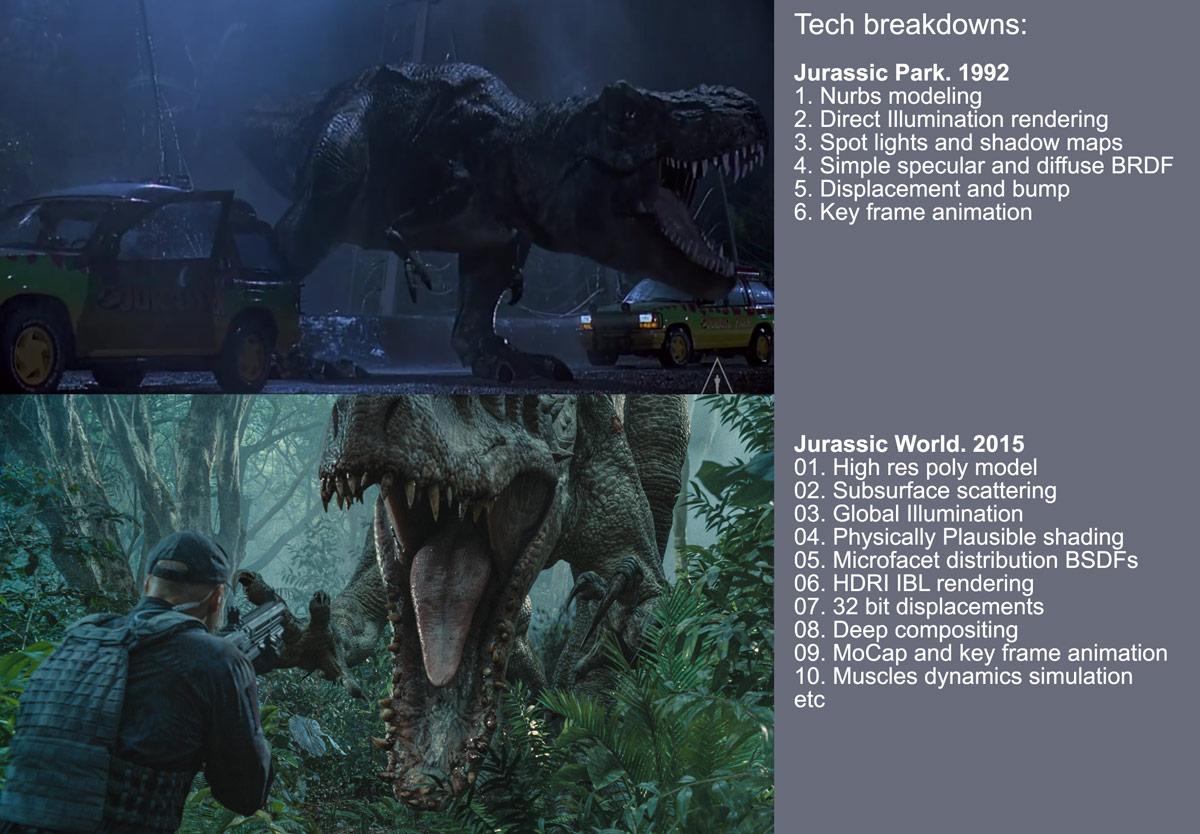 The folks at Render Story did a wonderful point-by-point breakdown of the different technologies employed in animating the T-Rex from the 1992 Jurassic Park versus the Indominus Rex that appeared in 2015's Jurassic World.
Article continues below advertisement
The original Jurassic Park T-Rex model, however, does stand up surprisingly well today.
That's mostly due to how Stephen Spielberg elected to use CGI. For most of the film, the T-Rex was shown in dark environments, with tons of shadowing adding to the illusion.
Article continues below advertisement
Compared to the smoothness and complexity of details in 'Jurassic World' however...
...it's clear to see that modern tech has the upper hand. But it's not like the old JP films are unwatchable by comparison. That slick uses of animatronics, combined with CGI, certainly helps.
Article continues below advertisement
Sadly, the 'Star Wars' prequels' CGI looks like something straight out of a PS3 game.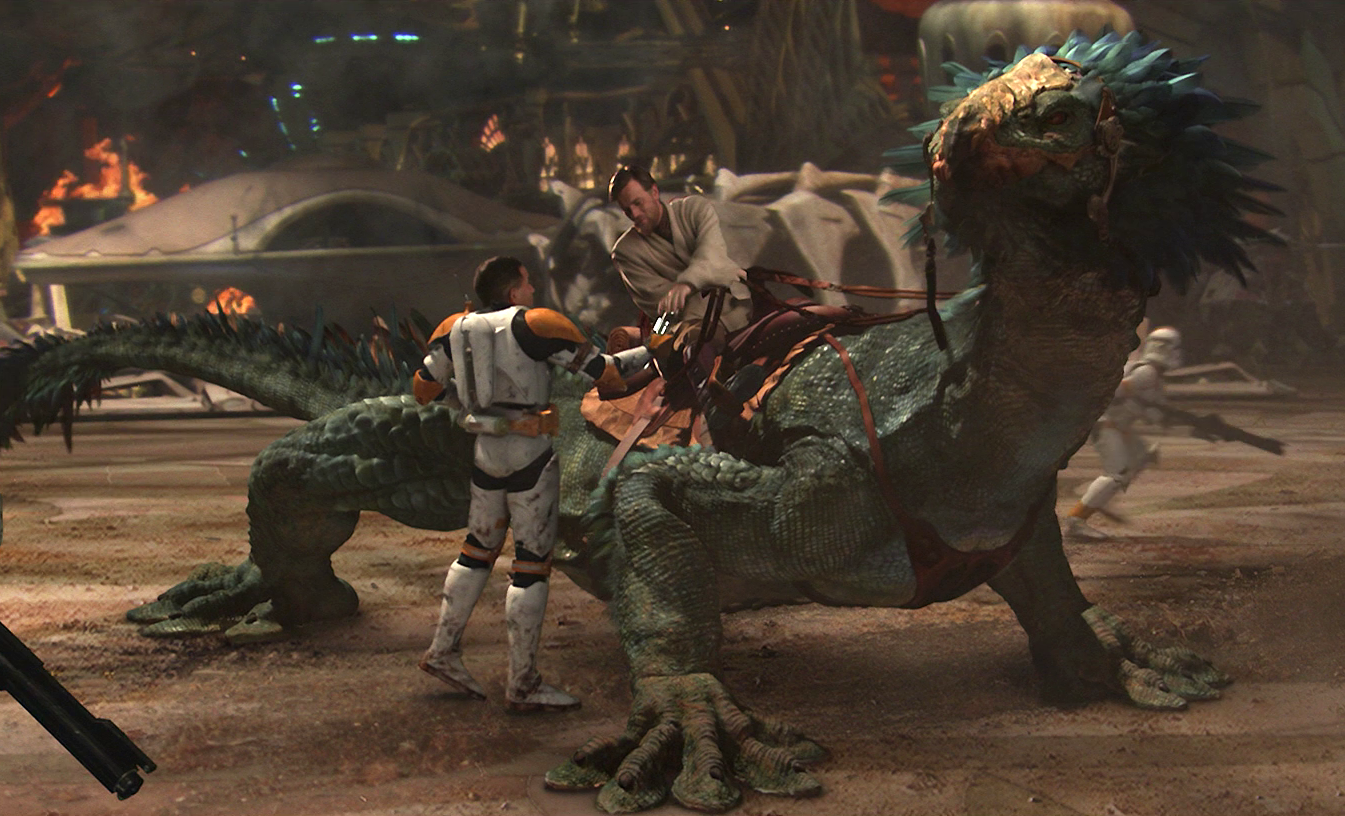 The green screen is a little too obvious. The surfaces are too smooth and the suspension of disbelief required to actually think that Obi Wan is riding a Robert Plant lizard in this screenshot is way too high.
Article continues below advertisement
Compare our lizard above to the Fathier from 'The Last Jedi' below, however.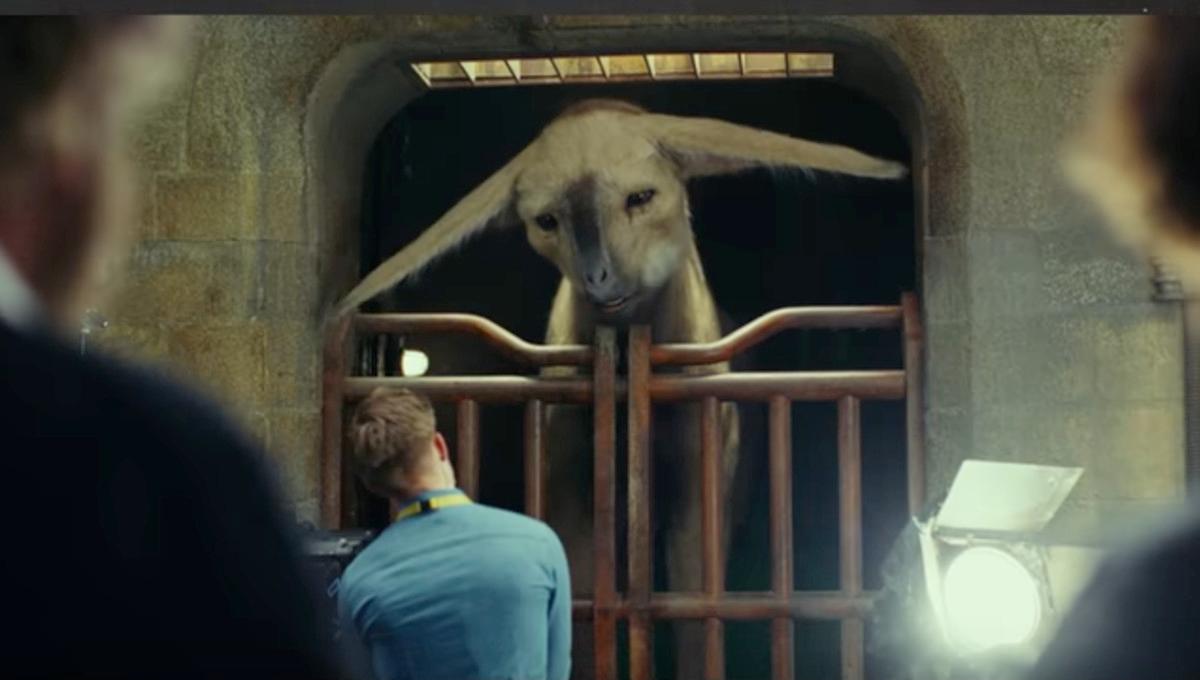 I mean, if you were to tell me that this was some kind of cousin to an alpaca that was found in some remote part of South America, I'd totally believe you. That's hella lifelike.
Article continues below advertisement
To bring it back to Pixar, let's just appreciate this still of Dash from the first 'Incredibles' film.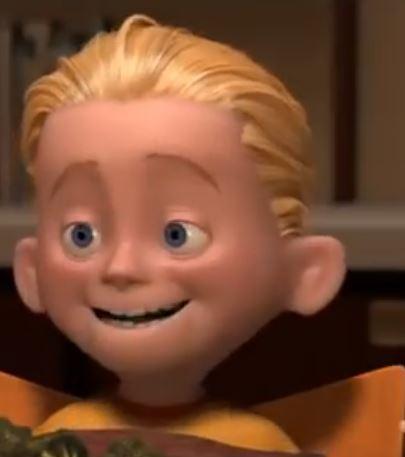 Creepy smile aside, this was considered cutting edge when the first film debuted.
Article continues below advertisement
But take a gander at his face models in 'Incredibles 2'.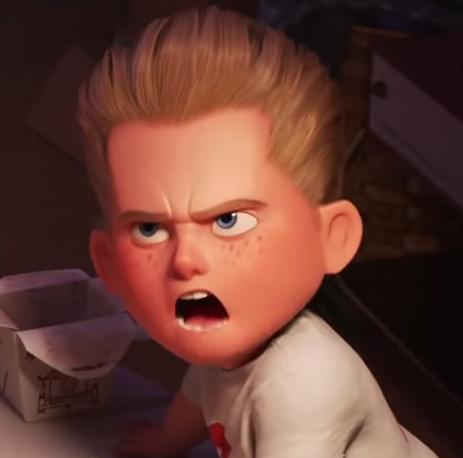 It's night and day. We've got way more expression, we've got freckles and I'd argue a better sense of who 'Dash' is as a character.
What are some other films today that you find unwatchable? I'm sure there are some scenes from the earlier Iron Man films that'll look absolutely silly when we compare them to what we'll see in Avengers: Endgame.