Family Tricks Daughter's New Boyfriend into Singing the Pledge of Allegiance Before Dinner
A woman's family pranked her new boyfriend by pretending it's their family tradition to say the Pledge of Allegiance before they eat.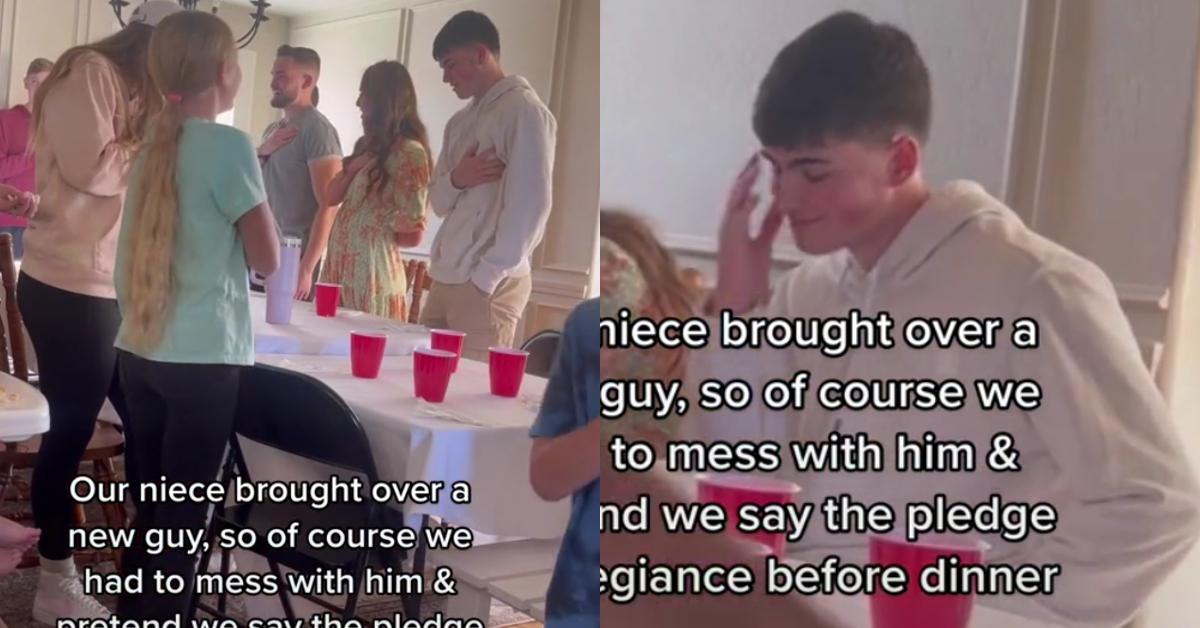 Sometimes, families have their own sets of traditions and practices that might seem a little weird to outsiders. For example, I've told my kids that there are these little monsters called clobberknockers that are very elusive but love sneaking into people's homes to mess with their stuff. Their hair follicles are too tiny that they can't be seen by the naked human eye.
Article continues below advertisement
If you interact with these follicles, they put you in a bad mood, so if you start feeling mean or angry or you're lazy or in a bad mood, it's not that you're inherently bad, it's that a clobberknocker's been messing with your stuff. So curse it out and continue doing what you have to do anyway.
Now that they're going to school, other kids are wondering just what the heck a clobberknocker is because of course they've never heard of them because they don't exist (unless my subconscious is really onto something).
Hopefully, once my kids find out the truth they'll think that their dad was just implementing a lighthearted attempt at trying to get them get out of their own heads when they needed to do homework or place their anger outside of themselves while they're throwing a tantrum.
Article continues below advertisement
And while it might be embarrassing when it dawns on them that dad totally made up the clobberknocker, it probably won't be as bad as the troll job some whole families play on folks who are entering their world for the first time. Like what TikToker Kiarra Hillman's (@kiarra.hillman) family pulled on her niece's new boyfriend who joined in on a family dinner.
Article continues below advertisement
It's typical for lots of people to say a prayer or grace before dinner, but Kiarra's family had the young man convinced that they gave the pledge of allegiance before their meal. Everyone stood up, much like people would do at the beginning of a school day, and recite the short speech.

Article continues below advertisement
In the clip, the young man can be seen complying with the move, even if he does look a little puzzled. Kiarra writes in a text overlay for the TikTok: "Our niece brought over a new guy, so of course, we had to mess with him & pretend we say the pledge of allegiance before dinner"

Article continues below advertisement
The young man's face is visibly red in the photo and he begins wiping his cheeks when he sits down. Kiarra gave credit to another TikToker, Kayla Cox, for the idea, whose family has recorded them rattling off the speech in front of a "new girlfriend" who ate with them.
Article continues below advertisement
Kayla's family also performed the unheard-of tradition at their house first, but initially didn't say that it was a joke. They even added a little spin at the end of it to cap it off.
Article continues below advertisement
TikTokers who saw both Kayla and Kiarra's posts thought the idea was hilarious, with many folks remarking that the confused and embarrassed looks on their faces had them "re-thinking" their relationships.

Article continues below advertisement
Kiarra seemed to agree with folks' assessment that the young man may've had some second thoughts after seeing them perform the pledge, penning in a comment: "Think we will see him again?"

Article continues below advertisement
However there were a lot of other TikTokers who thought it was evident that Kiarra's niece's new boyfriend was probably tuned into the fact that it was a prank as everyone was laughing while performing it.

How would you react if you were dating someone and then saw their family do something like this? Would you start to wonder how you got yourself into that mess and then would look for ways to get out of it? Would you just go along with it? Have you ever been trolled by a significant other's family like this?