This Year's 'Pokémon GO' Halloween Celebration Is Going to Be Ridiculously Adorable
Starting Oct. 17, 'Pokémon GO' trainers can enjoy a special Halloween event featuring new Pokemon, candy rewards, and adorable costumes.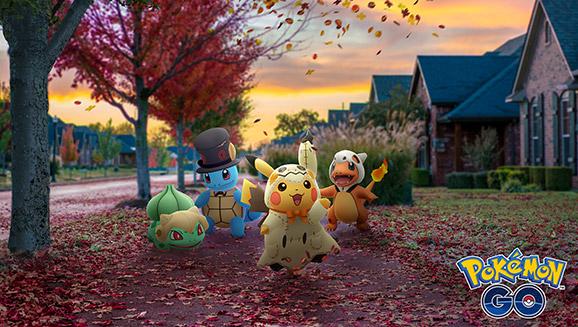 Pokémon Go fans, rejoice! The Pokémon Company just announced that there will be a special Halloween event taking place over the next couple of weeks and we couldn't be more excited about it. If you've been slacking on catching 'em all, this is the perfect time to pick that phone back up and get out there. New Pokémon! Exciting raids! Costumes! Candy! They've really outdone themselves this year.
Article continues below advertisement
When is the 'Pokémon GO' Halloween event?
We hope you're ready to get spooky 'cause the Pokémon Go Halloween event is starting soon! The celebration starts Thursday, Oct. 17, 2019, at 1:00 p.m. PDT, and will continue through Friday, Nov. 1, 2019, at 1:00 p.m. PDT. That means you'll have a full two weeks to enjoy everything Pokémon Go has to offer surrounding the spooky holiday. Wondering what will be included in the event? So were we! Luckily, we found out for you.
Article continues below advertisement
If you're lucky, you might add a new Pokémon to your collection.
According to The Pokémon Company, the Halloween event will be the debut of a new Shiny Yamask! This Ghost-type spirit Pokemon carries a mask that's modeled after the face it used to have when it was human. So... there's some info to haunt your nightmares.
You'll also have the chance to capture the Forbidden Pokémon, Spiritomb — check out the Special Research tasks when the event goes live to find out what you have to do. Feeling like a raid? The Halloween event will also be the debut of the Pitch-Black Pokémon, Darkrai — it will appear in five-star raids, so make sure you're prepared!
Article continues below advertisement
If you're hoping to add more Ghost- and Dark-type Pokémon to your roster, this is definitely the event for you. They'll be appearing in droves in Eggs, raids, and in the wild. Now's your chance to score a Gastly, Murkrow, or Litwick!
Article continues below advertisement
But the best part of the 'Pokémon Go' Halloween event is definitely the costumes.
As humans, we know that costumes are the best part of Halloween, and it looks like the creatures in Pokémon Go feel the same way. This year's event will feature various Pokémon in costume! You might come across Bulbasaur dressed up as Shedinja, Charmander as Cubone, or Squirtle as Yamask. You could also see Pikachu dressed up as Mimikyu, which is basically the cutest thing that's ever existed.
Article continues below advertisement
And if you want your avatar to join in on the costume action, you're in luck! There will also be additions to the Style Shop, including a Zubat Bag, a Pikachu Onesie, a Cubone Cap, a Litwick Cap, and a Mimikyu Bag. According to Polygon, these Style Shop additions will be permanently implemented in the game.
Don't forget the candy!
Is it even Halloween if candy isn't involved? No, it is not. During the event, transferring, catching, and hatching Pokémon will all result in a double candy reward. That's right. Double. Candy. It's every trainer's dream come true.
We can't wait to get out there for the Pokémon Go Halloween event — just remember to be safe out there (and seriously, watch out for those Darkrai).