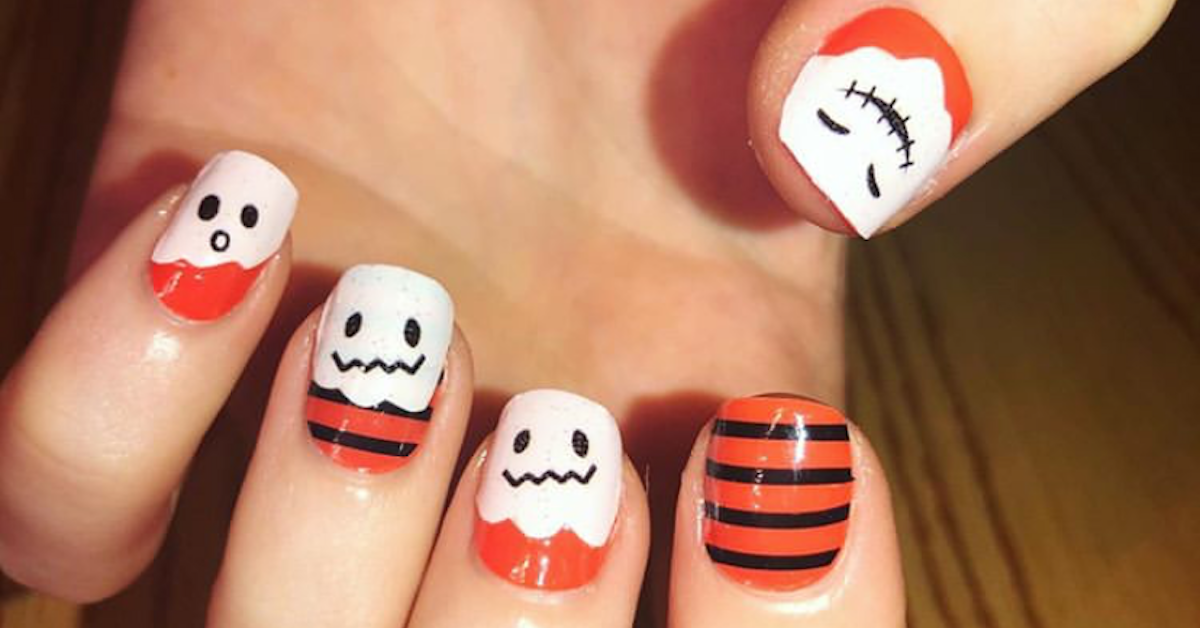 These Incredible Halloween Manicures Will Make Up for Your Lack of Costume This Year
By Pippa Raga

Oct. 9 2019, Updated 2:29 p.m. ET
Article continues below advertisement
1. Witchy Nails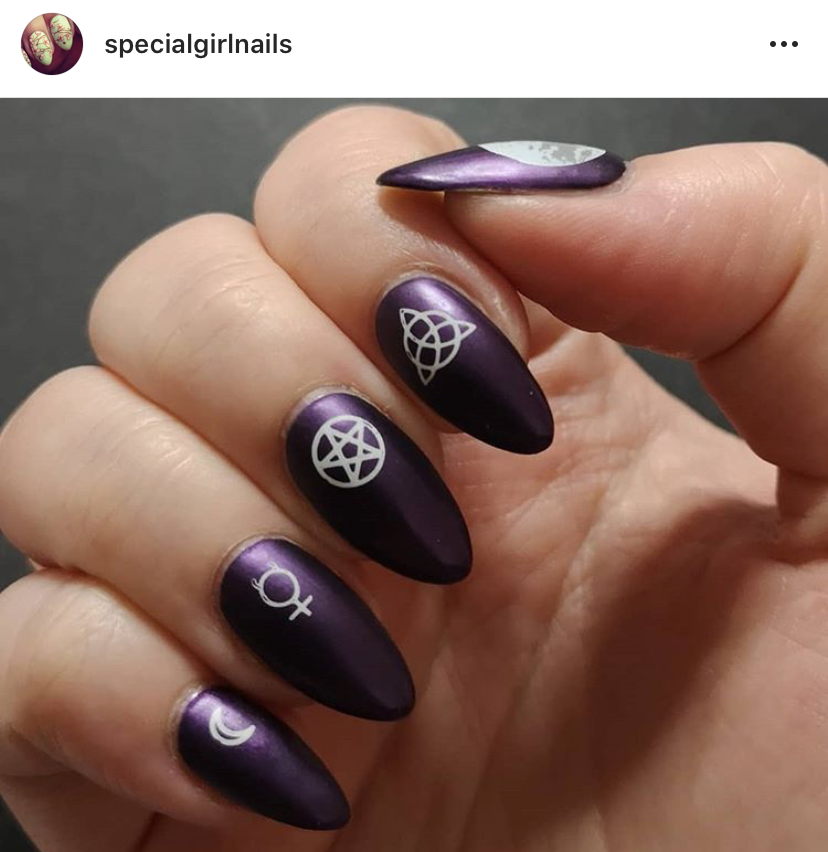 These nails are beautiful because they're not too overstated and you have to look close to realize they're even Halloween-themed. Otherwise, they're just a lovely chrome purple with a matte finish. Add the witchy stamps in white varnish and they're perfect for a spooky costume, then recycle the style without them for the rest of the year.
Article continues below advertisement
2. Addams Family Nails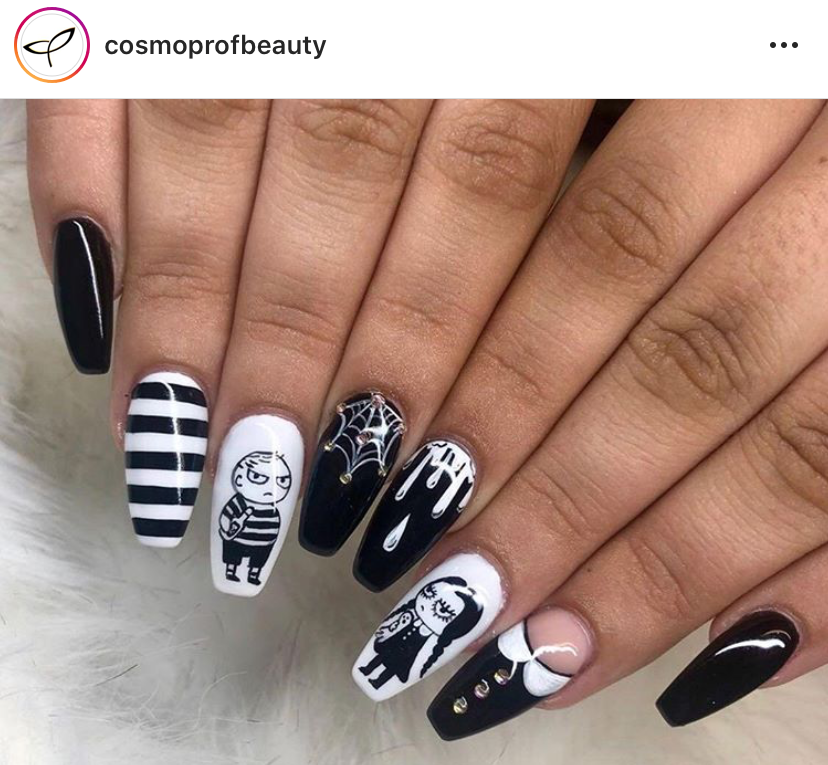 They're creepy and they're kooky, mysterious and spooky, and they're coming back for an animated remake just in time for Halloween! If you plan to be first in line on premiere night (we'll see you there) and can't wait to hear Charlize Theron and Oscar Isaac voice the familiar roles, may we suggest making sure your nails match your plans? These are perfect and all you need is two colors (black and white) and some rhinestones to give Wednesday's dress and the spiderwebs some extra shine and flair.
Article continues below advertisement
3. A Witch on a Starry Night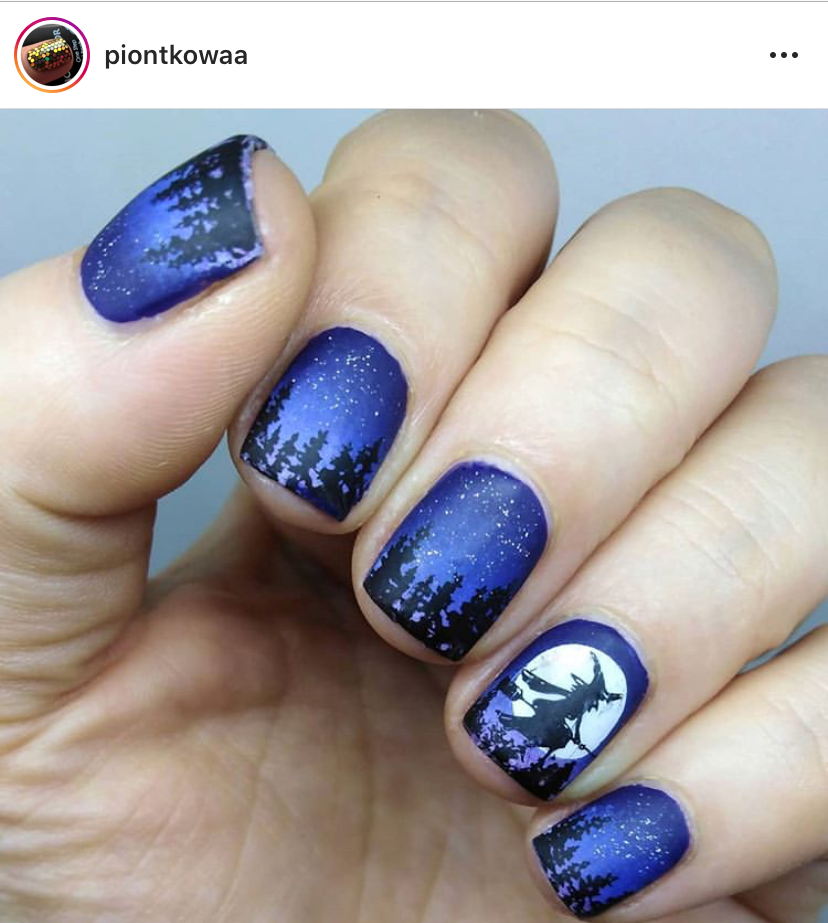 There is so much beauty going on in this nail style, which makes sense since the artist says they "mixed two challenges in one mani." Those challenges were "wicked witches" on the one hand, and "stars" on the other, and boy do they come together to make the perfect fall night manicure.
The detail here is absolutely gorgeous, look at those trees! 
Article continues below advertisement
4. Fang-tastic!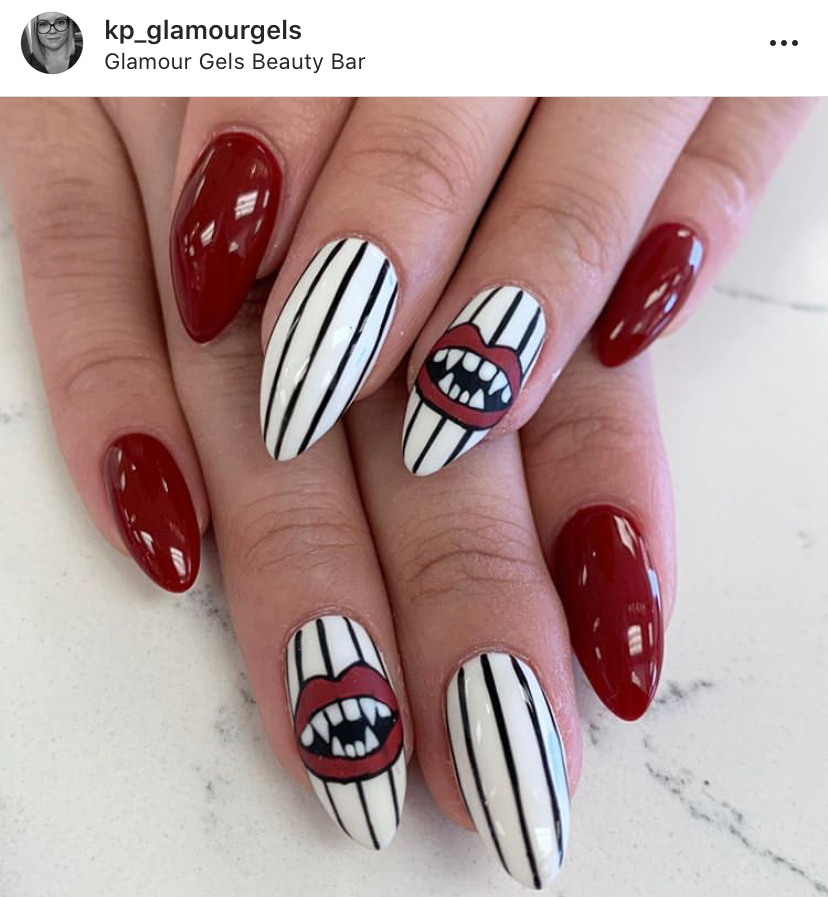 Understated nails can still make a huge statement; just check out these fangs! Most of the manicure is solid red, but the amazing detail of the lips and fangs illustration really pops all the more with the black-and-white striped nail next to it.
Article continues below advertisement
5. What are YOU looking at?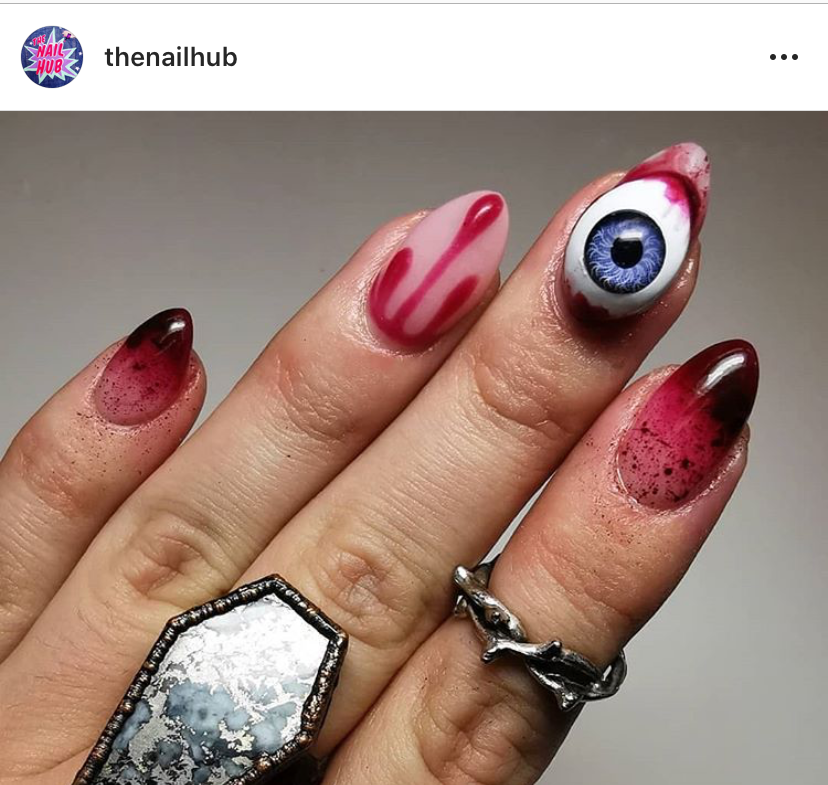 Eyeballs make the perfect Halloween nails, but this person went the extra mile by incorporating what looks like an actual three-dimensional ball into the manicure. Extra points for the simple bloody touches on the otherwise natural nails around it. 
This manicure is guaranteed to turn some heads!
Article continues below advertisement
6. Kawaii Halloween Nails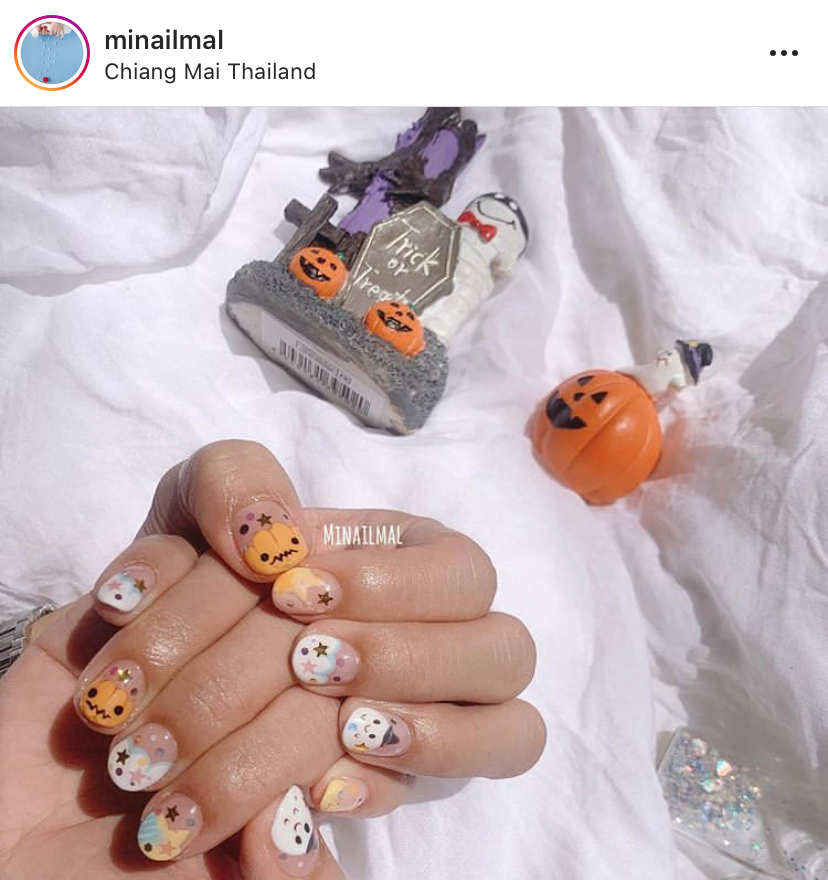 Just because you're feeling festive doesn't necessarily mean you're feeling creepy. Enter these cute Halloween nails that feature adorable pumpkins and ghosts in pastel hues. We adore!
Article continues below advertisement
7. These nails are 'IT'!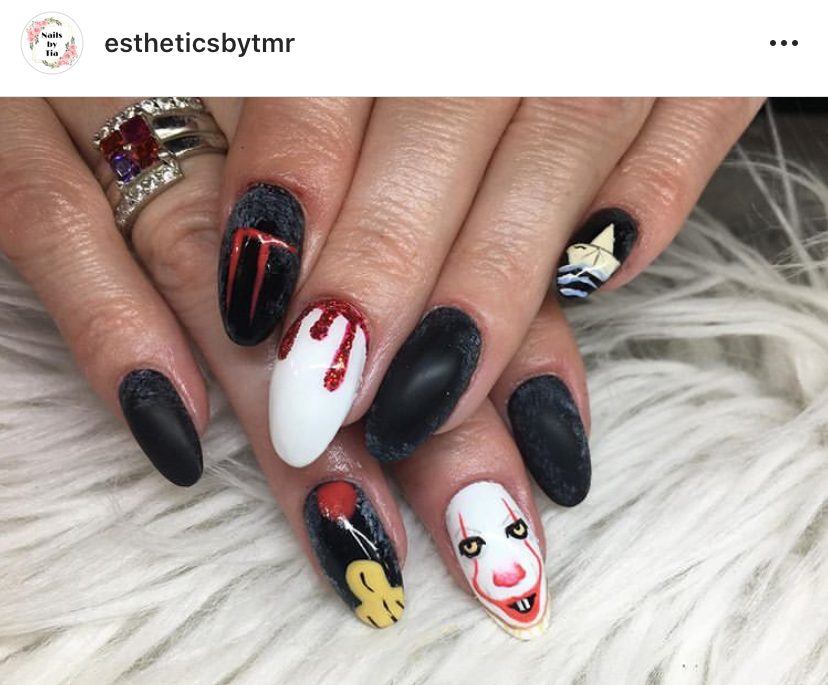 When the time of the year comes around to decide what to dress up as, we tend to think first of the best scary movies we've seen. Since the sequel to IT is out now, this manicure is all the more amazing. It's got it all from the scary clown, to glittery blood, and even an uncanny reproduction of the logo. We also love the black matte nails that give the designed nails more room to shine.
Article continues below advertisement
8. Black Widow + Lace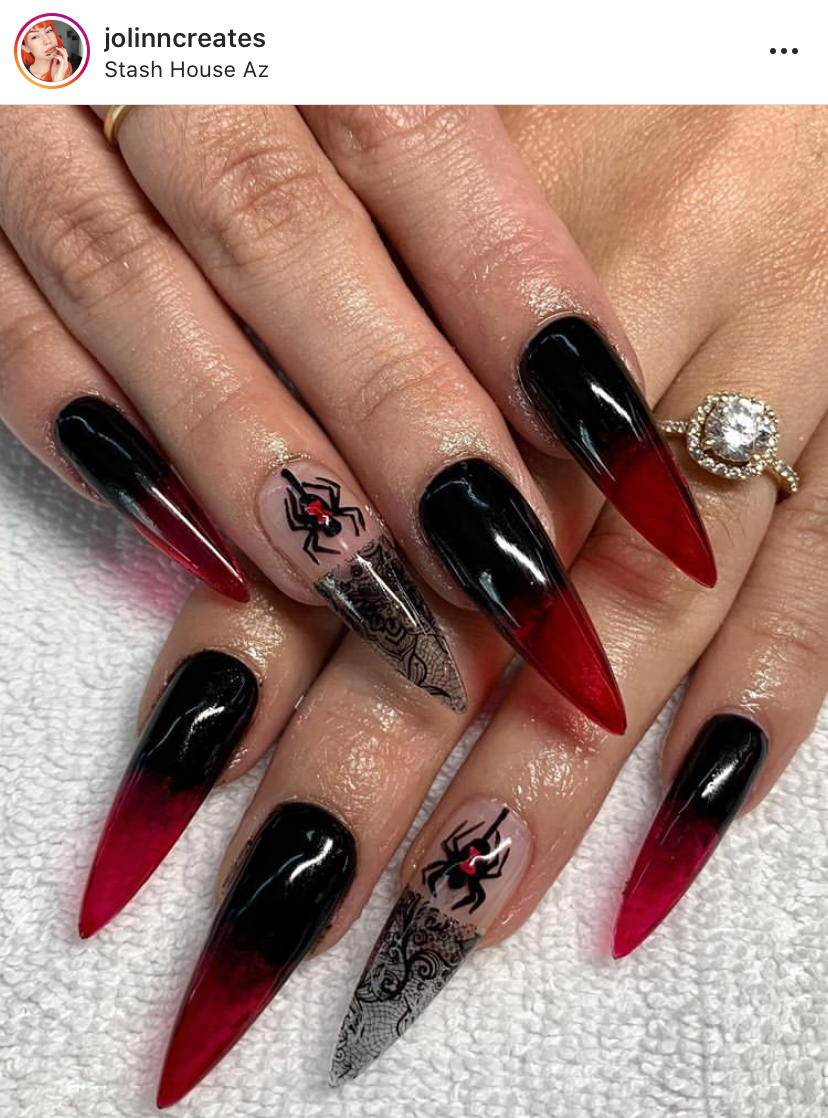 If your usual vibe is witchy, and you want to step it up for Halloween season, this might be one of the classiest looks out there. It incorporates a super pointy shape with alternating bloody and lace tips. The detail of the black widow spider is just the cream on top, though we'd wear this look just as well without them.
jolinncreates / Instagram
Article continues below advertisement
9. Candy Corn Nails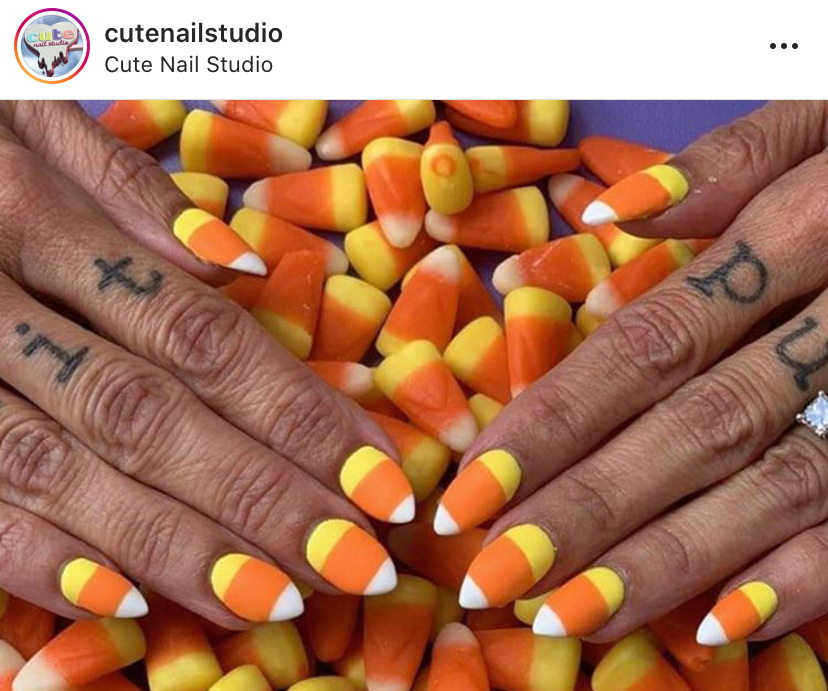 Candy corns aren't that yummy when it comes to candy, but when it comes to nails, we're obsessed with the look. We're loving the camouflage vibe here of the nails digging through candy corn, which we recommend recreating if you go for this manicure. More than that, without the context of Halloween, these colors would look cute together at even a springier time of the year.
Happy Halloween! We hope these Halloween nail ideas inspire you to go for a creative, spooky or even cute manicure this season.