12 Times Postal Workers Went Above and Beyond for Their Community
The U.S. Postal Service is facing an extreme crisis, but postal workers are essential, and in addition to delivering the mail, they often deliver joy.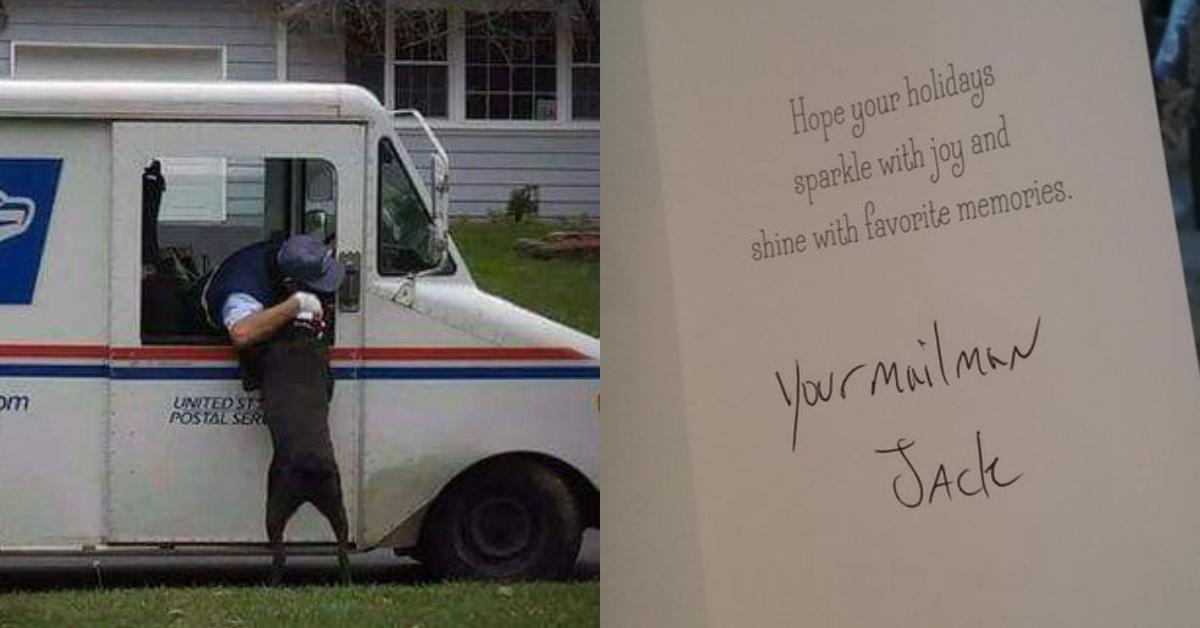 The U.S. Postal Service is in crisis right now, which is a shame, not only because is it an essential service but because it is filled with extraordinary people who go above and beyond on a daily basis to deliver the mail and joy and happiness to their customers. Postal workers routinely do nice things just because they see their customers (and their pets!) every day. Here are some heartwarming examples of mail carriers doing the absolute most.
Article continues below advertisement
When this person wasn't home to receive the mail, their mail carrier left dog treats for their pup right outside in the mail! That old myth that mail carriers and dogs don't get along is just that — a total myth!
I love this story so much. This pup, Pippa, always carries the mail to her humans every day. It's her job, and she's great at it. But when they're no mail, this mail carrier still gives her something to deliver so she can do her job. It's so cute.
Article continues below advertisement
This wonderful mail carrier hasn't even met the pup that he hears barking every single day, but he thinks she deserves a treat anyway, and I think that's beautiful.
This mailman dressed up as Santa during Christmas time!! Imagine if you were a kid and you saw this. You'd be like, "I knew they were lying! There's no way he can fit down chimneys. Of course he takes over mail delivery this time of year."
Article continues below advertisement
This person moved to a brand new house and their mailman took the time to send them a Christmas card. Talk about feeling welcome in their new neighborhood!
This customer did something nice for their mailman by leaving him some water, Gatorade, and snacks. They never expected that their mailman would return the favor and leave them three bags of pan dulce, a Mexican sweet bread, and a six-pack of Mexican coke. What a guy!
Article continues below advertisement
This is Dewey. Reddit user Phedis explains that their neighborhood nominated Dewey the mailman for the Hometown Hero Award. They picked him because "he has worked for the United States Postal Service for 25 years and has been walking our neighborhood for 13 years and walking 13 miles a day. He genuinely loves interacting with everyone and is one of the kindest, most gentle souls you will ever meet.
"He constantly goes above and beyond. If I'm not home and have a letter or package to sign for he will call me personally to see if I'm close by to sign for it. He always hides our packages if we're not home and leaves a hand-written sticky note in our mailbox noting where he hid it. Many people in our neighborhood bake him treats for Christmas and every year we get a hand-written card thanking us." Sounds like an amazing guy.
Article continues below advertisement
Are you crying at this love story between a mailman and a dog? Because I am. I cannot get over Jax jumping up into the truck to hug him goodbye.
This post was reposted by another mail carrier so they could show their appreciation for a fellow postal worker. This mail carrier wanted to help an elderly couple who didn't want to risk their health so they bought them stamps. Just a wonderful, human thing to do.
Article continues below advertisement
This postal worker was so beloved that the entire neighborhood he served came together to throw him a giant retirement party. That's how you know you've done good for other people.
I can't even! This person's mailwoman leaves a treat for their dog every day. But she went on vacation, so she brought the pup a whole bag of treats to tide her over until she gets back! The thoughtfulness!
This mail carrier learned that their customer's 4-year-old kid loves anything and everything to do with the mail truck. So, he gifted the little mail lover a tiny truck of their own and lots of other goodies for the holiday season.