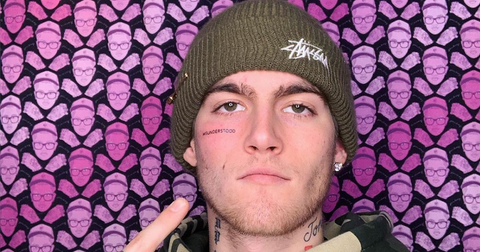 Cindy Crawfords Son Presley Gerber Revealed a New Face Tattoo — and People Have Feelings
By Michelle Stein
It's well-known that Cindy Crawford has two children, Kaia and Presley Gerber. Both of the supermodel's kids have managed to follow in her footsteps by launching their own modeling careers. However, it seems the icon's son is sporting some controversial new ink — and its placement has people wondering if it could affect his modeling.
Presley Gerber is the 20-year-old son of Cindy and Rande Gerber. Since his runway debut in 2016, he has added a number of impressive appearances and catwalks to his resume, including: Moschino, Dolce & Gabbana, Tommy Hilfiger and more. He's also done some big-name campaigns — including one for Calvin Klein with his sister, Kaia. Presley even teamed up with his famous mom, Cindy, for Pepsi's Super Bowl LII commercial.
With this in mind, fans were flabbergasted when Presley recently revealed a brand new tattoo — on his face. Let's take a look at the model's ink and what people are saying about it.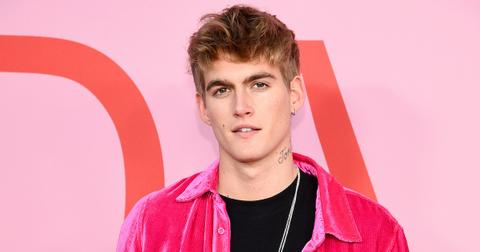 Presley revealed a face tattoo that reads, "Misunderstood."
On Friday, Feb. 7, Presley shared a video showing tattoo artist Jonathan "JonBoy" Valena giving him a tattoo along his right cheekbone. It reads, "MISUNDERSTOOD" in all-capital letters. "Thanks homie @jonboytattoo," he captioned the Instagram post.
Meanwhile the New-York-based tattoo artist — who has worked on other stars, including Kendall Jenner, Justin Bieber, and Hailey Bieber — took to his own Instagram to share photos of Presley's new tat. In the caption for one of the shots, JonBoy wrote, "Sorry mom."
This isn't his first tattoo, by any means.
A quick look at Presley shows he has plenty of other ink — on this neck, arms, hands ,and fingers, among other spots. In fact, he and his younger sister Kaia went in last month together to get some ink from tattoo artist Evan Kim, according to E! News. And in February 2018, JonBoy gave Presley a tattoo of his sister's name alongside the Roman numerals XXIII on his elbow.
Still, the overall reaction involving Presley's face tattoo was: WHY?!
One Twitter user wondered, "What happened to Presley Gerber? Is he going through a mid life crisis at like 15? He ruined his face," adding a crying-face emoji.
Others simply couldn't wrap their heads around the model's decision. One person tweeted, "Presley gerber did NOT get a face tattoo that says misunderstood. He didnt. He DIDNT...?"
Yet another Twitter user said exactly what I lot of people were thinking, writing, "Holy crap. Presley Gerber is 20 and has now marked up his face with a poorly done tattoo that says "misunderstood" on his cheek. I am sure that will help with model bookings. If I was Cindy Crawford I'd flip."
On Feb. 8, Presley took to Instagram Live to clear a few things up.
On Feb. 8, Presley took to Instagram Live to clear a few things up about his new ink. "What's the meaning of the 'misunderstood' tattoo? I don't feel very understood, I guess," he responded to a follower.
In case you were wondering, he had a message for his haters, too. "If anyone has shit to say to me about this — or anything else, or my family, or how I grew up, or anything — I will give you my address, I promise, and you can come say it to my face," he said.
Whether you love or hate his new face tattoo, one thing's for sure: Presley gives zero f---s about what other people think about his ink. So I wouldn't waste your time heckling him about it — unless you want to say it to his face at his house, that is.