Professor Accidentally Sends Nasty Email to Student Calling Her 'Entitled' for Correcting Her
The professor meant to sent the email to other colleagues, but she included the student on the email. The entire thing was extremely inappropriate.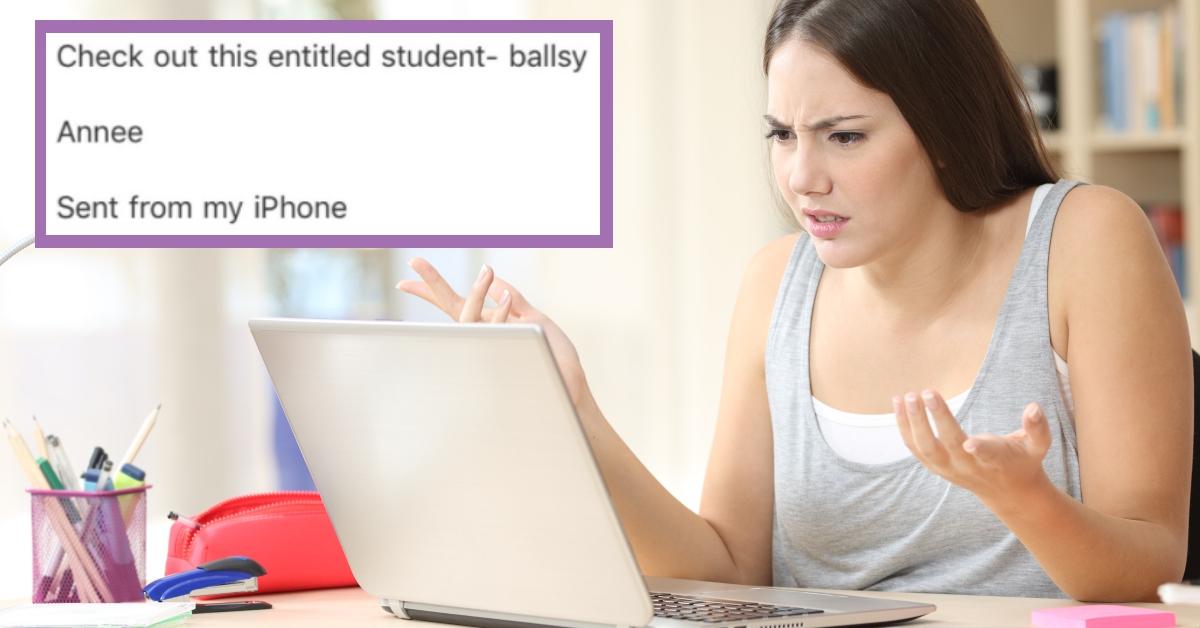 It's never good when you accidentally send someone an email that's about them, especially if you talk about them in a negative light. But it's even more terrible when you are a professor bad-mouthing your student in an email you accidentally send to them. It's wildly unprofessional.
Article continues below advertisement
But that's what happened to Skye, who shared screenshots of her email exchange with her professor, Anne Roschelle. Skye emailed her to politely let her know that the pricing information she provided for class materials was incorrect and to suggest that she offer the readings digitally. Anne's response shocked her.
Article continues below advertisement
Anne wrote, "Check out this entitled student — ballsy," and meant to send Skye's email around to other teachers, which is unprofessional to begin with, but then she accidentally included Skye on the email!
Skye was confused at first, thinking the email was just to her. Then she realized Anne had sent it to a bunch of other professors, including the chair of Skye's major department and even some people who didn't even teach at the school. Skye worked up the courage to respond and swiftly dropped the class because she knew she couldn't have a good experience after this debacle.
Article continues below advertisement
"Actually, I see you were trying to talk about me to other professors so I will be dropping your class. You are very mean and have a sense of arrogance and self-righteousness that is beyond belief! Good luck with your book and have a fantastic semester," Skye wrote.
Article continues below advertisement
At this point, you'd think Anne would be mortified to learn what she'd done, that she'd apologize profusely and grovel at Skye's feet for forgiveness. But you can probably guess that that is not what happened.
It's clear from Anne's response that she does not view students as whole human beings deserving of respect. She is dismissive and rude and barely apologizes for her grievous mistake.
Article continues below advertisement
"It's good that you're dropping the class — started off on a bad foot," Anne wrote. "My point is that I have pedagogical reasons for having you purchase the packet of readings. It's not just about money but about how students learn.
Article continues below advertisement
"There are a variety of learning styles that need to be accommodated. I realize school is expensive — most classes require around $100 per class for books — I try to keep costs lower if I can.
"Having said that — you should reflect on the tone of your message and the way you engaged me — I experienced it as you telling me how to run my class which [f]elt inappropriate and disrespectful."
Article continues below advertisement
Anne is supposedly a successful activist and writer, but it seems she needs some help with reading comprehension because nothing about Skye's email was disrespectful. I can only imagine how furious Skye was to receive this email because I'm fuming right now. The worst part is that Anne still sits on her high horse, thinking she did nothing wrong and that Skye was the one in the wrong.
Article continues below advertisement
In her thread, which went viral, Skye writes, "I loved my time at New Paltz, but watch out friends, I love you and want you all to have positive learning experiences. This is so ridiculously unprofessional and she really made it so I wasn't comfortable staying in the class. Y'all deserve better."
Skye's thread sparked a renewal in people emailing the school to complain about Anne Roschelle's behavior, and while it's unclear what became of the situation, but Skye assures everyone that the school knows about the incident. Let's hope she has been held accountable for her behavior.