Professor Schools White Students on How They Would React If They Lived During Slavery
Of course, most jumped to say they would be strong abolitionists. He explains why this is "nonsense."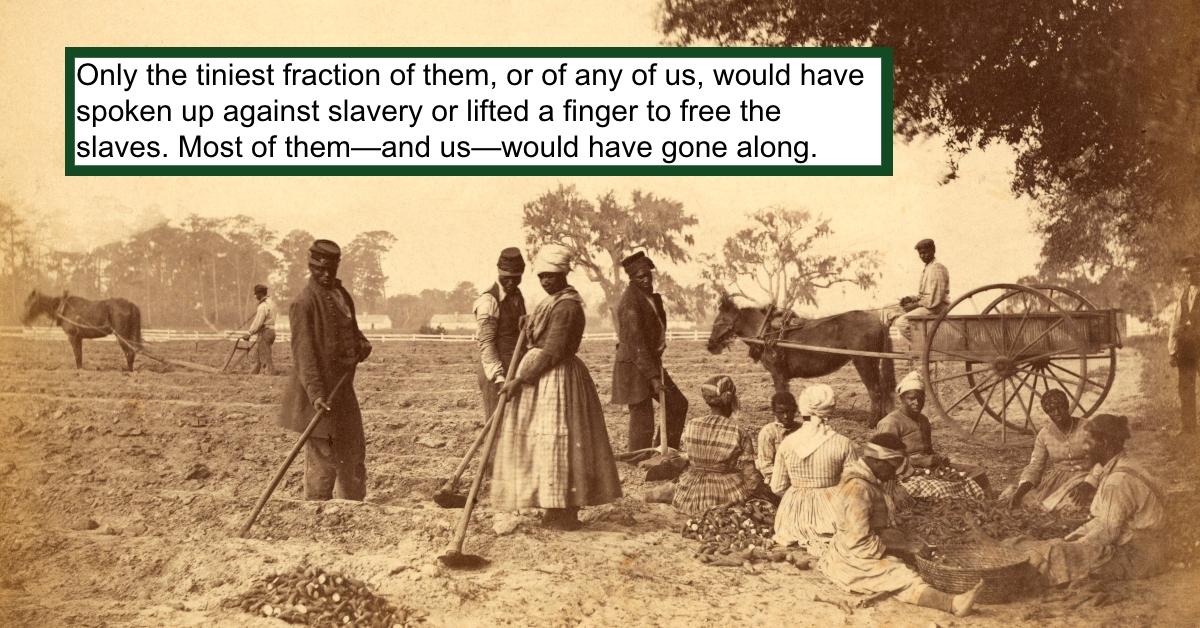 Who would you be if you were a white southerner who lived during slavery? Many are quick to jump up and say we'd be active abolitionists! We would know it was wrong and fight for what's right. But one professor asked his students to examine that knee-jerk reaction to claim we'd do the right thing and really think about the reality and the probability of that.
Article continues below advertisement
Robert P. George, a professor at Princeton University, posted a thread to Twitter on the subject. He does this exercise with his students in which he asks them to imagine their position if they lived during slavery as a white person, and invariably, the answers are the same.
We would all like to say that if we were white and living in the South before slavery was abolished, we would have spoken out against it and fought for abolition. But Professor George knows that this is simply not the case.
Article continues below advertisement
"This is nonsense," he writes. If we were born into a world where white people had slaves and that was just a fact of life, there's little chance that we would have spoken out against it, especially if we and our families benefitted from that system. The vast majority of white people in the south before the Civil War were not abolitionists. What makes us think we would be if we lived back then?
Professor George writes that when he asks this of his students and they claim they would fight for abolition, he requests then, that they show evidence that in their lives today, they've fought for victims of injustice. There are plenty of ways in which people in the U.S. and around the world are still enslaved and facing the consequences of deeply racist systems. If they really would have been abolitionists then, they'd be fighting against these injustices today.
Article continues below advertisement
On top of that, the causes that they do fight for would have to make them extremely unpopular with their peers, their friends, and the powers that be. Nearly everyone would have disagree with you. Fighting for abolition in the South is not the same as jumping on the Black Lives Matter bandwagon when it became popular.
Fighting for abolition during slavery was such a personal risk that even if you knew slavery was wrong and you detested it, chances are you wouldn't risk your livelihood to speak out against it.
Article continues below advertisement
Professor George got a lot of feedback to his thread, some from people who've witnessed something very similar in their own lifetime. "I lived in South Africa under apartheid," one Twitter user wrote. "I can tell you, the voices raised against that appalling system were very few and very brave."
It's a useful exercise to think about what kind of person you would be if you were white and in the South during the time of slavery, but only if you are going to truly interrogate yourself and examine your current willingness to take an unpopular stance because you know it's right.