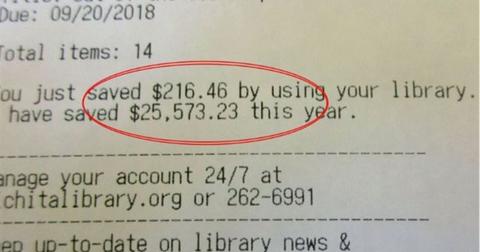 Public Library Shows People How Much They've Saved on Their Receipts
By Mark Pygas

Updated
Public library use has unfortunately fallen 30% since 2005, but people are—for the most part—still reading as much as ever. While libraries are being dropped in favour of easy to access eBooks, it's easy to forget just how much money you can save by going to the library. 
And while digital versions of books are often cheaper than their physical counterparts, they're still far more expensive than a trip to the library. To illustrate that point, one library has decided to have a running total of exactly how much money their customers have saved over the year by using their services. 
"Just noticed that my library keeps track of how much you save by not buying books and borrowing instead," Reddit user penguinska9 wrote on the platform earlier this week. The user also shared a photo of their receipt, which showed that they had saved $164 on that trip alone, $1,300 in the past year, and over $7,000 since they started using the library. 
The Reddit user explained that they shared the account with their family of six, which explains how they managed to save so much. "There are six people in my family so a trip to the library every week really adds up," they wrote. 
Wichita Public Library has a similar practice, and explained how the idea had helped illustrate the value that they provide to their customers in a posy.
"While libraries offer tremendous benefits to their communities, sometimes the benefits are more abstract or require long term studies to show the value of their programs," said Jennifer Lane, communication manager, Wichita Public Library. "Including this information is a way to easily quantify one of the ways the Library is a value to its users...."
So far this year, the highest dollar amount saved by a customer's account is $64,734.12. And the highest dollar amount saved by a customer's account since this feature was implemented is $196,076.21."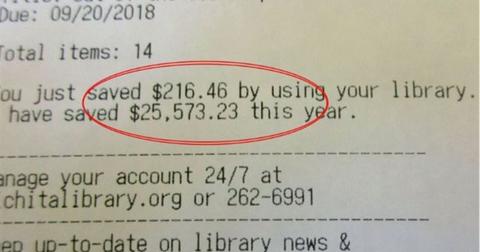 Reddit users seemed to love the idea, with one commenter writing:
"Wow that's brilliant! Seeing those figures might encourage more people to use a library!"