Rachel Lindsay's Husband Told Her to "Keep Fighting" Amid 'Bachelor' Drama
Rachel Lindsay's husband, Bryan Abasolo, had her back as she faced online harassment during the latest 'Bachelor' racism controversy.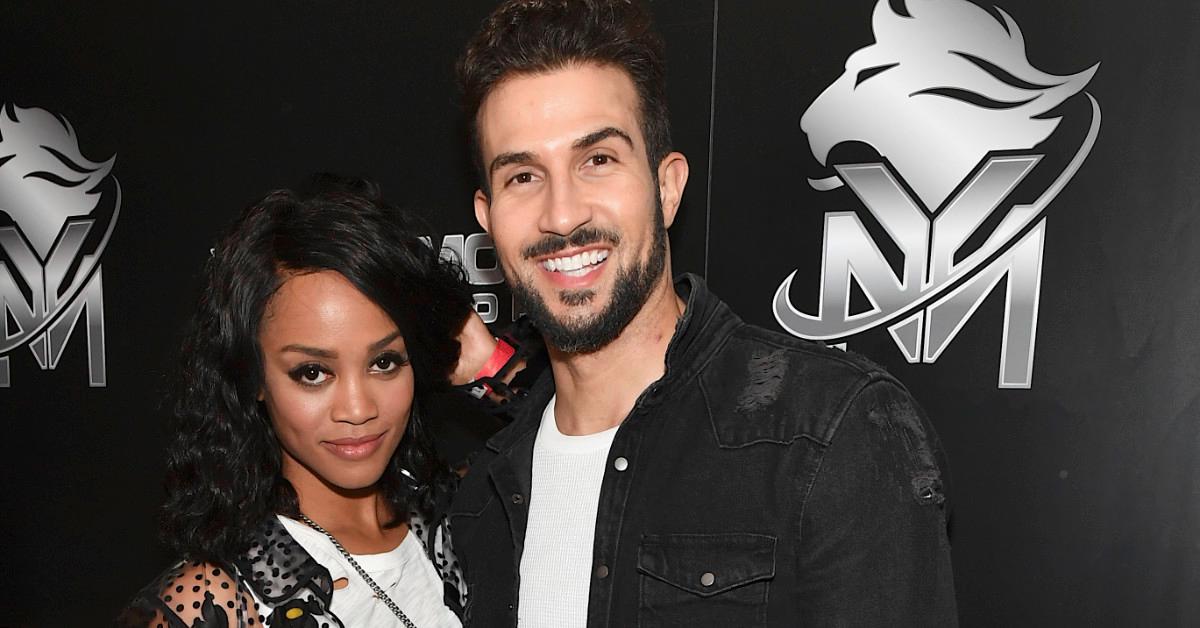 As certain Bachelor fans harassed her with hateful messages amid the Season 25 controversy, Rachel Lindsay at least has husband Bryan Abasolo in her corner.
"I love you, I appreciate you, I believe in you and I just wanted to let you know how proud of you I am," Bryan wrote on Instagram on Friday, Feb. 26. "Keep going and never stop being you and fighting for what's right."
Article continues below advertisement
Bryan and Rachel are a rare 'Bachelor' franchise success story.
The couple met and fell in love on The Bachelorette, a spinoff of The Bachelor. Rachel was a breakout star of The Bachelor Season 21, and even though she didn't win the heart of then-Bachelor Nick Viall, she did become such a fan favorite that producers chose her as the star of The Bachelorette Season 13. And that's when Bryan, a chiropractor from Miami, Fla., entered her life.
Article continues below advertisement
At the end of the season, Rachel chose Bryan as her winner, and they got engaged. Two years after that romantic season finale, the couple tied the knot — off-camera — in Cancun, Mexico. As of now, they're still together, beating the odds for a reality franchise that has produced more splits and divorces than happy marriages.
Rachel Lindsay has been an outspoken critic of 'Bachelor' and 'Bachelorette' diversity issues.
Even before Season 25 of The Bachelor, Rachel called out the producers of both shows for their habit of casting white leads.
"There's been one person of color in 40 seasons," she told Page Six in 2020. "We have 45 presidents. There has been one person of color. We are literally on par to saying that you are more likely to become the president of the United States than you are to be the lead of this franchise. That is insane."
Article continues below advertisement
She went on: "How can I sit back and be quiet, when I am a part of something that isn't as supportive or doesn't reflect who I am? I just feel like if anybody is in my position, you couldn't sit quiet about that … And I don't think that anyone would fault me — a higher up in the franchise — for saying that."
She's been the target of "rude, hateful" comments during the Season 25 'Bachelor' racism scandal.
As an advocate for racial justice, Rachel criticized The Bachelor again this season amid reports that a current contestant attended an "Old South" plantation-themed college party in 2018 — and after host Chris Harrison defended that contestant in a Feb. 9 interview with Rachel on Extra, according to The Hollywood Reporter.
Article continues below advertisement
Harrison caught heat for that interview and announced four days later that he'd be "stepping aside" from the show for a "period of time" amid the firestorm.
Rachel has since deleted her Instagram, and according to Today, Higher Learning cohost Van Lathan revealed that she did so because of "how much hate she's getting from Bachelor fans, who are spamming her with all kinds of rude, hateful things to say."
Rachel Lindsay's husband said Chris' comments were "flat-out irresponsible."
As for Bryan, he said in an episode of his "Talking It Out" podcast that he's disappointed in Chris. "I thought what he said was irresponsible, it was hurtful, it was flat-out unacceptable," Bryan said of Chris' comments on Extra. "Is this how everybody at the top feels? I hope that it isn't the case, but it's like ... this is the figurehead."