A Rapper Is Charged With Murder After Police Hear a Song Featuring Details of the Crime
A Nevada rapper was arrested and charged with murder when police were able to connect one of his songs to a 2021 unsolved murder. Here's what we know.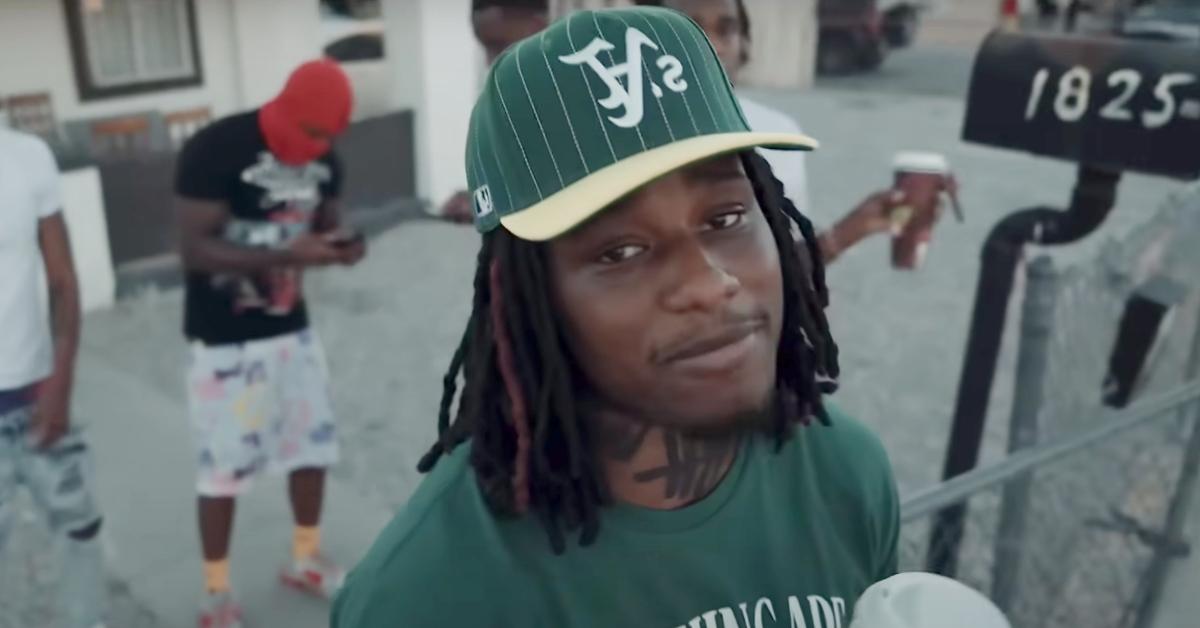 Usually, when art imitates life, it's because the artist was feeling inspired by real feelings or experiences. Typically, what one doesn't and shouldn't see is an artist describing a horrific crime they allegedly participated in, in the form of song. Who would be foolish enough to lay down a confession in the studio?
Article continues below advertisement
When a Nevada rapper admitted in one of his songs to allegedly murdering someone, police took it seriously and arrested him. Here's what we know.
Article continues below advertisement
Rapper Kenjuan McDaniel confessed to allegedly murdering someone in his song 'Fadee Free.'
One of the first lines in Kenjuan McDaniel's song Fadee Free is, "I'm the reason why you're dead," and while that certainly isn't enough to warrant an arrest, McDaniel didn't stop there. According to a warrant obtained by The Washington Post, McDaniel included details of the crime that police did not release to the public.
The victim, Randall Wallace, was killed Sept. 18, 2021. When police arrived at the scene the found a "male who had suffered from apparent gunshot wounds" and was later pronounced dead at the scene. In Fadee Free, McDaniel sings, "Parked the car, double back on feet, the smartest way to slide, drove in, double lock yo' man, make sure you get yo' bod," while using a nickname of Wallace's.
Article continues below advertisement
Witnesses told Las Vegas police they saw a "Black man fleeing the scene in a white vehicle," via The Washington Post. When another witness came forward with more information, McDaniel became a suspect. At the time of Wallace's murder, McDaniel was on probation for "shooting at four people inside the Boulevard Mall in 2018," but was able to plead that down to a lesser charge of ownership of a firearm as a prohibited person.
Article continues below advertisement
McDaniel has been charged with violating his parole as well as open murder. An open charge in the state of Nevada means the "count will end up being decided by a jury whether it's first-degree or second-degree murder, or potentially voluntary or involuntary manslaughter." As of the time of this writing, he is being held at Clark County Detention Center on a $1 million cash bond.
The comments section of the 'Fadee Free' music video is pretty active.
Obviously no one thinks McDaniel should get away with possible murder, but most people were shaking their virtual heads at how stupid it is to allegedly map out one's crimes in a song.
"After reading about a wanna be rapper that was actually ignorant enough to detail a murder he [allegedly] committed in one of his 'songs', and got arrested because of that, I just had to see and hear the stupidity for myself," wrote one person. "I was not disappointed."
Article continues below advertisement
Another YouTuber said that the Key and Peele Rap Album Confessions sketch from 2015 is actually coming true. In it, Keegan Michael Key plays a cop interrogating Jordan Peele, a hip hop artist named Gun Rack who has been arrested on a murder charge. After telling the cop he's "got nothin'," Key breaks out a tape recorder that plays a song with such specific details. Honestly, it's hilarious.
Article continues below advertisement
McDaniel isn't the only rapper to get arrested because of a song.
SPIN Magazine reported that "Brooklyn rapper Ra Diggs was found guilty on 21 federal charges, including three murders," in June 2014. He was "convicted of dealing drugs and racketeering in a case where his music videos were used as evidence against him."
In 2012, rapper Jamal Knox was arrested on drug and gun charges. CNN stated that the rapper — who goes by Mayhem Mal — wrote a song with Rashee Beasley in which they "included the names of the two Pittsburgh officers who arrested them with lyrics like, 'I'ma jam this rusty knife all in his guts and chop his feet' and 'Well your shift over at three and I'm gonna f--- up where you sleep.'" He was found guilty in 2013.
Arguments about First Amendment rights and song lyrics have often come into play for cases such as these. What ultimately sets them apart and can lead to prison time, is details so specific to the crime that police and the courts cannot deny the artist's involvement.