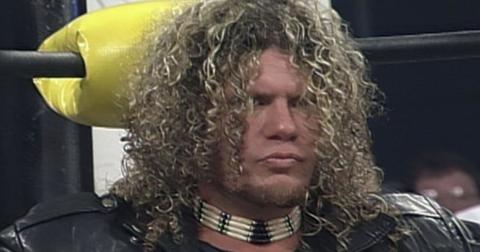 Raven Was in the Audience During 'Dynamite,' — Does That Mean He'll Wrestle for AEW?
By Mustafa Gatollari

Feb. 26 2020, Published 1:56 p.m. ET
Tony Khan and the AEW have been making consistently intriguing moves that are getting more and more fans of pro-wrestling to tune in on Wednesday nights. In fact, the AEW has beaten NXT's numbers on more than a few occasions and has generally been neck and neck with Vince McMahon's black and yellow brand.
Dynamite saw the "return" of an old school fan favorite that has AEW fans very excited: Raven.
Article continues below advertisement
If you're unfamiliar with the pro-wrestler, he was one of the edgier stars who made his bones in the ECW as a purveyor of hardcore action. Rocking a very grunge aesthetic and quoting Edgar Allan Poe at the end of his monologues, Raven may not be one of the most commercially successful wrestlers, but he is well respected across several organizations due to his excellence on the mat and the mic.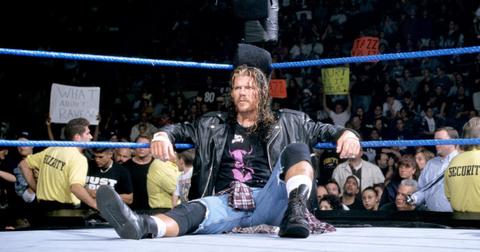 Article continues below advertisement
The Philadelphia native was lauded as having "one of the most emotional rivalries in professional wrestling's history" with The Sandman in the 1990s.
Then there's his title resume. He's had no fewer than 36 separate title reigns across the WWE, WCW, and ECW. He also had more hardcore title reigns in the WWE than anyone at a whopping 27.
He underwent a few different personas before finally settling on Raven, but started off as a baddie.
Raven's real name is Scott Levy, and after graduating from the University of Delaware with a criminal justice degree, decided to head over to the Monster Factory in New Jersey to learn the fine art of wrasslin' under Larry Sharpe. In 1988 he made his debut against Jimmy Jack Funk and competed on several regional circuits. His first big gig was with the WCW, where he started as the surfer-themed dude, Scotty Flamingo.
Article continues below advertisement
So ravens the exalted one on aew so much for matt Hardy waiting for the aew fan boys to have a cry now

— Wrestling Opinions (@wrestlingopi) February 20, 2020
Article continues below advertisement
He won the WCW Light Heavyweight Championship but lost it less than a month later, then aligned himself with Diamond Dallas Page as part of "The Diamond Mine" faction. He ultimately left WCW after disagreements with management and joined the WWF (before it was the WWE), but only stayed there from 1993-1994, with the "Johnny Polo" persona as a spoiled rich kid.
Haven't been super impressed with a lot of the matches in AEW thus far. Some gems, for sure. But overall, NXT match quality is far superior. But I'm telling you now, if Raven is joining AEW, I'm not gonna miss anything going forward.

— Just Kev Now (@Kevin__Says) February 20, 2020
Article continues below advertisement
Steve, still unhappy with his professional wrestling career despite knowing he had the work ethic and talent to make it in the business, knew he needed to make a huge transformation, so he did. He put on more mass and created the nihilistic, bad-ass character of "The Raven" which was heavily inspired by Grunge Rock. He pitched the pierced and ragged character to Paul Heyman from ECW, who loved it and debuted him as a heel against everyman, hometown hero Tommy Dreamer.
I thought last night's AEW Dynamite was their best show in awhile. Between...

- the superkick to Sammy
- Raven in the crowd
- Jeff Cobb vs. Jon Moxley
- the Darby Allin pop
- the Lucha Bros getting love
- Cody Rhodes vs. Wardlow in a cage
- the Cody moonsault

... Wow!!

— Nate Morrison (@nateryapp1900) February 21, 2020
Article continues below advertisement
Raven was a huge hit, and from 1994-1997, he was one of ECW's biggest stars. He eventually returned to the WCW with his Raven persona intact and wrestled for the WCW, again, becoming a notable star and fan favorite, but left again in 1999 to wrestle with the ECW until 2000, then back with the WWE until 2003. After that, he wrestled for TNA, Ring of Honor, before going into a semi-retirement and frequenting several independent circuits.
Which is why a lot of people were surprised to see Raven at an AEW Dynamite show, simply sitting in the audience as the action spilled out onto the floor only a few feet from him. It got a lot of fans talking about the 55-year-old professional wrestler, wondering if he'd be making a full-fledged comeback and speculating that he might be "The Exalted One" The Dark Order's always talking about.
Article continues below advertisement
Never considered Raven to be the exhaulted one, maybe that's why I like that idea so much, plus he was always a favorite of mine in WCW. Then Matt could come in with some Broken awesomeness and Brodie Lee could just come in and whoop some asses, or however they do it I love AEW!

— Benny 2 Belts (@NerfHerder26) February 21, 2020
Although some fans just think that Raven happened to be in the crowd and was watching the show, others think that the AEW might be setting Raven up for a return to action with their organization. It's no secret that the promotion is focusing heavily on WWE-Attitude era storylines and Raven was very much a part of that phenomenon. Do you want to see Raven make a big comeback to the squared circle with the AEW?