Ray Villanfane from 'Outrageous Pumpkins' Knows His Way Around a Pumpkin
Ray Villafane sure knows his way around a pumpkin -- which makes him the perfect judge for Food Network's 'Outrageous Pumpkins'!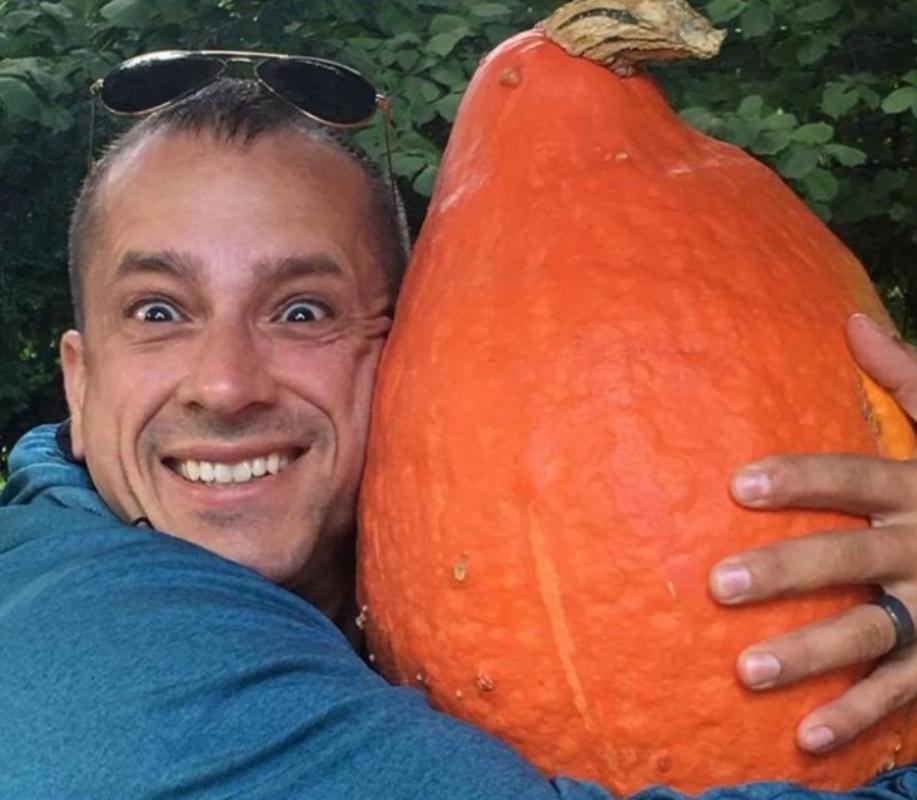 Outrageous Pumpkins has really taken the Food Network by storm since its debut in 2019. The series features multiple pumpkin artists competing in various ~outrageous~ pumpkin carving contests in a bid to win the title of "Outrageous Pumpkins Champion" and a sweet $25,000 Halloween treat, per IMDB. Judge Ray Villafane can be a tough judge given his in-depth backgrounds in sculpting and pumpkin carving. Find out more about Ray's backstory here!
Article continues below advertisement
Ray is a New York native.
Ray was born in Queens, New York and raised on Long Island. He attended the School of Visual Arts in NYC and graduated in 1991.
Article continues below advertisement
He went on to become an art teacher.
For 12 years, Ray taught art to students K-12 in a school district in Bellaire, Michigan. He retired from teaching in 2006 to pursue sculpting full-time.
You may have seen his work in the comic book world.
Ray's work went viral after he shared an image of a Wolverine wax sculpture online and caught the attention of Marvel – who offered to produce his work. He's also done sculpting for companies such as DC Comics, Warner Bros., McFarlane Toys, Hasbro, Bowen Designs, and Blizzard Entertainment.
Article continues below advertisement
Ray knows his way around a Food Network competition.
Back in 2007, Ray competed on a Food Network Challenge segment called Outrageous Pumpkins and returned for another round in 2009. He won both times he competed.
Article continues below advertisement
His sculpting skills quickly gained star-studded attention.
Ray has even carved pumpkins for Heidi Klum's annual Halloween party back in 2011 and was referred to by Martha Stewart as "the Michelangelo of pumpkin carving" that same year when he appeared on The Martha Stewart Show.
And it's not just pumpkins he can carve!
Ray opened up to Remezcla last October about his inspiration to create from more than pumpkins. He documents his other works of art – featuring clay, wooden, and even more sculptures – on his Villafane Studios Instagram account.
"It's my life's mission to show people that you can make stuff from ordinary objects and natural materials," he shared at the time. "I love playing and discovering new things."
Article continues below advertisement
Surprisingly, Ray DOESN'T like Halloween.
"My stuff has a Halloween vibe, but I think a lot of my work transcends that," Ray explained in that same interview. "To be honest, I'm not even really into Halloween. I don't even watch TV. Ironically, here I am making stuff that finds its way into pop culture."
Elsewhere, he shared, "There is a magical history behind the pumpkin," Villafane said. "When I bring a 3-D face to it, it comes to life. It emotes. I like to infuse magic into objects that normally wouldn't have it."
You'll see a lot of nature inspo in his work – and there's a reason for that.
Ray revealed to the outlet that most of his work is nature-inspired, and that's thanks to his own love of the outdoors. "There's nothing more satisfying to me than being outdoors. I love getting lost in the wilderness. My collaboration with Mother Nature is one of my favorite avenues to create art. It's like finding gemstones. The universe delivers it. That aspect brings me to a very spiritual part of my work."