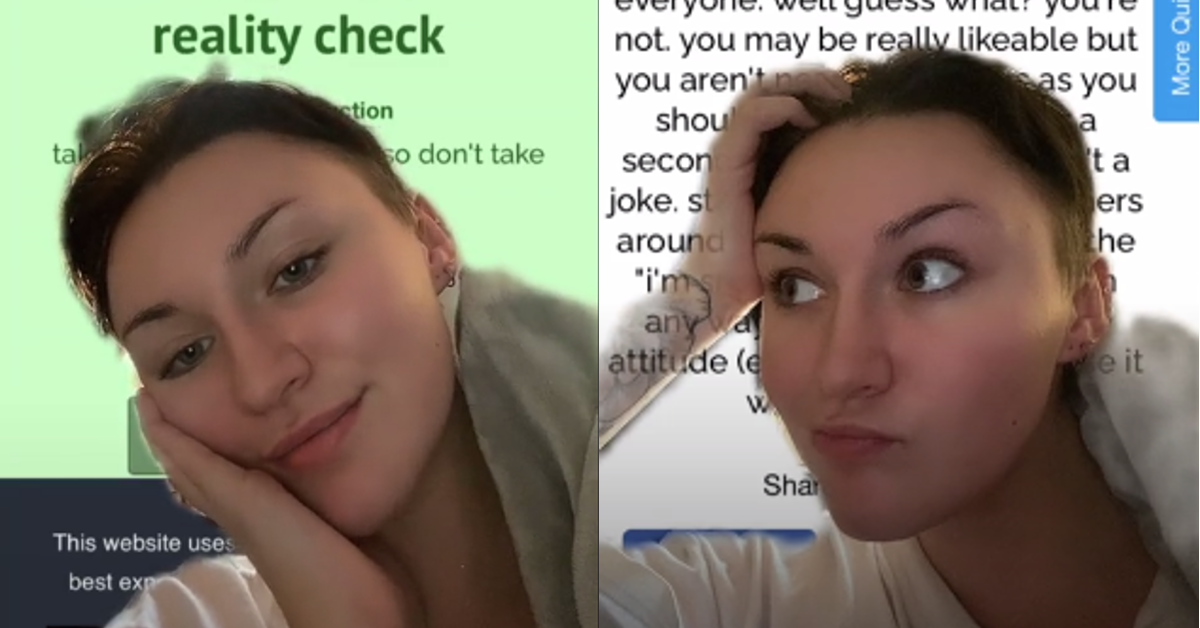 Your Fragile Ego May Not Be Able to Handle the TikTok Reality Check Quiz
Most people don't know that they have to condition their personalities the same way they condition their lungs for long-distance running or their muscles for bench-pressing 315 pounds. And just like any other aspect of your life that requires growth, you're going to need to experience a lot of discomfort in order to achieve said growth. Maybe this "reality check" personality test that's trending on TikTok provides that kind of challenge.
Article continues below advertisement
What is the "reality check" personality test on TikTok?
Quizzes and tests are all the rage on TikTok these days — remember the "Let Me Psychoanalyze You" analysis that everyone was taking? The test gave people some harsh truths about their personalities, but it looks like the "Reality Check" one goes even further. The full name of the quiz actually lets participants know how brutal it's going to be, as it's called the "Let Me f****** Destroy You By Giving You A Reality Check."
Article continues below advertisement
The test was created on the popular site Uquiz and TikTokers are posting video clips of their results all over the social media platform. It's comprised of 11 questions, so while it isn't as short as the other quiz, it's not as in-depth as some of the other analysis tools that have been circulating the web.
How can I take the "Reality Check" personality quiz on TikTok?
You can go to the Uquiz link right here, but if you don't feel like going through all of that, here are the questions listed below:
Pick a character that everyone loves

Buffy Summers
Sam Button
Jade West
Cameron James
Joey Tribbiani

Pick the character that you don't want to punch as much as the others (the lesser evil)

Ross Geller
Nate Jacobs
Ted Mosby
Michael Scott
Debbie Gallagher
Article continues below advertisement
Now pick a zodiac sign group based off of their vibes (not necessarily your own but not necessarily not your own)
Pick a song lyric but you can't get mad at me cause they are all short

"you could have anyone you want, why would you want to be with me? you know, i'm nothing special"
"everyone is so soft, everyone is so sensitive. do i offend you? you're hanging on my sentences."
"yeah, my boyfriend's pretty cool but he's not as cool as me"
"and I could be a pretty girl, shut up when you want me to. and I could be a pretty girl, won't ever make you blue"
"i just remember i was lonely. i guess i am always, it's not a problem. it's just something, i got used to it."
Article continues below advertisement
Someone spreads a s--tty rumor about you at school. What do you do?

throw some hands
cry about it for days
you're unfazed cause you know it's not true.
you go around telling people it's not true.
cry in the bathroom by yourself but ultimately spread a s--ttier rumor about them

Choose a song that i'm currently bopping to

r u mine? - arctic monkeys
national anthem - lana del rey
paper rings - taylor swift
crush culture - conan gray
only angel - harry styles
What Hogwarts house do you want to be in (not necessarily the one you are in)?

hufflepuff
ravenclaw
slytherin
gryffindor
no

Now choose someone to simp for

funny, liked by everyone, spoils you, pays attention to you, loves you with their whole heart, gives you their/wears your sweatshirt, wholesome (golden retriever vibes)
quiet, in a band, writes songs about you, short nails painted black, skateboards, parking lot dates, blood vial necklaces, mean to everyone but you
dork, coffee and library dates, buys you books, longs hugs, smart, quiet, good listener, loves you more than anyone has ever
Article continues below advertisement
Pick a crime to commit

arson
vandalism
manslaughter ;)
battery (carried out assault)
drug trafficking or money laundering (smth u can turn into a group date)

Choose a method to kill someone you really don't like

poison them
stab them like multiple times
set them on fire
one shot to the head
drown them
Article continues below advertisement
Well, I took the quiz and I have no idea what they're talking about — so glad I'm nothing like that!