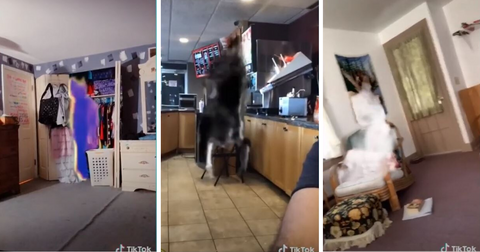 The Reality Ripple Effect on TikTok Can Find Ghosts in Your House
By Devan McGuinness

Updated
A lot of us are out here looking for ways to keep ourselves entertained. We've binged all the popular Netflix shows and we're turning to social media to find ways to turn our brains off, to make us laugh, or to learn about what is going on in the world.
There's been a massive surge in the popularity of TikTok, a social platform where people share videos and partake in fun challenges. There's a new filter that has everyone talking and the reality ripple effect on TikTok is scaring people, too.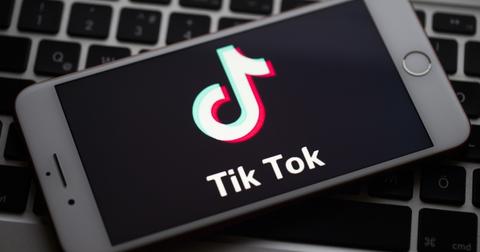 What is the reality ripple effect on TikTok?
The filter, at first glance, adds a fun rainbow trail when the camera is moved off the person's face, but there's a deeper purpose to the filter other than making a pretty colored tail. Apparently, the reality ripple effect on TikTok can help a person see if there are any ghosts in the room.
TikTokers have been using the filter like bananas over the past little while to "scan" their home for any potential supernatural squatters. If there have been any strange occurrences in your home, like missing shoes or flowers that have been knocked over, the filter may give the answers you've been looking for.
How does the reality ripple effect on TikTok work?
The idea behind this filter is that after the effect is activated, you will be able to scan the room for ghosts. It's being read as a type of "thermal scan" so the filter can be seen around a person, but it also makes blips of shapes at random, which people are saying are ghosts.
NAAAAAAAAH I DID THAT RIPPLE REALITY EFFECT FROM TIK TOK TO SEE IF I HAD ANY GHOSTS IN MY ROOM & TELL ME WHY I SAW A SHAPE SITTING ON THE END OF MY BED 😭

— blue (@fentylovebot) May 21, 2020
There have been a few videos where these thermal blips look like people, which is totally adding to the "ghost hunter" theory of the filter.
Real life people seem to have the thermal type colors of orange and yellow — what you would expect to see if an actual thermal scan was used. When the filter is activated and scanned in a room, there will be areas that highlight in greys and blacks, which is what people are saying are the shapes of ghosts.
How do you turn on the reality ripple effect on TikTok?
To use the filter effect, it needs to be downloaded first, which is easy enough to do. Click the + symbol to start a new video and hit the bottom corner that reads "effects." From there click on the "trending" tab and scroll until you come across the "reality ripple effect."
From there, you start recording and can scan across your room to see if the effect picks up on any "thermal reads" from the ghosts that may or may not be living with you. If you pair this with a slower recording speed, the results are even better.
OK, we know the reality ripple effect on TIkTok doesn't *really* find ghosts.
The whole purpose of TikTok is to give us fun entertainment and while we totally get this filter isn't the break that the paranormal world has been looking for, it's still fun. And people have been making hilarious videos using the reality ripple effect on TikTok, and we're not ready for it to stop anytime soon.