Job Recruiter Rejects Applicants Who Wear Hoodies During Zoom Interviews — "People Have Forgotten We're Still Working"
A TikToker showed a LinkedIn post for a job recruiter who stressed the importance of dressing up for interviews and it started a TikTok debate.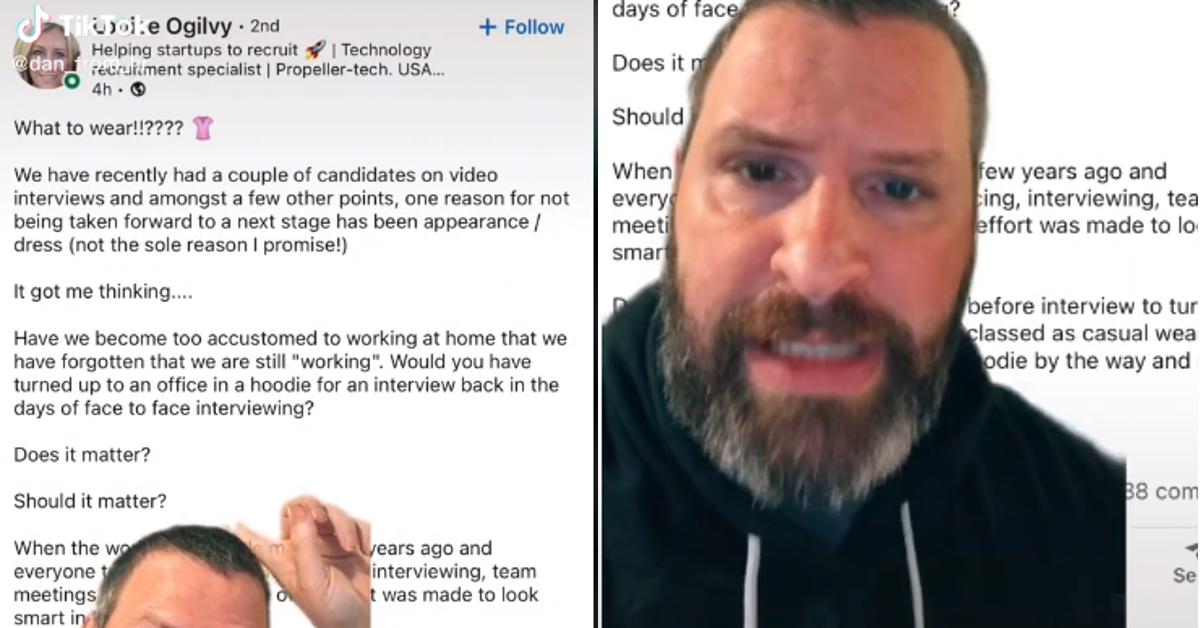 Even though the COVID-19 pandemic is over, there is still a labor shortage in America, which is good news for job seekers. And while it's true that a lot of these available jobs are for hourly gigs and retailer/food service/delivery jobs, there are also a number of large corporations expanding and increasing worker salaries in order to retain top talent as a means of keeping the proverbial gravy trains rolling.
Article continues below advertisement
The very nature of the workplace has been steadily changing over the years, too with many of those changes becoming more pronounced in the wake of COVID-19.
Many businesses have learned that not only can work-from-home models be financially viable for their respective industries but in numerous instances, employees are 47% more productive in the process.
That, coupled with decreased overhead means that a work-from-home model is a way to go for a lot of different corporations. Plus, tons of workers are probably overjoyed at the fact that they no longer need to dress "business casual" and can just get all of their reports and deliverables completed while wearing a bathrobe or nothing at all.
Article continues below advertisement
So it begs the question: what's the point of dressing up for a job interview if someone can otherwise complete all of the tasks required of them for said job?
Apparently, there are some recruiters who believe that appearances are very important when it comes to job these initial meetings, even if they're conducted over Zoom.
Article continues below advertisement
A LinkedIn post from Louise Ogilvy, a tech recruiter on LinkedIn is causing a bit of a kerfuffle on TikTok after a user on the platform by the name of Daniel Space shared it with his followers.

Article continues below advertisement
Daniel says in his TikTok: "A recruiter right now is getting blasted on LinkedIn because of this post. In her LinkedIn post, she said one of the reasons one of the candidates didn't move forward—not the sole reason—is because they wore a hoodie during the Zoom interview."

Article continues below advertisement
He continued, "There are a few people in support saying that an interview is still a business meeting and you should dress appropriately, but a lot of people are saying this is wildly out of touch."

Article continues below advertisement
Louise wrote: "Have we become too accustomed to working at home that we have forgotten that we are still 'working'. Would you have turned up to an office in a hoodie for an interview back in the days of face-to-face interviewing? When the world went a little mad a few years ago and everyone turned to video conferencing, interviewing, team meetings, I do feel that more of an effort was made to look smart in front of the camera."

Article continues below advertisement
She continued, "Do we need to remind candidates before the interview to turn up in something smart that would be classed as casual wear, instead of hoodies (I love a good hoodie by the way, and use this purely as an example)."

Article continues below advertisement
Louise didn't just receive blowback on TikTok, but on LinkedIn as well for her post: "If you are someone who puts that much value and weight into a clothing choice – wow. I'm sorry. I wouldn't trust you to place me in a job and I sure wouldn't want to work for you. Dress codes and thoughts about others attire is not something I want to waste my short life worrying about."

Article continues below advertisement
Louise went on to say that her post only applied to job interviews and said that she was referring to a candidate wearing more formal or business-appropriate attire during an interview to demonstrate that they were willing to put their best foot forward. She added that she has seen plenty of software developers rocking "casual clothes" while at work.

Article continues below advertisement
There were those who agreed with Louise, stating that it was simply "an old-fashioned concept of respect and quite simply making an effort. If you are hoping for someone to 'buy' you then you have a responsibility to sell yourself well. I don't think it's too much to ask that someone packages themselves well and looks smart."

Article continues below advertisement
However, there were other folks who said that Louise should know the industry in which she is recruiting and that casual dress codes dominate the tech industry space.
However, Louise did hop on the TikTok to clarify that the role was "client-facing" along with other assumptions folks were making in the comments section.

Article continues below advertisement
She mentioned that she set up an account just to respond to Daniel's post and she isn't the biggest fan of TikTok and was generally pleasant and not afraid to poke fun at herself in her comments.
What do you think? Would it be wrong for someone to show up on a Zoom interview rocking a hoodie? Or does it depend on the type of position? Or should Louise be focusing more on a candidate's qualifications over whether or not they're rocking a button-up shirt during their interview?