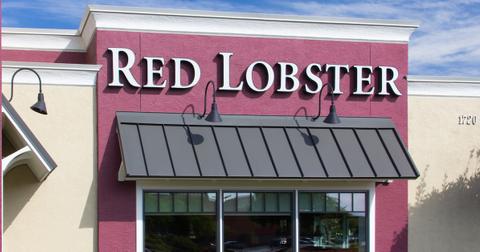 Here's a Ranking of Everything You Can Eat at Red Lobster's Lobsterfest 2020
By Lizzy Rosenberg

Updated
Whomever said January only lasts for 31 days was probably lying — between the insufferably chilly weather and limited hours of daylight, it feels like we've been stuck in the first month of the year for around three years now. And although summer seems light years away, Red Lobster is coming in clutch by bringing us the beach getaway we all needed: Lobsterfest.
If you aren't familiar with the annual celebration that is Lobsterfest, it's when the seafood chain offers the largest assortment of lobster-centric dishes imaginable, from lobster and chips to surf and turf. It doesn't really break the bank — with all entrees starting at $19.99 — and if you're easily overwhelmed by large menus like I am, have no fear! A ranking of the food at Red Lobster's Lobsterfest is here.
Here's our ranking of Lobsterfest's offerings, with the first being the best:
1. Ultimate Lobsterfest Surf and Turf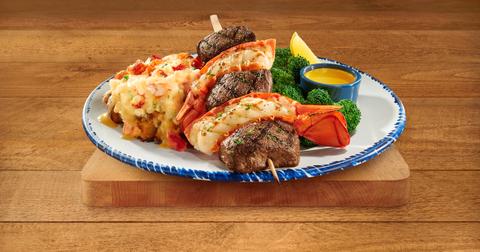 As one of the new additions to Lobsterfest, the Ultimate Lobsterfest Surf and Turf basically features the best of both worlds: a skewer of Maine lobster and filet medallions, and a smashed potato that's topped with ooey gooey cheese, Maine lobster meat, and lobster cream sauce. On top of all that, according to the chain, it comes with one side. It kind of goes without saying why it's No. 1 on our list.
2. Seaport Lobster and Shrimp
Lobsterfest vets may have already tried the Seaport Lobster and Shrimp, but it's a top fave nonetheless. According to Red Lobster, it combines a wood-grilled Maine lobster tail with garlic shrimp scampi and a jumbo wood-grilled shrimp skewer. Each plate comes with rice and your choice of a side. It may be an oldie but it's a total goodie... because really, who doesn't like garlic shrimp?
3. Lobster and Chips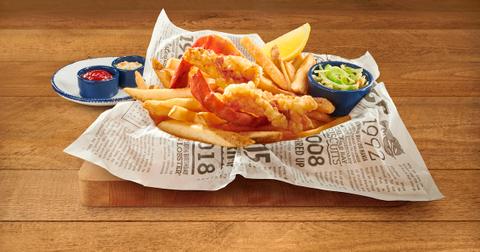 Also new to Lobsterfest this year is Lobster and Chips, and trust me, it's far better than any run-of-the-mill fish and chips you've had. It features a deep-fried petite Maine lobster tail (because yes, that exists) and it's served with french fries and coleslaw on the side. Fried lobster and fries? I'm in.
4. Lobster Lover's Dream
Although Lobster Lover's Dream doesn't make it into our top three, it's super hearty and still a fan-favorite. Per Red Lobster, it combines roasted rock lobster tail with butter-poached Maine lobster tail, and a hefty helping of lobster-and-shrimp linguini Alfredo, with your choice of a side. It's good, but definitely come hungry — it's an absurd amount of food for one person.
5. Ultimate Feast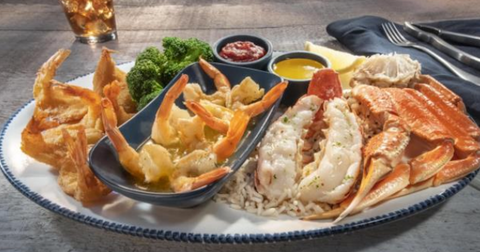 Ultimate Feast? What could that possibly mean? According to Red Lobster, it combines Maine lobster tail with North American snow crab legs, garlic shrimp scampi, Walt's Favorite Shrimp, rice, and your choice of side. It's a bit of a hodge-podge, if you ask us, but heck, it still comes together somehow.
6. New England Lobster and Seafood Bake
The New England Lobster and Seafood Bake is somewhat boring in our opinion, but there's definitely a reason why everyone likes it. According to the chain, it combines Petite Maine lobster tails with Dungeness crab, jumbo shrimp, mussels, smoked sausage, corn and potato wedges. All of that is soaked in a garlic white wine sauce. This is definitely what one might call "The Dad," but there's totally a garlic and white wine-infused jumbo shrimp with my name on it.
7. RL Signature Creamy Lobster Alfredo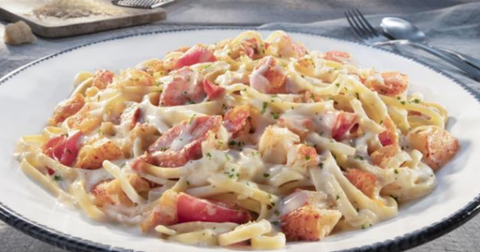 At last, we come to the Lobster Alfredo. According to the brand, it stirs Maine lobster meat and tomatoes into a garlicky Alfredo sauce, which is served on top of linguini. It's certainly the least exciting out of all the mouth-watering options we have here, but hey — we can't say we'd ever deny a bite (or three).
While some Lobsterfest dishes are certainly better than others, each dish is ultimately going to be a good choice. Hopefully Red Lobster's annual feast manages to pull you out of that dreaded seasonal sadness — while I eagerly wait for warmer days, this should (hopefully) do the trick.