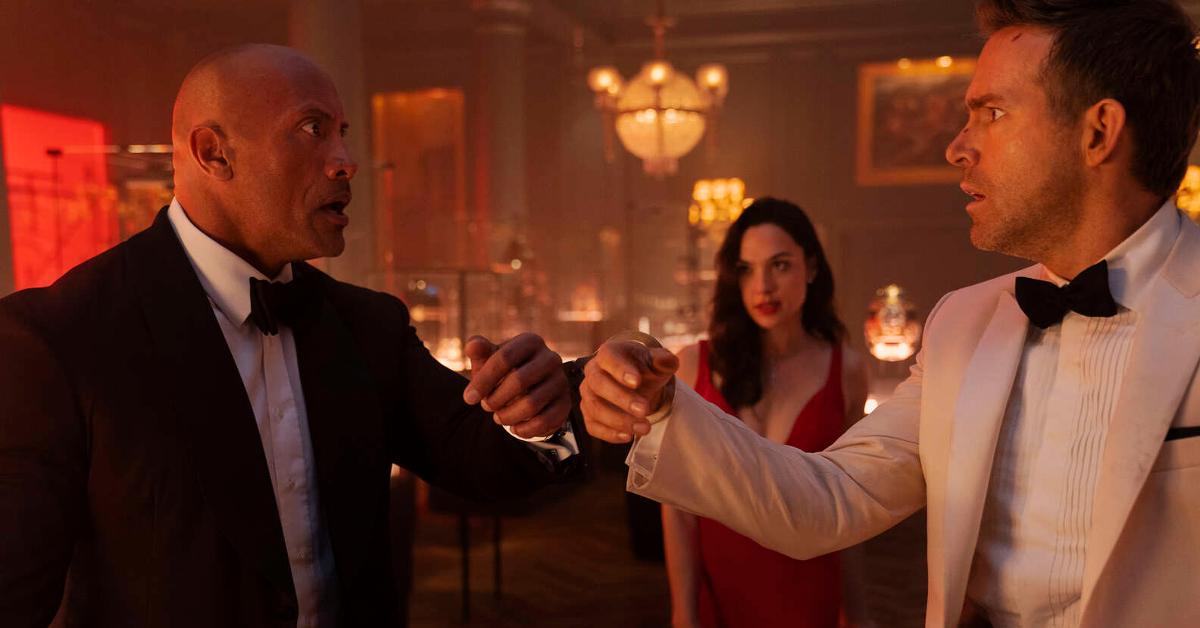 You've Definitely Heard the Voice of the Narrator From 'Red Notice' Before
Once you start getting work in entertainment or are known for a specific niche, then production companies and networks are going to start relying on you to give them the goods. Because you've established what you can do.
This seems to be what happened with the narrator from Netflix's Red Notice.
Article continues below advertisement
Who is the voice behind the narrator in 'Red Notice?'
If you're into the world of voice actors, then you've definitely heard of Robert Clotworthy, who narrates Red Notice. While he might sound like a guy who was in the running for Britain's Poet Laureate in the 1950s, he actually has a whopping 187 acting credits, many of them for voice acting.
So where have you heard Clotworthy's work before?
Article continues below advertisement
The man's resume features an impressive list of known TV shows, films, and video games.
He's worked for Ancient Aliens and The Last of Us: Part II. He played a judge in Homeland, voiced Charlie in the much-maligned 2019 Charlie's Angels, and was Mayor Harrison in Young Sheldon. Just scrolling through his IMDb feed, you will see all the different games, cartoons, series, documentaries, and features he's been contracted to work on.
Clotworthy actually began his voice acting career at a very young age. When he was just 15 years old, he would join his dad at work, where he was a producer of radio commercials.
Article continues below advertisement
What's the narrator going on about in the beginning of 'Red Notice'?
Red Notice may have been marketed as a hybrid of National Treasure, Ocean's 11, The Thomas Crown Affair, and a Bond flick, but it's actually much different.
The movie begins with a narrated historical backdrop sequence that looks more at home in a flick out of the Golden Age of Hollywood. With the way the movie started, I was personally surprised there wasn't an intermission half of the way through and an advertisement for cigarettes.
Article continues below advertisement
The top of the film tells the viewers about Cleopatra's eggs. These ancient works of art were presented to the Queen by Marc Anthony as a fantastic and now priceless wedding present.
As Clotworthy waxes on about the eggs, the camera pans out only to show that it's actually part of a documentary that's shown in a bustling lab.
Article continues below advertisement
Are Cleopatra's eggs real?
If you're wondering whether or not the legend of Cleopatra's wedding gift eggs was used as a source of inspiration for the script, as it turns out that tale was completely crafted by the filmmakers.
Article continues below advertisement
'Red Notice' ratings are split between critics and audiences.
The flick is currently enjoying a 92 percent rating from viewers, and only 38 percent from critics, labeling the movie as fully rotten. Many critics have called Red Notice "mediocre" while others have pointed out that it felt like a glorified commercial at times.
From the clear marketing cues of the Porsche Taycan that The Rock hops into to the multiple glamour shots of Ryan Reynolds' Aviation Gin and The Rock's Teremana Tequila to Thurber's "tiring" directorial tricks, the movie fell flat.
Article continues below advertisement
But it also seems to be enjoying an equal number of fans. As of this writing, it still sits in Netflix's Top 10, which could help pave the way for sequels. Does Netflix seem to think that the film is worth its $200 million price tag? The streaming giant has probably already decided whether or not they'll be issuing another notice soon.