Landlord Sent Nasty Email to Tenants About Rent and Now They're Striking
The landlord forgot to bbc all the tenants, so in one fell swoop, every person in the building had each other's email addresses.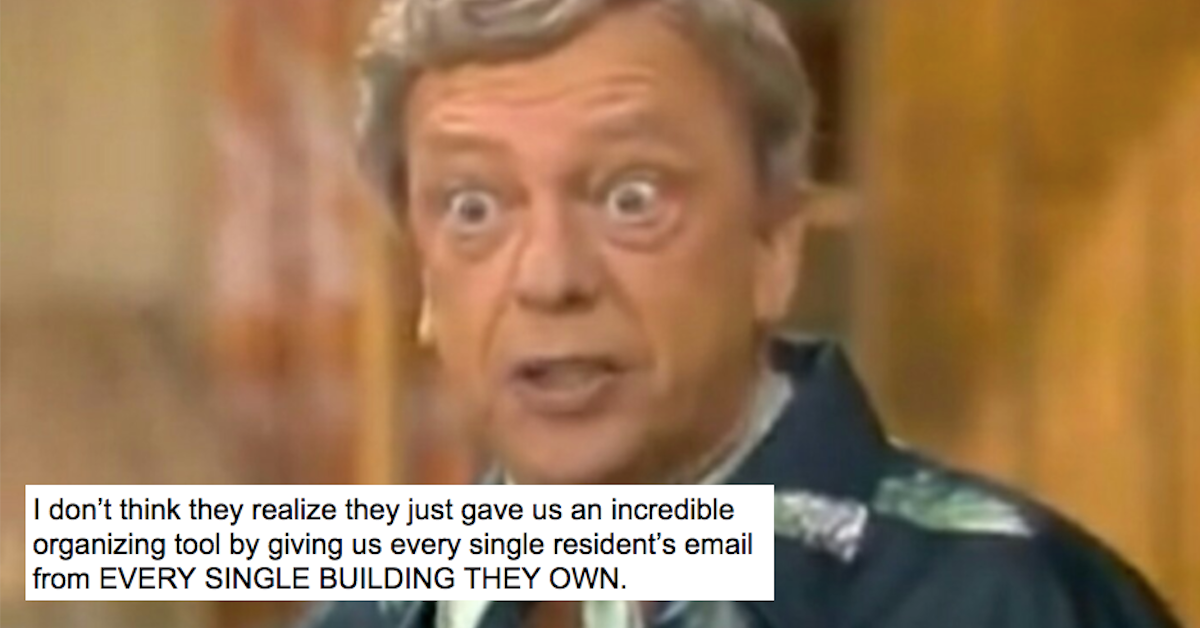 With so many people out of work because of the pandemic, it's becoming harder and harder for tenants everywhere to afford their rent. You would think that landlords would understand, that cities would work to freeze rent payments and that people would be given a break.
Article continues below advertisement
But that overwhelmingly seems to not be the case. Landlords are not only expecting rent to be paid on the first of the month, but many are sending condescending reminders that rent should not be late. But one landlord landed himself in a real pickle when he forgot to bbc the tenants on the mass email.
Article continues below advertisement
Giving all your tenants the easiest possible way to communicate with each other and organize a rent strike isn't the smartest move. As one person wrote, "I don't think they realize they just gave us an incredible organizing tool by giving us every single resident's email from EVERY SINGLE BUILDING THEY OWN.
"A single building doing a rent strike is strong — but residents from every single building unionizing and doing a rent strike is godly." I think it's safe to say that these tenants are angry, and they are (thanks to the landlords themselves) extremely organized.
Article continues below advertisement
Without these email addresses, tenants would have had to go door to door to disseminate information and try to garner support. With everyone's emails right there, they can do it all digitally. And fast, too.
This is a big deal.
Article continues below advertisement
Information like that doesn't just fall into your lap, usually. I bet they are going to use it wisely. No matter what city you're in, there are groups that help advocate for renters and could help with something like this.
Because of course, this isn't the only case of a landlord trying to use their power over tenants for evil.
Article continues below advertisement
Listen, I understand that landlords have bills to pay too. But for most, it's a totally passive stream of income, and they can usually afford to let their tenants go a month or two without paying rent.
And many renters live paycheck to paycheck. With many people out of work and unable to earn a living, those paychecks, which would normally go to rent, are gone.
Article continues below advertisement
In this Reddit post, a landlord is at their wits' end because their renters banded together for a strike. They don't know what they're going to do without their "sole" source of income. Well, hello, Mr. Landlord, welcome to everyone else's problem.
Article continues below advertisement
Literally all of your tenants have the exact problem you're afraid of having. Their source of income is now gone, and they can't afford their rent. The difference is, they're renting apartments from you while you own at least one whole apartment building.
Hm. What to do?! You couldn't possibly just let everyone live while we try to push our way through a global health crisis, could you?! That would just be too nice.
Article continues below advertisement
There is no swift and easy answer here. Many cities have instituted mortgage freezes, but renters fail to get the same kind of support from the local government.
If landlords don't have to pay their mortgages, renters shouldn't have to pay their rent. The federal government needs to get in on this because thousands upon thousands of renters will be affected, if they aren't already.