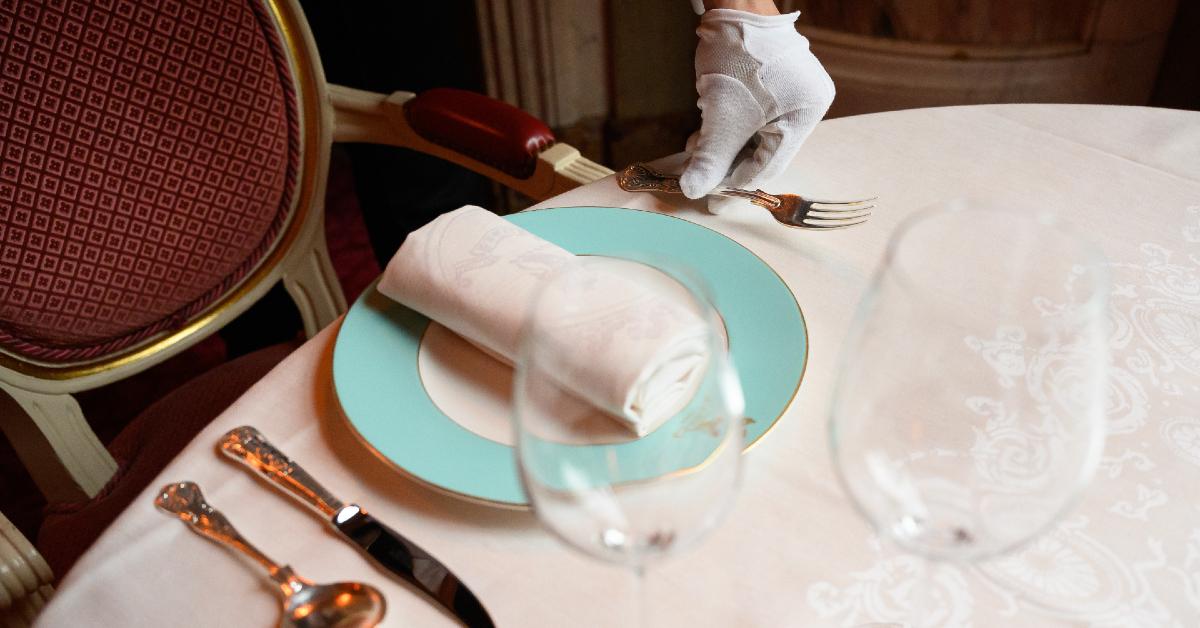 Restaurant Customers Steal Another Table's Reservation, Refuses to Get Up Until Manager Steps In
A restaurant manager by the name of Kellie who posts under the handle @ambryrae on TikTok uploaded a passionate story time clip delineating a situation in which she was forced to remove a table that stole another party's reservation. Other users on the platform praised the way she handled the situation.
Article continues below advertisement
Kellie's clip was a direct response to another TikTok user, @sincerely_lizz who was flabbergasted that a party at a restaurant she had booked for her birthday a month prior stole her table;
@sincerely_lizz says in the video, "Someone stole a reservation that I made for my birthday about a month ago," it's at this point in the video where Kellie interjects with her own stitched clip, "Listen to this young lady's story and please don't be surprised when I tell you that this happens more often than not."
Article continues below advertisement
She went on to explain that the phenomenon of "stolen reservations" is an oft-occurring in the restaurant industry, "I used to work for this restaurant that was extremely popular and we mainly went off reservations. Of course, we took some walk-ins and we tried to accommodate them when we could."
Article continues below advertisement
Kellie continued, "Of course this particular night it was extremely busy we had about maybe four hundred reservations on our books we had a walk-in come in, party of seven. We tell them it's about a forty-five to hour wait they do a little bit of hemming and ha but they even up giving me their name, their name is something like Trish or so we put them on the waitlist. Cool."

Article continues below advertisement
As you can see where her story is going, however, what ended up happening next wasn't cool, "About fifteen minutes later a reservation for a party of eight named Thompson came in. We tell them we need a couple of more minutes just to get their table ready she's like fine because my party is mostly outside just let me know when you're ready."
So far so good, but here's where things start to get a little funky, "Ten minutes goes by the table gets ready we call Thompson party of eight. She comes to the hostess I'm going to go outside grab my family I'll be right back in. No problem. Now at this point I step away for a couple of seconds I don't know what I went to do but the hostess that was seating guests she went back up to the host stand."
Article continues below advertisement

When Kellie was away for a little bit, that's when the reservation thievery occurred, "While I'm gone the Trish party of seven goes to the hostess and say you guys called Thompson party of eight, we are ready. The host didn't know because she didn't check them in I was the one that checked them in. She takes them to the table."
Article continues below advertisement
You can guess what happened next, "Of course, lo and behold Thompson comes back in we're ready. Boom I grab the menus I go over to the table, skrrt, skrrt, because who is this at this table? I go to the host I say hey baby who's over here like what's the name of these guests over here. They said Thompson I said no, Thompson is right here. Those aren't the guests that are supposed to be at that table."

Article continues below advertisement
So she says oh well they came up to me and said Thompson party of eight we're ready. So now the real Miss Thompson is looking at me like girl I don't know what you gotta do but you better go over there and do it. So I go over to the table I see the girl that gave me the name Trish and I say hey I'm so glad that you want to come out and join us tonight but I do have to ask you to return to the waitlist."
Kellie went on to politely explain to them that the table was reserved for someone else, "This table is reserved for the Thompson reservation, not for the Trish party. Someone in the party says no we had a reservation. I said no, Trish came and told me that you did not have a reservation. That's why I put you on the wait list with a wait time of forty-five minutes to an hour and unfortunately, you are still within that wait time."
Article continues below advertisement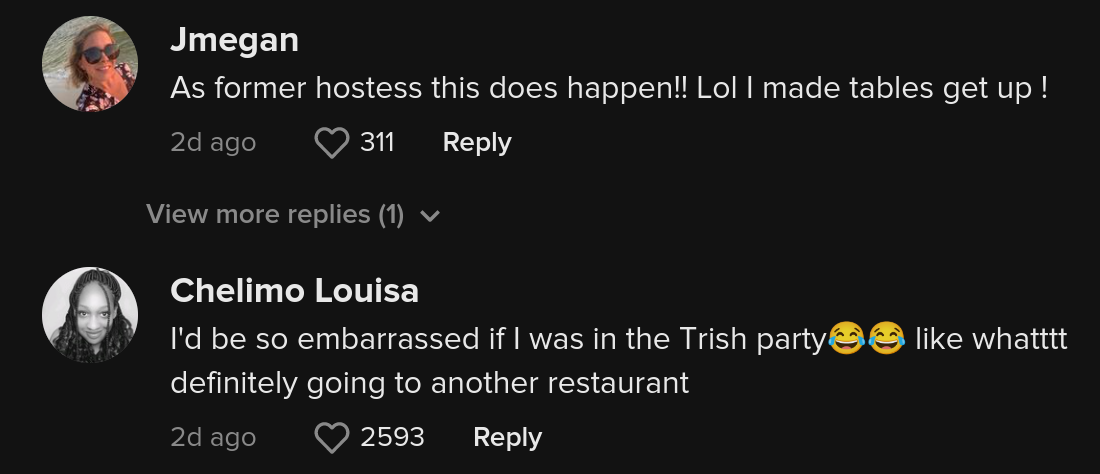 The restaurant manager added, "I cannot allow you to have this table." The problem was, however, that these folks didn't want to seem to get off the table, with one of the guests arguing back, "So, of course, that same person speaks up and says well what're you gonna do if we're not going to get up?"
Article continues below advertisement
This is pretty much a nightmare scenario for Kellie, but as the restaurant manager she was dedicated to following the business' policy and make sure that they didn't get away with stealing someone else's reserved table, "And I say well if you want to remain at a table at which you're not going to be served for the rest of the night that's totally up to you. I'll make other accommodations."

Article continues below advertisement
She basically said that they could stay seated at the table if they liked, but they wouldn't be receiving service because they decided to nab another person's seating. "And they got up and went back to the lobby. One of the main things that bothered me about the story that I stitched was the young lady didn't really know what to do in that situation."
Kellie added, "In which of course I would advise immediately get a manager. Immediately. And there's people out here with minute issues that are taking guns to restaurants that are fighting that are doing all types of nonsense but the people that have real problems are scared to speak up."
Article continues below advertisement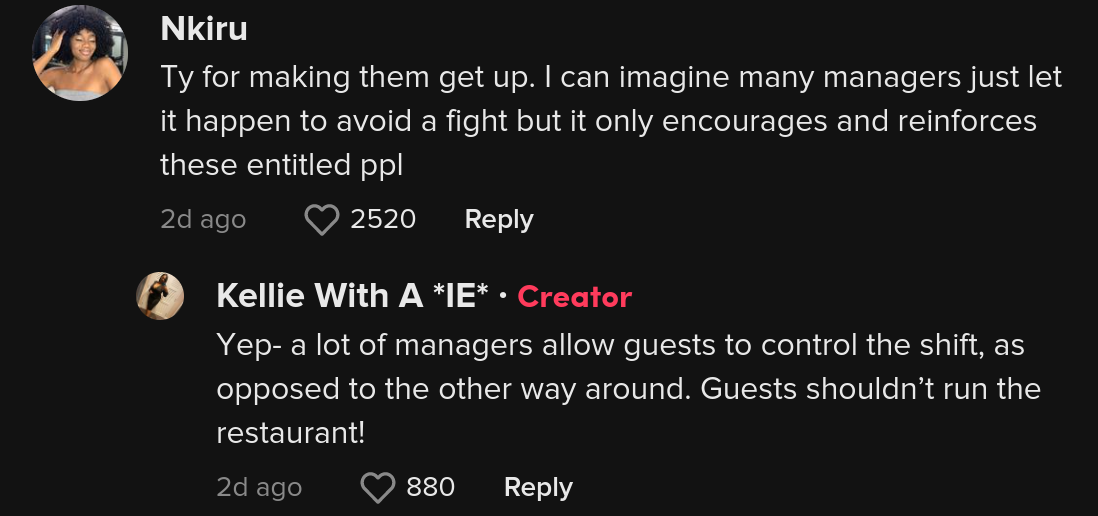 She finished her TikTok by stating, "A good manager wants to help you. A good manager wants to accommodate you. A good manager wants to make things right. If you ever have any situations like this please don't ever hesitate to ask for one of us to come over and help you."