Retail Worker Explains Why She "Just Sat There" as a Shoplifter Walked Out of The Store
A retail employee explains why she let a thief just leave the store without attempting to stop them in a trending TikTok clip.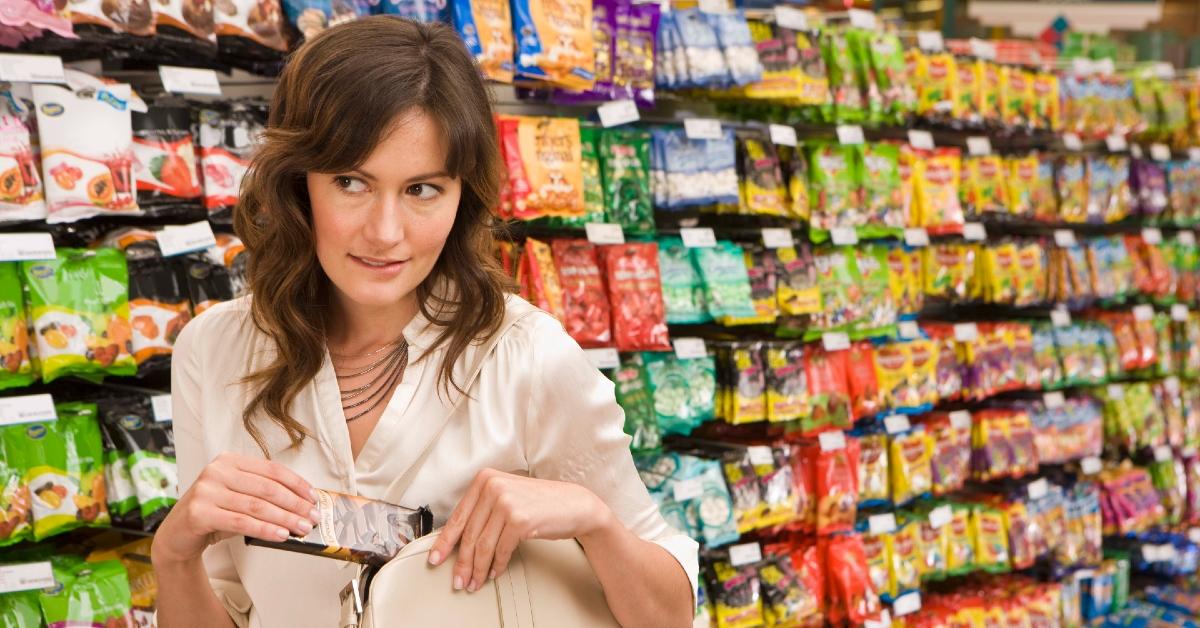 Kristy Nguyen (@asap.kristy) explained in a recent TikTok that if she had attempted to stop a criminal from stealing, it could have resulted in her termination.
She says in the clip:
"I'm on my break right now and I'm sitting near the emergency exit door where there's usually like a person sitting here so people don't steal."
Article continues below advertisement
Shen then animatedly begins sharing what happened next, "And this guy just walked by me with a purple hoodie and he had like a bunch of stuffed into his like, jacket and he was walking really fast out the door and I looked at him, we made eye contact, and I was like sir I am not gonna do anything, I am on my break, on top of that if I literally come and stop you I will literally get in trouble and get fired. So I just let him walk out and I just sat here in disbelief eating my chips!"
Article continues below advertisement
In a text overlay in the video, Kristy writes: 'when will customers realize if we literally stop them from stealing, we will get fired especially if we didn't see them steal."

Article continues below advertisement
TikTokers who saw the clip chimed in on the conversation, with many of them sharing their own anecdotes and personal experiences that essentially re-affirmed what Kristy said.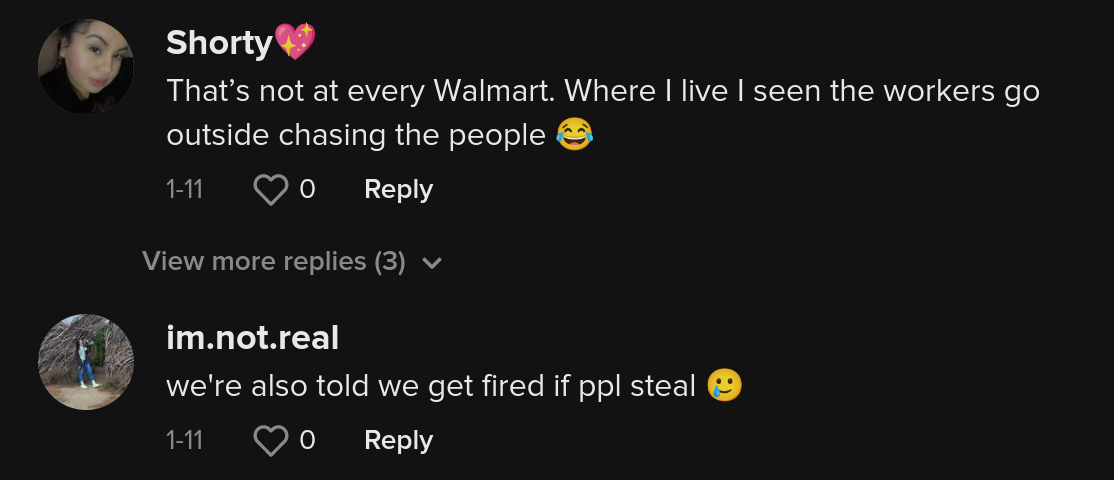 Article continues below advertisement
"It's insured. Karma will take care of everything."
"All retail stores tell you NOT TO PURSUE."
"Same policy in aldi. The amount of people that dashed out with a cart full of groceries"
One even pointed out the financial benefits for allowing customers to walk out of the store.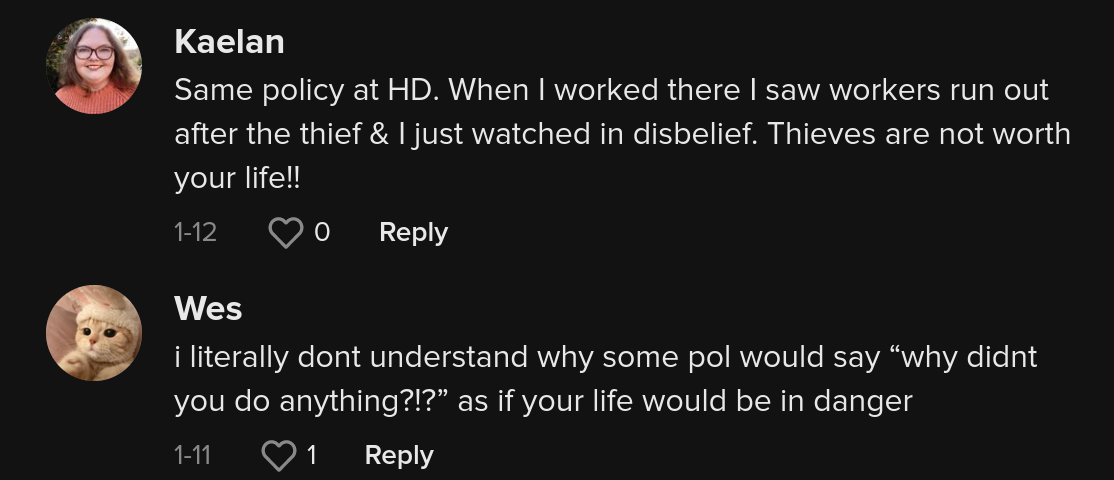 Article continues below advertisement
"For people that don't know: it's cheaper for the company to let him walk out then pay for medical expenses if the worker gets injured sad but thats why"
Most major businesses do have insurance against these acts of theft. So there does seem to be some truth to what the aforementioned TikTok user claimed.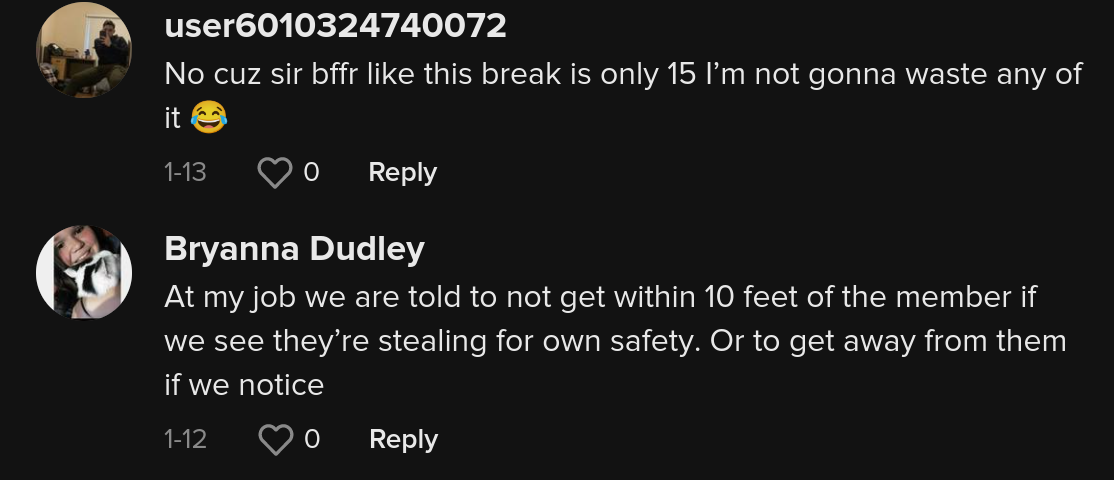 Article continues below advertisement
In dealing with a potential lawsuit from the perpetrator, or any time off or potential injury an employee could incur may be far greater than the cost incurred from filing a claim against the stolen item. I.e. it's just not worth it to the company to recoup whatever items the thief was stealing.

Article continues below advertisement
Others chimed in saying that the employee was "smart" for not getting involved for fear of what the thief may have resorted to doing. Or again, even in the act of trying to flee or running past her she could've been seriously harmed.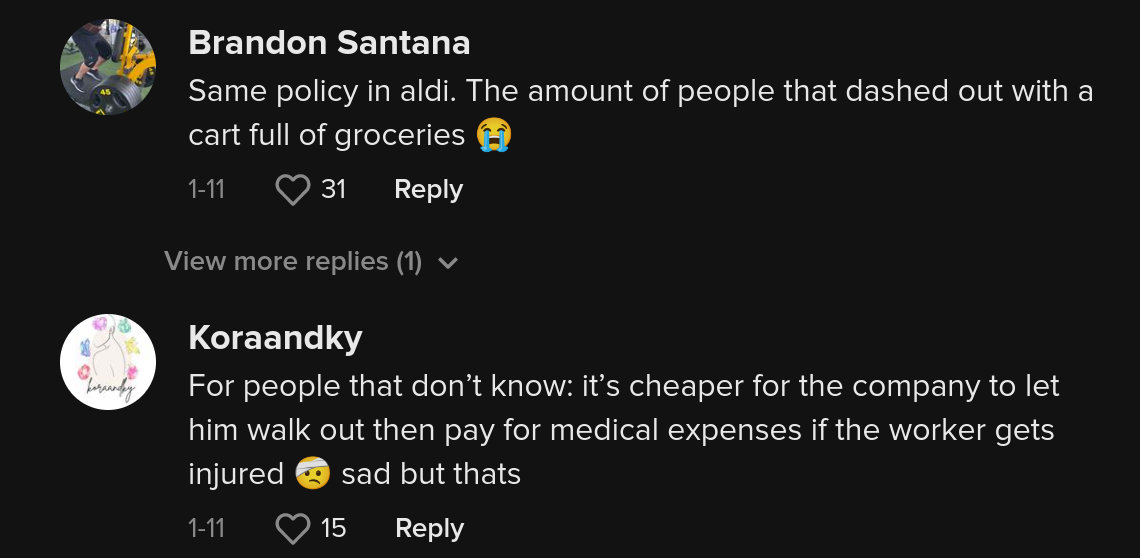 Article continues below advertisement
"Thieves are not worth your life!" another commenter chimed in, further support for Kristy's claim.
The National Retail Foundation estimated that a whopping $94..5 billion of products were lost due to theft in 2021. The staggering sum accounts for 1,4% of all retail revenue.

Article continues below advertisement
Local news outlet Kiro 7 highlighted an incident "why shoplifters are often not pursued by retail staff." In the piece they talk about Elizabeth Pratt who was knocked over by a shoplifter who was attempting to escape being apprehended by Staples employee. She injured her hip and was thus unable to spend as much time with her husband in the assisted living/retirement community they reside in.

Pratt had to be moved to a separate room to receive the care needed after the fall, which keeps her away from her husband and unable to perform other care tasks for him, that have to now be assigned to someone else.