Brock Lesnar's Attack on Dominick Disrupted Rey Mysterio's Title Plans
Brock Lesnar came in fast and furious on 'Monday Night RAW' and left viewers shocked with his brutal surprise attack on Rey Mysterio's son, Dominick.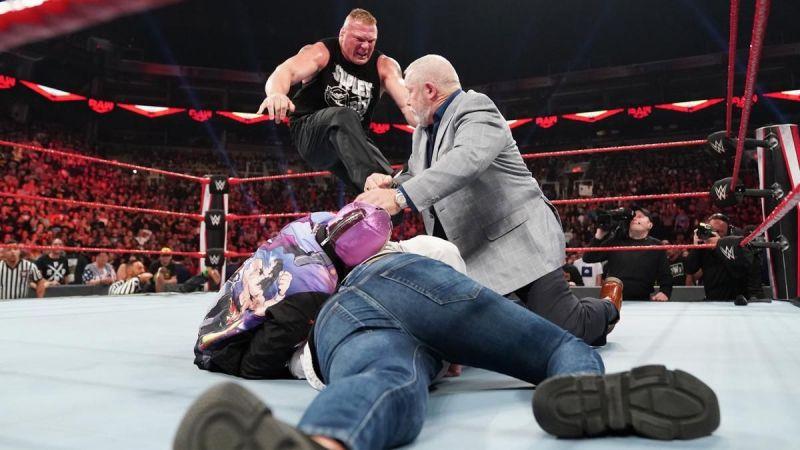 RAW fans who tuned in last night began their evening with Rey Mysterio getting on the mic and hyping up his championship match with Seth Rollins. It didn't take long for Brock Lesnar to come and put a stop to that. And anyone who's ever watched Brock Lesnar on WWE knows that any type of interruption at the hands of Brock is a violent one.
The Beast Incarnate beat the bejesus out of Rey in the middle of the ring, but his ire didn't stop there: he soon turned his attention toward Dominick.
Article continues below advertisement
Rey Mysterio's son has been featured prominently in the WWE for a while now, mostly as a means of superstars using the young man to get to his legendary father. Brock Lesnar's intentions were no different: he accosted the young buck outside the ring, who tried to avoid confrontation with Lesnar.
While Dominick was clearly unwilling to engage with arguably the most fearsome professional wrestler of all time, that didn't really matter to Brock.
Brock brutally attacked Rey Mysterio's son, Dominick. 
He quickly began beating up the young man and dragged him into the ring, with his cohort, Paul Heyman, imploring the musclebound bully to stop his terrible spectacle.
Article continues below advertisement
Brock eventually relented, but not before dealing significant damage to both Rey and his son, who received back-to-back suplexes for basically sitting down and not trying to engage in a fight at all.
It was a scary statement from Brock, who is set to fight Kofi Kingston for the SmackDown! championship when it premieres on FOX on Friday, Oct. 4.
Article continues below advertisement
Shortly after Brock's beatdown, the show cut to commercial, and when it returned, Dominick was featured being carted out of the arena on a stretcher. Rey Mysterio wasn't medically cleared by a doctor to compete after withstanding Lesnar's savagery, which then gave Rusev the chance to challenge Seth Rollins for the belt.
As big of an exclamation point as Brock's beating was, it could potentially mean big things for Dominick in the future.
Rey's son is being featured heavily in the program and it's clear that the WWE is attempting to build him into a big star. Sure, he's getting beaten down by a bunch of seasoned superstars now, but, as anyone knows in this business, that's how you make your bones. And familiar names sell well and resonate with the pre-existing fan base. The fact that everyone feels for not only Rey and Dominick every time he gets jumped, is a good sign.
Article continues below advertisement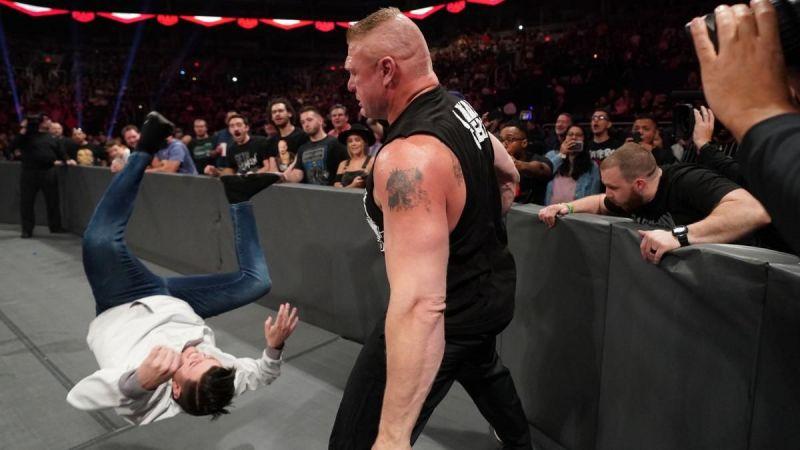 Dominick is training with the legendary Lance Storm to become a great luchador like his father. Rey has been pretty vocal about his son following in his footsteps. Dom definitely has an advantage over other up-and-coming wrestlers: it's literally in his blood and even though it looks like he's getting punked on a daily basis whenever he's beaten up on camera, it's pretty obvious the WWE has some big plans for him in the future.
Article continues below advertisement
Rey spoke with Wrestlezone about Dominick carving his own legacy in the family business: "It cost me a lot of work and sacrifice to gain the respect of my uncle in order for him to pass on the legacy of the 'Mysterio' name onto me. I can't even count how many times as a kid that I would cry, I was bleeding, I was injured, but I still worked through all of that to get back in the ring and do what I'm doing now."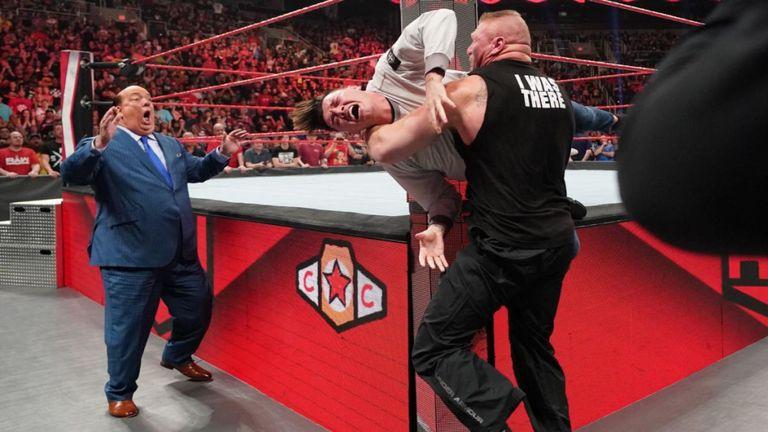 Article continues below advertisement
Rey continued: "It cost a price to be who I am, and to be able to see my son grow up in a different style, but to see him grow outside of a professional ring and during his training stages, I see that it's in the bloodline.
"For me to be able to share the ring and to have a match with him at my side, and just seeing his performance — not in the front row, but in the corner, standing next to him, waiting for him to tag me in — it's something that once he told me he wanted to break into this business, I've imagined that moment ever since."
Article continues below advertisement
It appears that Dominick is skipping the NXT "proving ground" step altogether. For a performance standpoint, he can definitely take hits and falls pretty well. Storyline wise, it also makes sense — Dominick was one of the driving forces behind Rey finally hanging up the mask because of the promise that the two of them would be a father-son tag team. That dream looks like it could very well become a reality.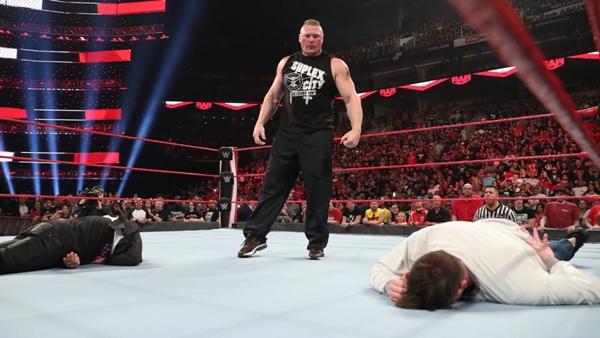 Wrestling Observer Newsletter reported that the WWE will be signing Dominick full-time within a year's time. From the frequency of his appearances on WWE programming that looks like it's going to happen sooner than later. Anyone excited to see Dominick's skills on the mat and eventually make a run for the title?