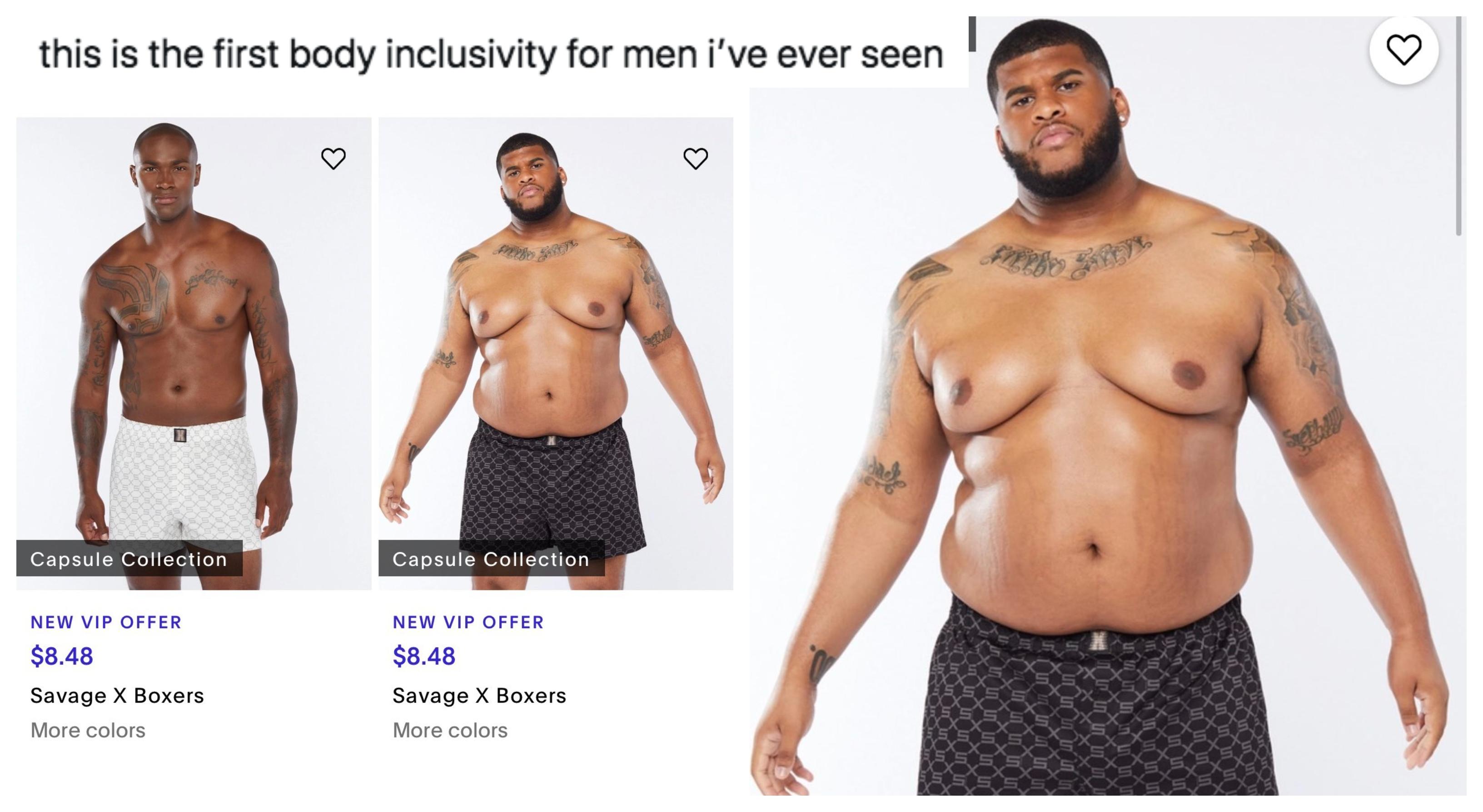 Rihanna's Inclusive Models Are Rocking the Fashion World and Making People Emotional
Singer and designer Rihanna is making waves in the fashion world, not just with her Savage X Fenty line of clothes, but also with the models she hired to wear them. Rihanna's inclusive approach — to use models of all sizes and colors — has hit a chord with people who rarely see themselves represented in this way.
Article continues below advertisement
Twitter exploded with praise when they realized that the models on the Savage X Fenty site come in all shapes and sizes and colors, including the male models, which is something you hardly ever see.
Article continues below advertisement
"This is the first body inclusivity for men I've ever seen," one person wrote. While the body positivity movement has gained traction in recent years and plus-size models have become more and more visible in the modeling world, so much of the focus on inclusivity has been in the world of women's modeling.
Men have largely been left out of the conversation. Until now. When you finally see a plus-size male model being celebrated like they are in these Savage X Fenty product shots, you realize just how much representation has been missing from the fashion world for so long.
Article continues below advertisement
You can't overstate the importance of representation. Seeing people who look like you, whether it's on screen or in ads for clothes, is validating on a level that you might not even recognize until it finally happens.
Article continues below advertisement
Cody Jacob, who's a singer-songwriter who promotes body positivity and queer inclusivity, told Bored Panda, "After a quick google search, I saw the official website launch. Initially, I thought how incredibly t was to see not only a big dude but a big black dude being represented that way.
"I found myself honestly staring at his image, realizing, 'Oh my God, he literally looks just like me. That's what my body looks like."
Article continues below advertisement
He continued, "To foster a strong sense of community via inclusivity, compassion, empathy, and patience (just like Savage X Fenty did), it enables people to feel implored to go out and either buy products they otherwise wouldn't or go forward with the knowledge that their bodies are now, in some way, being represented." Not to mention, models of all sizes are way more representative of the real world!
Article continues below advertisement
Cody believes that Rihanna's fashion line is a "culture change and the beginning of something much larger than a singular movement, and, I think, everyone seeing a massive platform like Rihanna be the catalyst for it was just incredible."
Article continues below advertisement
Rihanna just proved that it's so easy to make clothes that fit all types of bodies, to advertise those clothes using models that look like real people, and to do it fiercely and unapologetically. Her models are gorgeous and aspirational in every single way, and so many more people will now feel like these clothes are actually for them.
There is no question that people want to see this kind of diversity and representation in fashion. Rihanna's just one of the only ones who has actually stood up and actually done it.