Yes, Rob Schneider's Wife Is Nearly the Same Age as His Oldest Daughter
Rob Schneider's family is the center of his Netflix comedy special and his life, starting with his wife, Patricia Maya Schneider. Get to know them.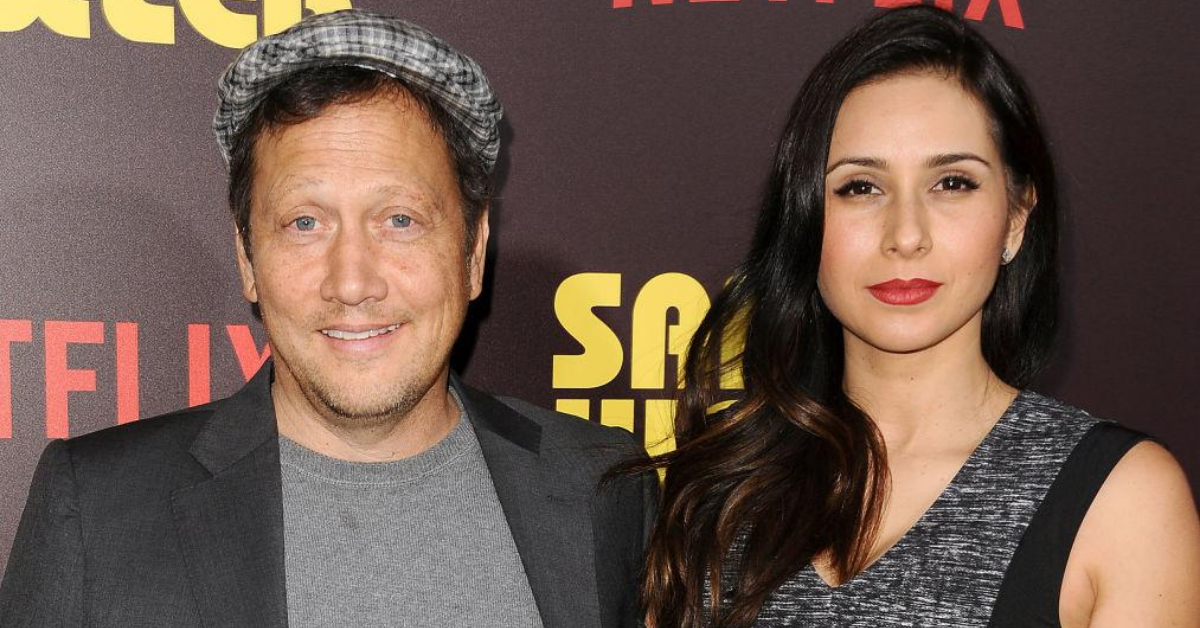 World-famous funnyman Rob Schneider's first-ever Netflix special is about to drop on Aug. 11, proving the frontliner actor and comedian has still got it after decades in the business.
The 57-year-old is a Saturday Night Live alum with a long list of credentials, including being part of Adam Sandler's high-profile posse.
Article continues below advertisement
And actually, some of his biggest films to date are produced by Adam's production company, Happy Madison Production, including Deuce Bigalow: Male Gigolo, The Hot Chick, Grandma's Boy, and Grown Ups.
Rob's 2020 releases are also Happy Madison — The Wrong Missy and Hubie Halloween.
Rob Schneider: Asian Momma, Mexican Kids offers a glimpse into his personal life, with a heavy focus on his family.
Article continues below advertisement
Meet Rob Schneider's wife and kids.
Rob's wife is Patricia Azarcoya Schneider — also known as Patricia Maya Schneider — a model turned TV producer and actress. After meeting on set and dating for six years, the couple was married back in 2011 in a private Beverly Hills ceremony.
The stunning 32-year-old is from Mérida, Mexico and has worked on numerous Mexican productions and Spanish television shows, from El Monchis and CuentameLove to Que Show con Alejandra Bogue and Guerra De Chistes.
Patricia is of Filipino descent, and together, the couple became parents of two daughters; 8-year-old Miranda, and 3-year-old Madeline.
Rob is also dad to 31-year-old Tanner Elle Schneider, who's better known as singer Elle King. Elle's mom is Rob's ex-wife, model London King.
Article continues below advertisement
Patricia is an avid chef, baker, and fitness enthusiast, which she shares heavily on social media.
She's also an avid philanthropist, supporting causes including Penny Lanes, which helps families and veterans facing homelessness, as well as The San Fernando Valley Refugee Children Center.
Article continues below advertisement
Patricia co-wrote a Netflix series with Rob.
You may recognize Patricia as the leading lady in the Netflix sitcom Real Rob, which she co-wrote with her husband and calls her first American acting gig.
The show was a scripted comedy with Rob's stand-up performances, and ran for two seasons from 2015 to 2017.
Real Rob centered on the Schneider family dynamics and their Hollywood lifestyle, with mostly lighthearted subject matters, but also some heavier ones like the toll that fame can take on families.
"I didn't want to be safe, because it's more exciting as a performer to be fearless, and to let my guard down more than I have ever done," Rob shared with Hollywood Reporter. "I mean my wife and I might never do another season. I don't know."
Article continues below advertisement
The 'Asian Momma' in his Netflix special is his own mom, Pilar.
It's clear from his Netflix special title that Rob's culture and heritage play a big role in his life, and so does Patricia's.
Rob's mom, Pilar Monroe, is half Filipino. His father, Marvin Schneider, was Ashkenazi Jewish, with family reportedly from Poland and Russia.
Pilar has appeared in several of Rob's films, including Deuce Bigalow: Male Gigolo, The Animal, and The Hot Chick. She was also in Restoration in 2016.
Best of luck on the new Netflix special to Rob and family.