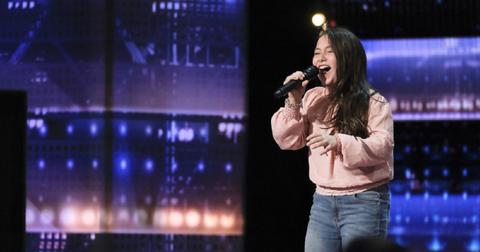 Roberta Battaglia Is a 10-Year-Old Superstar on 'America's Got Talent'
By Joseph Allen

Updated
On the second night of America's Got Talent auditions, the show added another major contender to its mix. Roberta Battaglia, a 10-year-old singer with major vocal chops, got herself a golden buzzer from first-time judge Sofia Vergara after singing "Shallow" by Bradley Cooper and Lady Gaga. Before she sang, though, Roberta got a minor case of stage fright.
Roberta Battaglia from 'America's Got Talent' got her singing chops from her father.
In the interview that aired before her audition, Roberta explained that she had gotten her singing talent from her father. He couldn't be there for the audition, but Roberta explained that he works as an engineer at a radio station, and the two of them have been performing together since she was just 3. Her mother, who accompanied her to the audition, said she doesn't have any of that singing talent.
Roberta had a brief case of stage fright.
After getting on stage and preparing to perform, Roberta gushed over the judges and took a second to compose herself. Simon Cowell, realizing that she was a bit nervous, offered her some water. Host Terry Crews then popped onto the stage to give her a drink, and Roberta was off for the races. As soon as she started singing, all of the nerves she was feeling beforehand seemed to disappear entirely.
Roberta turned the judges' heads with her voice.
As she performed, all four of the show's judges seemed amazed, and they only confirmed that after she finished. Simon joked that there must have been someone behind her singing for her, and remarked on the fact that she couldn't believe how humble she was given her talent. He said that she must have good friends, and Roberta said she did, but she was also bullied sometimes.
Simon said that the best way to shut bullies up is by being talented and successful, and added that bullies are often threatened by people like Roberta who are so clearly amazing. He then turned things over to Sofia, who really blew Roberta's mind when she pushed her golden buzzer. She said she didn't think anyone would bully Roberta after that.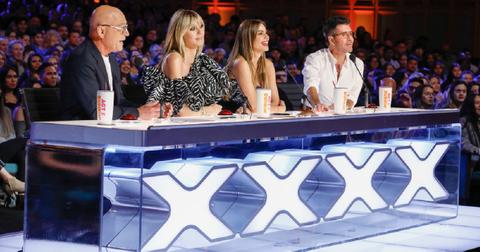 Roberta lost it after Sofia pushed the button.
Roberta, who had already confessed that being on America's Got Talent was her dream, totally lost it after Sofia pushed her golden buzzer, guaranteeing Roberta a spot in the next round of the competition. After getting a hug from her mother, she was then approached by Sofia, who gave her a hug as well. Given the strength of her performance, Sofia probably didn't waste that buzzer. We'll be seeing much more of the young phenom in the weeks ahead.
The second night of auditions also featured a number of other great acts.
Although Roberta's golden buzzer grab was the night's highlight, America's Got Talent's second night of auditions also featured a number of other winning performances. There were other singers, including some that were very young, as well as a dog act, a pair of salsa dancers, and a dancer who can move his body in totally unusual ways. There's plenty of talent to be had, even in the show's 15th year.