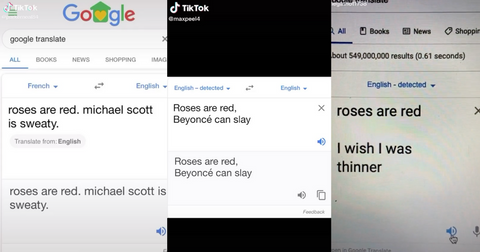 Everyone Can Be a Poet With the 'Roses Are Red' TikTok Challenge
By Katie Garrity

Updated
With many of us deep into another month of stay-at-home orders and quarantine, the social media app, TikTok, has been a huge distraction for people who want to escape the scary idea of an unknown future and the mundane nature of our everyday lives since we can't go anywhere.
TikTok users come up with new challenges and trends pretty much daily to keep things interesting on the app and help escape the boredom. Some of them are so weird and outrageous but some of them are pretty funny, like the Album Cover Challenge, to help give us all a laugh during this crazy time. What's better than a new TikTok challenge while we're waiting for the all-clear to resume a normal life?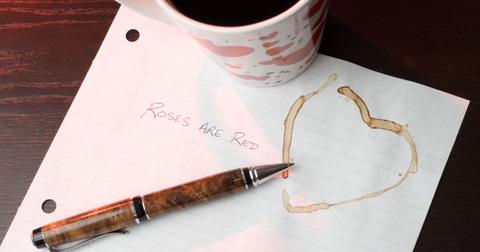 One of the latest and funniest trends to come from TikTok is the 'Roses are Red' Challenge. It's pretty random and bizarre, but so open-ended and creative that we have no doubt the genius content creators on TikTok will make the most of it. The hashtag #rosesarered already has over 214 million views with TikTok even recognizing it as a trend and captioning the hashtag, "Fancy yourself as a poet? Now's your time to share…"
The 'Roses are Red' Challenge combines poetry, meme culture, and Google Translate.
In order to start doing the 'Roses are Red' Challenge, you really just need to make up a rhyme and know a great meme. First, type, "Roses are red" and a second line that will rhyme with whatever meme you're going to play at the end of the video into Google Translate.
A perfect example is one of the original TikTok videos that started this trend. Google Translate says, "Roses are red / my favorite cheese is brie" and the video cuts to the famous clip from Disney's High School Musical where the basketball coach says, "What the heck are those two doing in a tree?"
The trend is actually a revival from Twitter.
In 2015 and 2016, the 'Roses are Red' trend took over Twitter. The original trend took the "Roses are red/violets are blue" couplet and made poetry by adding a rhyming headline or video caption. The TikTok version took it one step further and evolved the concept by taking the Google Translate TikTok meme from late last year.
A more recent type of this meme on Twitter is using the phrase "roses are red / violets are blue" and then following it up with a random screengrab of a headline or a YouTube video title that completes the rhyme and serves as the punchline.
'The Office' has become a popular punchline for this challenge.
There are countless TikTok videos that are included in the 'Roses are Red' Challenge that uses Michael Scott, Dwight Shrute, and the rest of the gang from Dunder-Mifflin as a punchline for the end of their TikTok.
Some of the best include Google Translate reciting, "roses are red / michael scott is sweaty" with a cut to a clip of fan-favorite, Kevin Malone saying, "How about some spaghetti?" in an Italian accent.