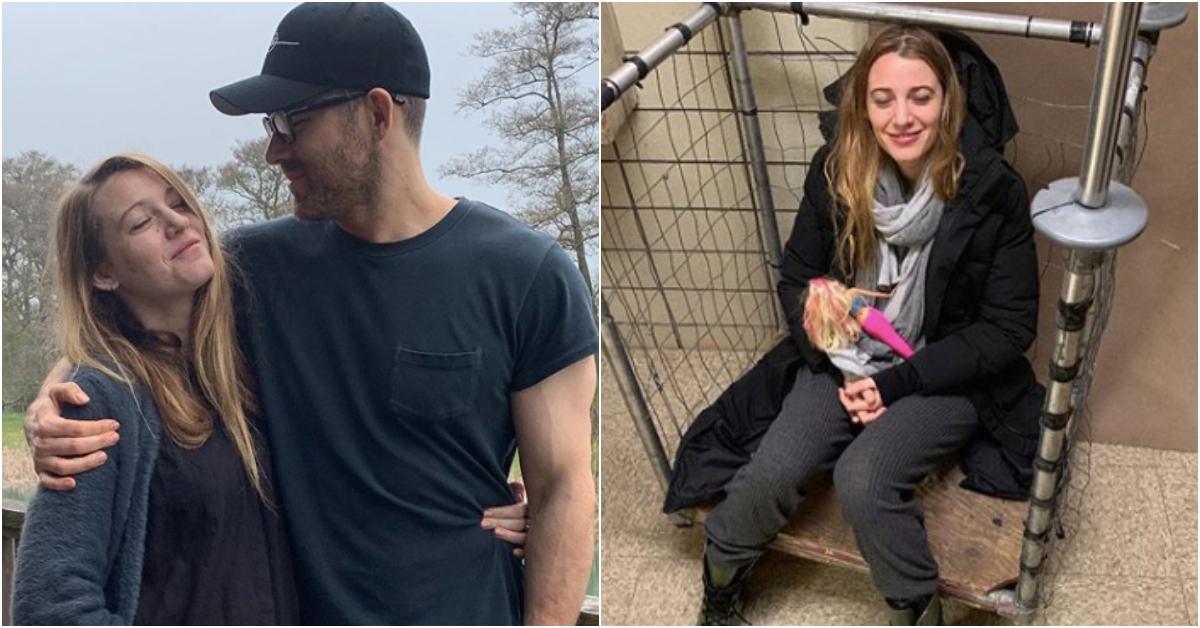 Ryan Reynolds Outdoes Himself With Unflattering Pics of Blake Lively on Her Birthday
Ryan Reynolds and Blake Lively are adorable, beautiful, #couplegoals, and all that. But they're also hilarious and constantly troll each other on social media, which sets them apart from other gorgeous Hollywood pairs. Whether Blake is roasting Ryan's baking skills or Ryan is cropping Blake out of photos to honor her on her birthday, they're always having fun at the expense of each other, and it's the best.
For Blake's birthday this year, Blake probably wishes her husband cropped her out of these unflattering, hilarious photos. But alas, he did not.
Article continues below advertisement
"Now, this is a cute picture of the two of them," you probably think when you see number one in the carousel. His caption on Instagram is very simply, "Happy birthday, @blakelively." "Is Ryan Reynolds getting soft?" you think. "Has he stopped roasting his wife on her birthday? Maybe this will be a genuinely lovely post." But then you keep scrolling.
Blake Lively is one of the most gorgeous people on the planet, so it stands to reason that even when she's smiling goofily and has her eyes closed in photos, she still looks amazing. Coincidentally, Ryan seems to look pretty great in all these photos he chose to share...
Article continues below advertisement
By the third photo, it becomes super clear that this is another classic Ryan Reynolds troll job. I'm just glad Blake Lively has a sense of humor about it all and can hit back just as hard. On Ryan's birthday one year, Blake posted a picture of Ryan Gosling pointing toward a cropped out Ryan Reynolds. "Happy birthday, baby," she wrote on the picture of her not-husband.
Article continues below advertisement
I think every tired mom can relate to this photo of Blake. It's weird; in these photos that are supposed to be unflattering, she kind of just looks really normal and relatable. As one commenter wrote, "There are no bad photos of Blake Lively." But like, wait until the last one.
Article continues below advertisement
Who is taking these photos in such a way that Ryan looks like a model giving a smoldering look and Blake looks like she's on the move? Also, just for the record, I believe that's not a real city hall but a movie set on a studio lot.
Article continues below advertisement
They're cute even when they're blurry! It's just not fair. One time, when a tabloid spread a rumor that there was trouble in paradise and that their relationships was on the rocks because of their hectic schedules, Ryan quashed that rumor with a joke: "I wish," he wrote on Twitter. "I could use a little 'me time.'"
Article continues below advertisement
Was Blake dressed as Dorothy here? Is that Toto in her basket? We may never know. This, of course, isn't so much unflattering as it is out-of-focus. Even out of focus, Blake is stunning. And her husband isn't too bad either.
Article continues below advertisement
What a sweet pic! I wonder if this is at their house up in Westchester. Fun fact: That's where I grew up, and I hear that sometimes, Ryan and Blake can be spotted at King Kone, the best ice cream place ever, which happens to be in my town.
Article continues below advertisement
Do you think Ryan purposely took this silly photo? It's clear he's the photographer for this couple selfie. Somehow, he's in focus and looking fine, and Blake doesn't even look like herself!
Article continues below advertisement
Now, this. This is the best one. While there is no bad photo of Blake Lively, this one comes the closest. It's hilarious. It looks like it was taken the moment after she was hit in the face with a beach ball. I love it so much. Ugh, this pair! We should all be so lucky to have a love like Ryan Reynolds and Blake Lively's.