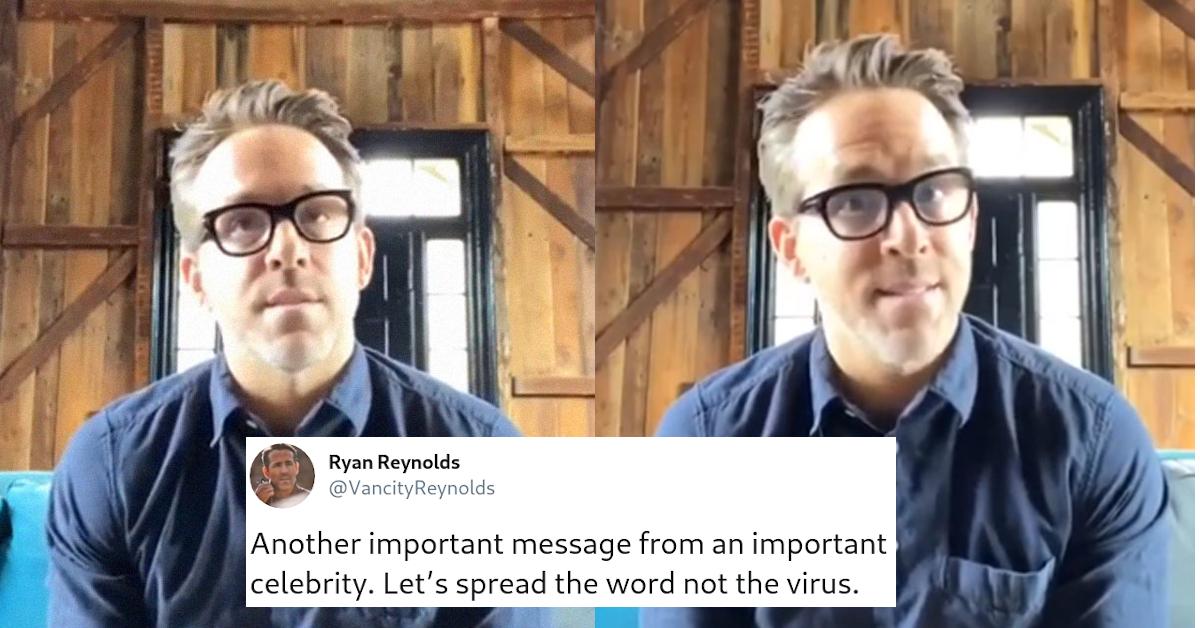 Ryan Reynolds Hilariously Trolls Fellow Celebs in Coronavirus PSA
Ryan Reynolds was asked by Justin Trudeau to urge people to stay home to help stop COVID-19 from spreading, so he did.
In addition to a killer acting career with a resume of performances that range from blockbuster hits like Deadpool, Detective Pikachu, and Safe House, to dramatic gems like Mississippi Grind and Woman in Gold, Ryan Reynolds is also a pretty darn good businessman.
His Aviation Gin is one of the best-reviewed Gins in the world and Mint Mobile, his MVNO prepaid mobile phone service, is a hit with customers for its more-than-fair pricing structure.
Article continues below advertisement
Mint's also received a lot of praise for its business practices in the wake of the COVID-19 outbreak, providing free unlimited high-speed data service to all of its customers through April 14th, 2020.
In fact, Ryan's been pretty on the ball when it comes to keeping people's spirits up during this whole pandemic and has donated, along with spouse Blake Lively, $1 million to food banks in Canada and America to help families who are experiencing financial hardship at this time.
The actor recently posted a PSA in his trademark sarcastic fashion, reminding folks to practice social distancing, washing their hands, and, as much as it stinks, just staying put at home for the most part. In the video, he poked a playful job at celebrities in general while urging his fellow Canadians to stay indoors.
Article continues below advertisement
"In times of crisis, I think we all know it's the celebrities we count on most. They're the ones who are gonna get us through this. Right after healthcare workers, first responders, people working essential services, ping-pong players, mannequins, childhood imaginary friends, like 400 other types of people."
I'd say that celebrities are definitely above mannequins, but childhood imaginary friends are tough to beat. I mean, they have powers.
Article continues below advertisement
His Instagram video received more than 4.4 million views and he asked comedian Seth Rogen and musician Steven Page to offer up some PSA videos of their own.
And they obliged. Seth uploaded the following clip, and it's pretty darn funny even before you click on it. The caption reads, "When @vancityreynolds asks you to help stop the spread of disease, you legally have to say yes because he's friends with the Prime Minister."
Article continues below advertisement
He also tagged Shawn Mendes, Lilly Singh, and Jay Baruchel in his post.
Steven Page obliged as well, writing, "I've been told by @vancityreynolds that only celebrities can save us now. And still he nominated me to post this message!" along with his video, while nominating Tom Green, Jason Priestly, and Brent Butt at the same time.
Article continues below advertisement
While Seth's Prime Minister joke was hilarious, there's actually some truth to what he said. Justin Trudeau personally asked Ryan to help spread awareness of safe practices so people can help stop the spread of COVID-19,
The PM recently urged denizens to start taking the threat seriously: "You all think you're invincible. You're not. Enough is enough. Go home and stay home." He issued the warning from Rideau Cottage, where he is isolating himself.
Article continues below advertisement
Folks loved Ryan's message and even told Seth Rogen that he's earned honorary Canadian status. Others used it as an opportunity to politely rib Ryan for his Green Lantern role, while others just appreciated his trademark humor.
Article continues below advertisement
The best way to prevent contracting or spreading coronavirus is with thorough hand washing and social distancing. If you feel you may be experiencing symptoms of coronavirus, which include persistent cough (usually dry), fever, shortness of breath, and fatigue, please call your doctor before going to get tested. For comprehensive resources and updates, visit the CDC website. If you are experiencing anxiety about the virus, seek out mental health support from your provider or visit NAMI.org.