Sacha Baron Cohen Trolls Alt-Right Rally With Racist "Wuhan Flu" Song
Sacha Baron Cohen trolled Alt-Righters during a rally with a "Wuhan Flu" sing-a-long and went about the whole thing brilliantly.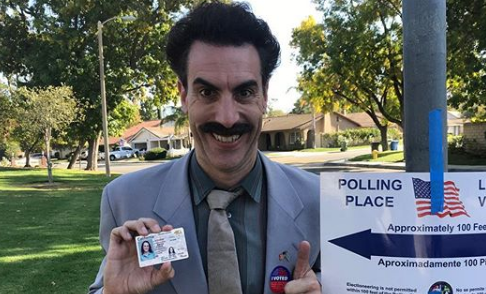 When it comes to "infiltration comedy", there really isn't anyone who does it better than Sacha Baron Cohen. The comedian's penchant for creating characters and going deep undercover to highlight people's stupidity on camera is almost other-worldly. And his recent appearance at an alt-right rally that featured a sing-a-long, continues his legacy.
Article continues below advertisement
Sacha Baron Cohen managed to secure a spot at an event in Olympia, Washington.
The "March For Our Rights" rally had some 500 attendees at Heritage Park. The annual event, which began in 2018 as a direct response to the anti-gun, March For Our Lives demonstration, was primarily founded by individuals who lean extremely right. In fact, the pro-firearms demonstration is believed to be comprised of primarily of "Three Percenters."
They are defined as "an American far-right militia movement and paramilitary group. The group advocates gun ownership rights and resistance to the U.S. federal government's involvement in local affairs."
Sacha Baron Cohen recently made headlines with his politically themed lampoon fest, Who is America, which featured several key politicians, who were predominantly right-wing, that he managed to mire in ridiculous situation after ridiculous situation.
Article continues below advertisement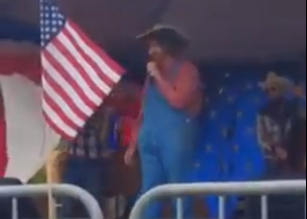 Sacha Baron Cohen's sing-a-long got attendees spouting some controversial lyrics.
His song implored those in attendance to attack left-leaning individuals along with CNN, Hillary Clinton, Dr. Fauci, Bill Gates, Barack Obama, and the World Health Organization.
He even went after "mask wearers" and said they should be injected with "Wuhan Flu" or that they should be chopped up "like the Saudis do."
Article continues below advertisement
So how did Sacha even make it to the stage? Well that has a lot to do with his ability to pull the wool over his subjects' eyes. Even though he had made an appearance disguised as an interviewer after taking the stage, he was able to ensure no one could bar him from taking the podium. How he did it is trademark Sacha.
Article continues below advertisement
An organizer for the "March For Our Rights 3" event says they have received a sizable, last-minute donation from the state of California, and as part of that donation, someone would be slotted to take the podium. A pay-to-play type situation.
This person taking the podium was, of course, Sacha, and his team had brought along their own security detail to stop anyone from pulling the plug as he delivered his song.
He dressed up like an old-school gold prospector and his character is something straight out of Da Ali G Show. He was able to deliver the entire 8-minute performance without interruption, and after leaving the stage, things get even better.
Article continues below advertisement
He slipped on yet another disguise and many believe he is the camera man who recorded the interview given directly after his performance. An eagle-eyed Twitter user spotted someone who is clearly Sacha Baron Cohen in a wig and beard.
Article continues below advertisement
The guy is the best at what he does. Seriously.