Dad Gets Full-Sized Candy for Halloween, Disappointed When No Trick-Or-Treaters Show Up
A woman recorded her disappointed dad who got full-size candy bars for trick or treaters on Halloween, but no one showed up.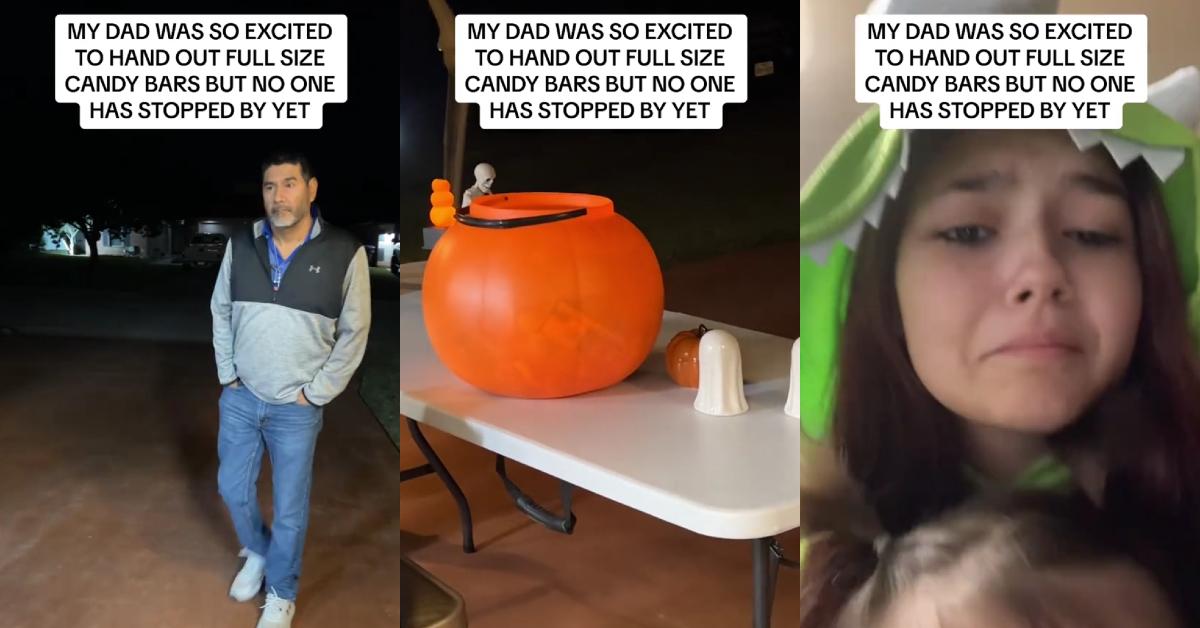 There are some undeniable Halloween wins that almost all trick-or-treaters can agree upon. If you're a bit older, then you may've recalled the old-school houses in the neighborhood handing out the liqueur-filled chocolates meant as a special treat for mom and dad to help take the edge off of wrangling a bunch of hyperactive kids as they run from door to door in search of their next sweet treat.
Article continues below advertisement
And kids have plenty of wins: you've got the houses that hand out multiple pieces of candy, and when it comes down to the day-after trades with your friends and classmates, you'll be lucky if you have a pal who actually likes those gross orange circus marshmallow peanuts so you can swap them for something that's actually edible.
What's probably the biggest score on Halloween, however, is the house that decides to go all out and get full-sized candy bars. We're talking about the Halloween celebrators who head on over to a bulk-retailer and outfit their home like they're stocking a convenience store filled with goods.
Article continues below advertisement
These spots are a diamond-in-the-rough, but like a rare jewel, if no one is there to claim it, can anyone appreciate its beauty?
Sadly, that's what happened to the father of TikTok user @taybrela, who recorded her forlorn father who appeared absolutely gutted by the fact that no one was coming out for trick-or-treating in the neighborhood on the night of Halloween.
Article continues below advertisement
In a viral video that's garnered over 7 million views on the widely used social media app, @taybrel recorded her father waiting outside of their home, scanning the sidewalks for potential trick-or-treaters.
He looks to the camera, seemingly disappointed that the night seemed pretty thin and devoid of kids. She writes in a text overlay of the clip: "MY DAD WAS SO EXCITED TO HAND OUT FULL SIZE CANDY BARS BUT NO ONE HAS STOPPED BY YET"
Article continues below advertisement
She focuses the camera on his set up: a folding table with spooky decor along with a giant, orange Jack-o-Lantern bowl that was presumably filled with the full size candy bars he was excited to hand out to trick-or-treaters.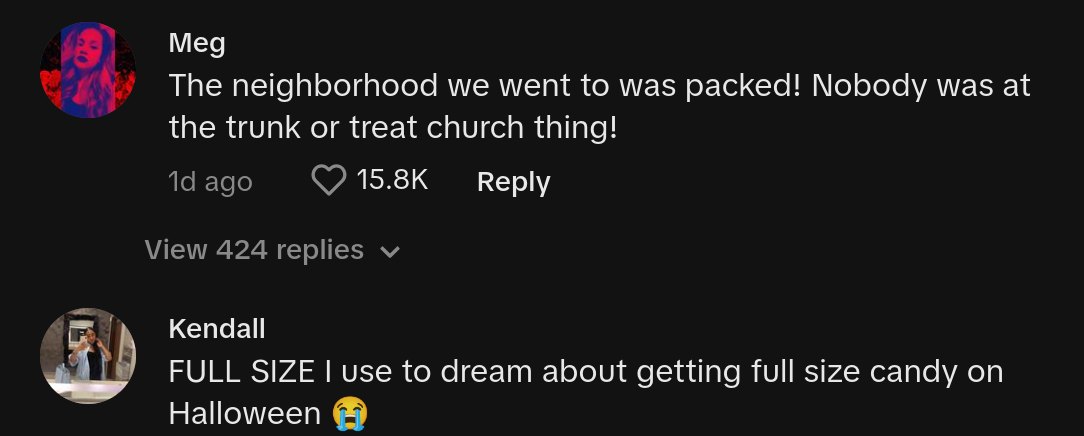 Article continues below advertisement
The TikToker added in a caption for her post: "bring your kids by," and there were numerous commenters who responded to her video who said that they felt his pain through the internet.
"The fact he's disappointed:( he's a good man with a big heart," one person said.
Another viewer wrote that they believed the practice of going door to door for candy is pretty much dying these days: "I've tried to take my little man door to door and no one hands out candy anymore...trunk or treat is the Halloween norm now because of this!"
Article continues below advertisement
This was a sentiment echoed by someone else who wrote: "Tbh nothing feels festive anymore after growing up I remember when i was little streets was filled with tricker treaters an decorations but getting"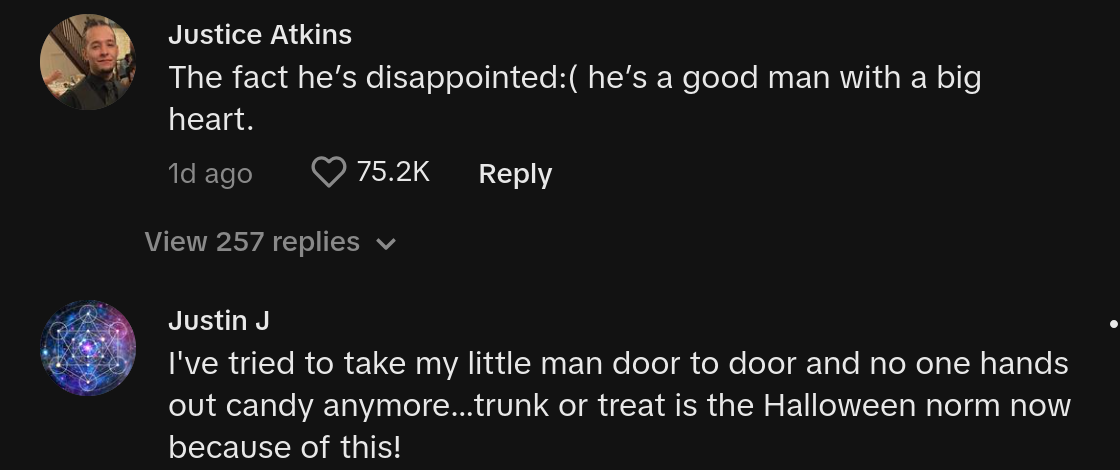 Article continues below advertisement
According to another TikTok user, however, the festivity surrounding Halloween seems to be contingent upon whatever neighborhood one is gallivanting across at any given time: "The neighborhood we went to was packed! Nobody was at the trunk or treat church thing!"
In a follow-up clip, @taybrel gave a little more context to her initial TikTok: "Okay I did not expect that video to blow up or get as many comments as it did."
Article continues below advertisement
She says although the turnout wasn't huge, there were some people who did come by: "He did get about 20 trick-or-treaters, but that's okay he has a lot of grand babies to get all the candy so he's thankful for that but it would make his day if you guys wanted to follow him he wants to go live but you need a thousand followers, which he doesn't have. So I'm gonna tag him below and if you guys want to make his day that would be great."
Article continues below advertisement
It looks like her clip worked, as a number of people headed to his account, which, as of this writing, has over 10,000 followers as a result of her post.
And it looked like he was pretty happy with the way things turned out as he posted a TikTok of him dancing while calling his daughter the best in the world.
Article continues below advertisement
He also updated his followers on his night, confirming that he did receive around 20-25 trick-or-treaters he was able to hand out full-sized candy bars to, adding that when he was a kid he came up with a scheme to maximize his candy-earning potential: by heading over to people's houses the day after Halloween, ringing folks' doorbells and saying "trick or treat leftovers."
Kenny said that the idea worked like a charm and he ended up with a ton of goodies as a result of folks going all out on Halloween and not getting as many trick-or-treaters that they thought they would. Look at this man, continuing to stay in the Halloween spirit even after the night is over.