Spotify Users Want to Know: What Just Happened to "Safaera"?
Fans of Bad Bunny were in for a rough surprise when they opened up Spotify on May 14. What happened to "Safaera" and why was it removed?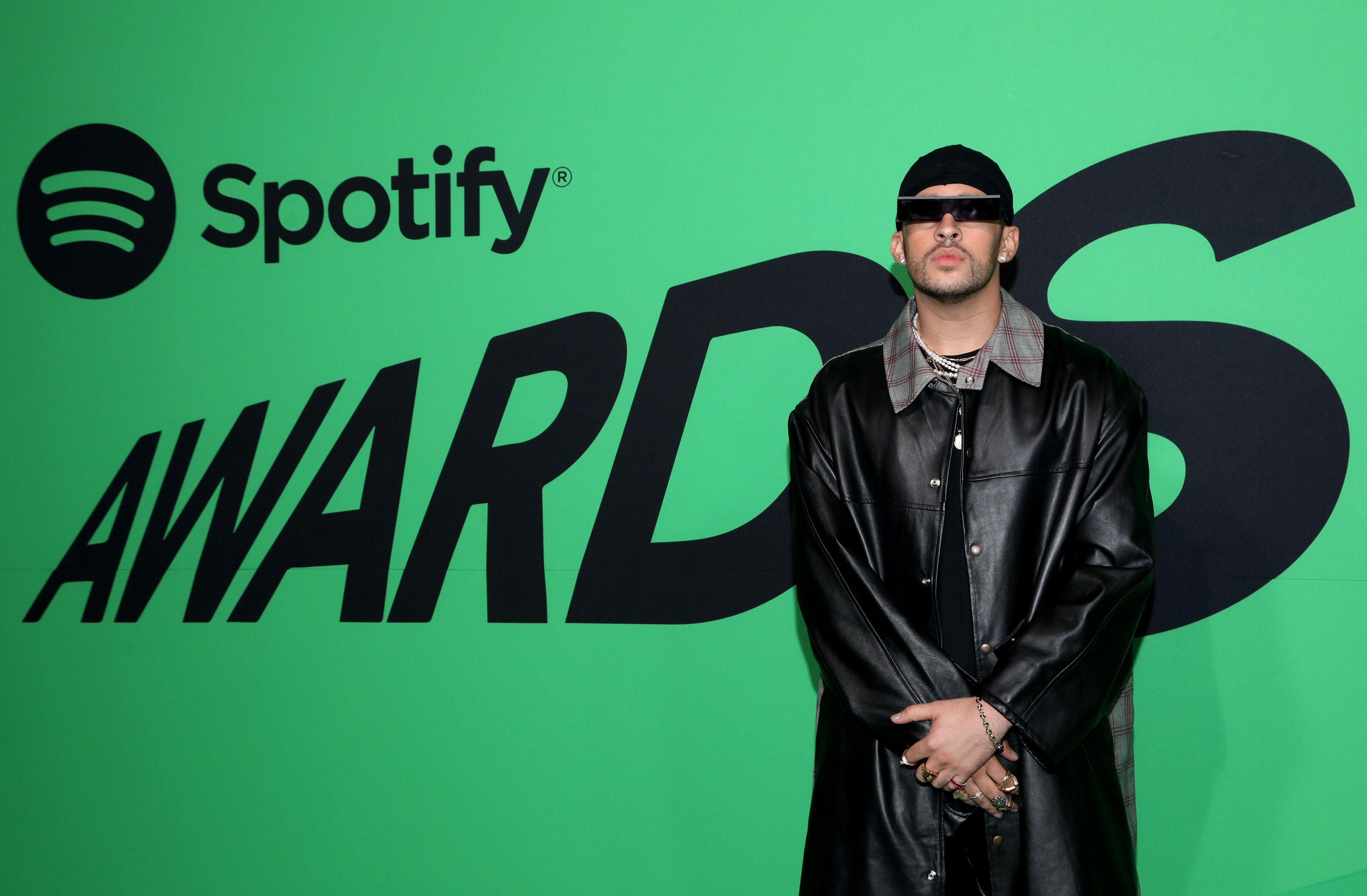 For fans of Bad Bunny, Thursday, May 14 has been shaping up to be a rough day. Although the rapper's "Safaera" has been around and available for purchase and streaming since Feb. 28, 2020, fans couldn't help but notice that the listing suddenly was removed from Spotify. And to say that they were disappointed is a pretty big understatement.
Article continues below advertisement
Fans are pretty furious with Spotify for removing Bad Bunny's "Safaera".
Bad Bunny fans came out in droves to tell Spotify that they really need to get the song back on the platform ASAP. The backlash was to the point that many users were threatening to leave the app altogether in favor of another music streaming service, like Apple Music, which does, as of now, still contain the hit song.

Article continues below advertisement
Other fans announced their intention to buy the song on iTunes, since it's difficult to know if streaming platforms will always have the rights to the song. Which brings us to a very important question in regards to the song's removal.
Why was "Safaera" removed in the first place?
One rumor spread across the internet that the song was removed because it was too explicit. The rumor got so powerful that posts were made on Spotify's Community page condemning them for removing explicit content — especially considering that in this case they'd have removed one very explicit song despite having thousands of others on their platform.
Article continues below advertisement
Which is why this theory doesn't really seem likely. In fact, Spotify is pretty clear on that it's up to the user to determine whether something is too explicit for them, not up to Spotify. On their Support page, they acknowledge that their app contains explicit content and that they mark it as such, based on information they receive from the person who holds the rights to the song.
Article continues below advertisement
In fact, they detail a way you can block explicit content on your own account, but they make no mention of they themselves removing content that's "too explicit".
Article continues below advertisement
Twitter user @kittycoello seemed to have gotten to the bottom of the real reason the song was removed. She tweeted a conversation she claims to have had with a Spotify support representative. According to the post, the representative claimed that "there are some permission issues with the rights holders of that song. It might be grayed out now but it might reappear in soon. We're just waiting for any progress between the record label and the artist."
The theory that it's a rights issue holds a lot more water than it being too explicit. Artists themselves can request to have their music taken down, as can a record label. Disputes between Spotify and record labels or artists honestly happen pretty often. It's not too uncommon to open up the app and discover a song has gone missing. It's also not uncommon for the song to pop back in later on. Remember when Taylor Swift took down her entire music collection on Spotify?
Article continues below advertisement
As of now, neither Bad Bunny or Spotify have publicly commented on the removal of "Safaera".
Article continues below advertisement
Spotify's support Twitter account, @SpotifyCares, has been directing users with complaints to a support page that reads: "We want all the world's music and podcasts on Spotify, but availability can vary over time and between countries, depending on the permissions from rights holders. We add new content to Spotify every day, so if you can't find something you're looking for right now, it may appear (or reappear) soon."
This seems to suggest that it is indeed a rights issue, not an explicit content issue.