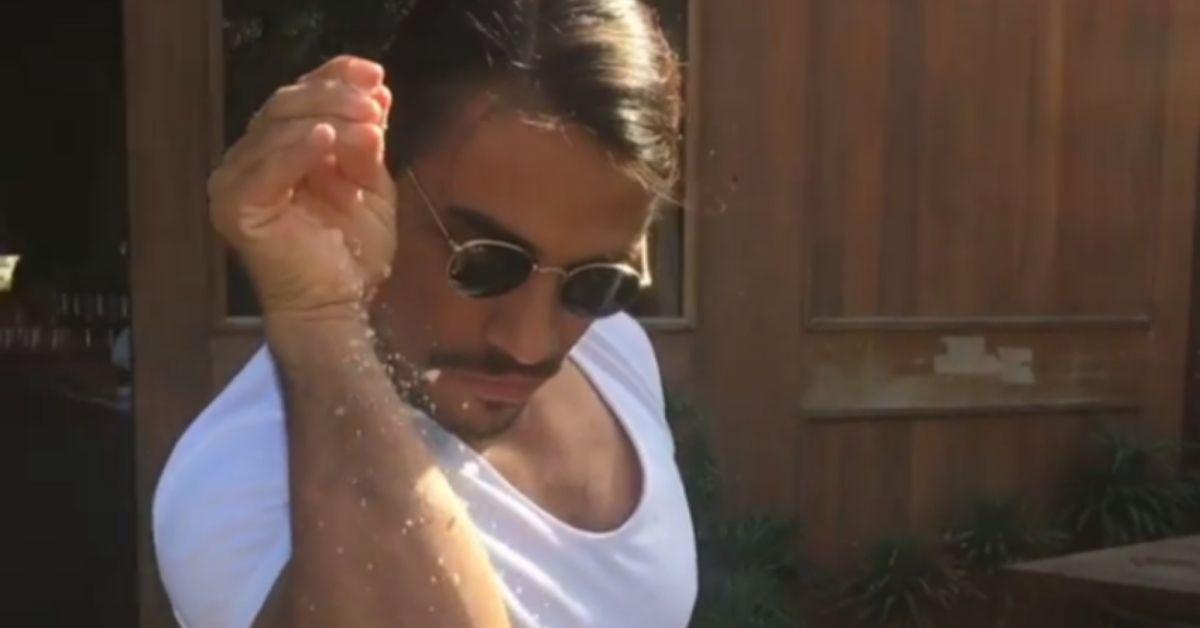 Here's Why Salt Bae's Boston Restaurant Was Abruptly Closed
Officials have asked business owners and the general public to be mindful of the guidelines, rules, and restrictions put into place while the pandemic wages on. Businesses have had to be creative and innovative in finding ways to stay in business while being careful about COVID-19, but unfortunately, not everyone has been. And that's why Salt Bae's restaurant is in trouble, and it was abruptly shut down.
Article continues below advertisement
Salt Bae's restaurant, Nusr-Et Boston, has been a popular destination.
Salt Bae, whose real name is Nusret Gökçe, is a Turkish butcher and chef, who first went viral in January 2017. His viral status was achieved after his restaurant's official Twitter and Instagram account posted a video titled "Ottoman Steak." Over 10 million views were achieved after a clip of the video was posted to Instagram and he was coined as "Salt Bae" over how he sprinkled salt on the meat.
Article continues below advertisement
Because of his viral status, his restaurant, Nusr-Et Boston, located in Boston, has expanded in popularity rapidly. His restaurant saw huge traffic including politicians and celebrities who came from all over the world to see him.
After COVID-19 hit, most restaurants had to close, including Nusret's.
The coronavirus caused the temporary closing of many restaurants in Boston in an attempt to reduce the spread of the virus. Salt Bae's restaurant was closed also due to the pandemic but in September 2020, Nusret was hyping up and teasing the opening for several weeks before he finally opened the doors to Nusr-Et Boston on Sept. 18, 2020.
Article continues below advertisement
However, issues started presenting on opening night, according to the Boston Globe. On the same night, the steakhouse was written up on Boston 311, with opening night diners saying "many tables were only 3ft apart" and "there were 20-30 people standing around the host stand taking selfies and socializing without masks on."
The restaurant was issued a violation by a city inspector who visited Nusr-Et Boston, citing "the long line of patrons" were huddled and there was a "failure to social distance."
Article continues below advertisement
Salt Bae's restaurant was abruptly shut down on Sept. 28, 2020.
Just over a week after the restaurant reopened, after several violations were cited by the city, TMZ reported Nusret's Nusr-Et Boston was shut down for endangering his customers when it comes to COVID-19.
Salt Bae is now going to have to face the Licensing Board in two inspection hearings scheduled for Sept. 29 and the nail in the coffin, according to the publication, comes from two videos: one posted to the restaurant's official Instagram account, and the second, a viral TikTok video featuring a young woman twerking.
Article continues below advertisement
The first video shows a person walking through the crowds outside the restaurant, and it's clear people are not distancing from each other and not everyone is wearing a mask.
Article continues below advertisement
The second video shows a woman twerking at the restaurant, not wearing a face mask, and Salt Bae himself is seen recording her as well, also not wearing a mask. The video went viral on social media, with many users joking about the woman and her running away from a man who appears to chase after her and curses at her for dancing (which is really not funny). The video is linked in the tweet below, but please be warned, it may be upsetting to some viewers and contains graphic language.
A recent update from a different angle shows that the man was verbally abusing another woman and he doesn't not appear to actually interact with the woman who is twerking. Nonetheless, again, the video may be upsetting to some so please view with caution.
These videos were enough evidence for the Boston officials to shut down the restaurant due to COVID-19 guideline violations. At this time, it remains unknown when the restaurant may open again.