Racist 'Dilbert' Creator Scott Adams Sure Has Some Weird Dating Advice
Since 1989, the comic strip Dilbert has been brought into the homes of Americans via a subscription to the newspaper of their choice. What began as the bizarre musings of a strange man and his dog soon morphed into ridiculing the doldrums of life at the office. Its messaging hit so close to home, it even inspired movies like Office Space which painted an eerily similar picture of the 9-to-5 existence.
Article continues below advertisement
Recently, Dilbert creator Scott Adams went on a racist rant on YouTube where he called Black Americans a "hate group" and even suggested white people "get the hell away from them." Since then, several publications have dropped his comic. To make matters worse, Adams's posts on his YouTube channel have grown increasingly far right with no end in sight. But that's not all; he also has dating advice. Let's get into what Scott Adams has to say about dating.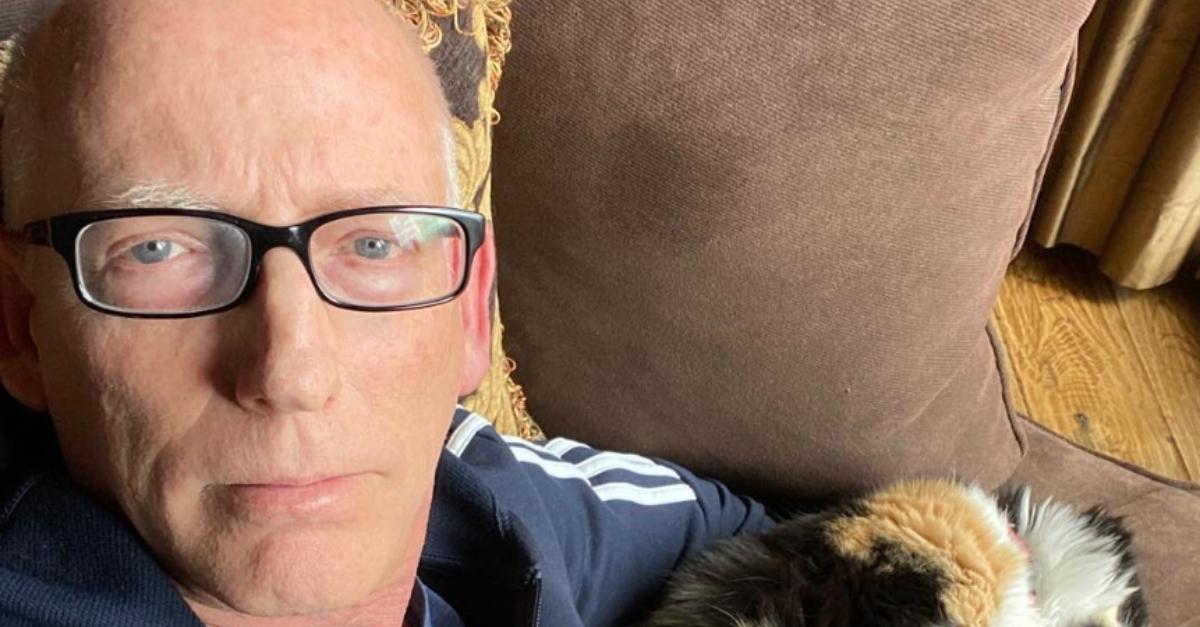 Article continues below advertisement
'Dilbert' creator Scott Adams has dating advice for anyone who is desperate.
While guesting on the YouTube Channel BrainOnFire in July 2019, Adams was inexplicably asked about dating. First, he pointed out that being famous and rich changed how he dates. He no longer needed to try as hard once he made it big. Secondly, Adams says there is no such thing as a soulmate. "The people in your environment are perfectly acceptable for falling in love with," he said. "Don't wait for your soulmate. There's probably one nearby."
His next piece of advice involves making babies. "I believe ... we are biological entities that are primarily involved with reproduction." He goes on to say that all of our dating choices are driven by our innate desire to mate and procreate. One example Adams drops is the need to earn money as a means to make one more attractive to a potential partner.
Article continues below advertisement
His suggestion: Be the best at something in order to find a partner. This is strangely insulting as it disregards the idea of bettering one's self for their own mental health. It smacks of evolutionary biology which is deeply problematic. Adams says becoming very good at one thing will activate another person's "irrational attraction" to you. That's what we all want, irrational attraction!
And finally, Adams says "wear better shoes."
Article continues below advertisement
Scott Adams was previously married to Shelly Miles and Kristina Basham.
According to a 2006 piece in the East Bay Times, a then-49-year-old Adams married then-37-year-old Shelly Miles "aboard the Galaxy Commodore yacht in the San Francisco Bay on July 22 in a ceremony conducted by the ship's captain." The two met at ClubSport in Pleasanton, Calif., where "she was working and I was working out," he told the publication.
Soon after, he hired her for various administrative tasks and proposed in November 2005. He became a stepfather to her two children, one of whom later died of a drug overdose in 2018. That was four years after Adams and Shelly divorced. She "moved only a block away and we remain best friends," said Adams in a blog post (via Psychology Today). "The problem was never our feelings for each other but rather the restrictions of blending two sets of preferences."
Article continues below advertisement
Six years later, Adams married Kristina Basham who, per her Instagram bio, plays piano and violin and is a commercial pilot, aerobatic pilot, and flight instructor. In March 2022 after a two-year marriage, Adams announced in a YouTube video that they were "separated slash going through a divorce."
Adams assured viewers he was only sharing this information in the event that these strangers see him or his ex-wife out on a date. Though Adams stated it was a "tough pandemic for some of us," many commenters speculated that it could have been their 31-year age difference that contributed to the divorce. He claims to not know why things ended though thoughts like that usually means the person is engaging very little accountability.