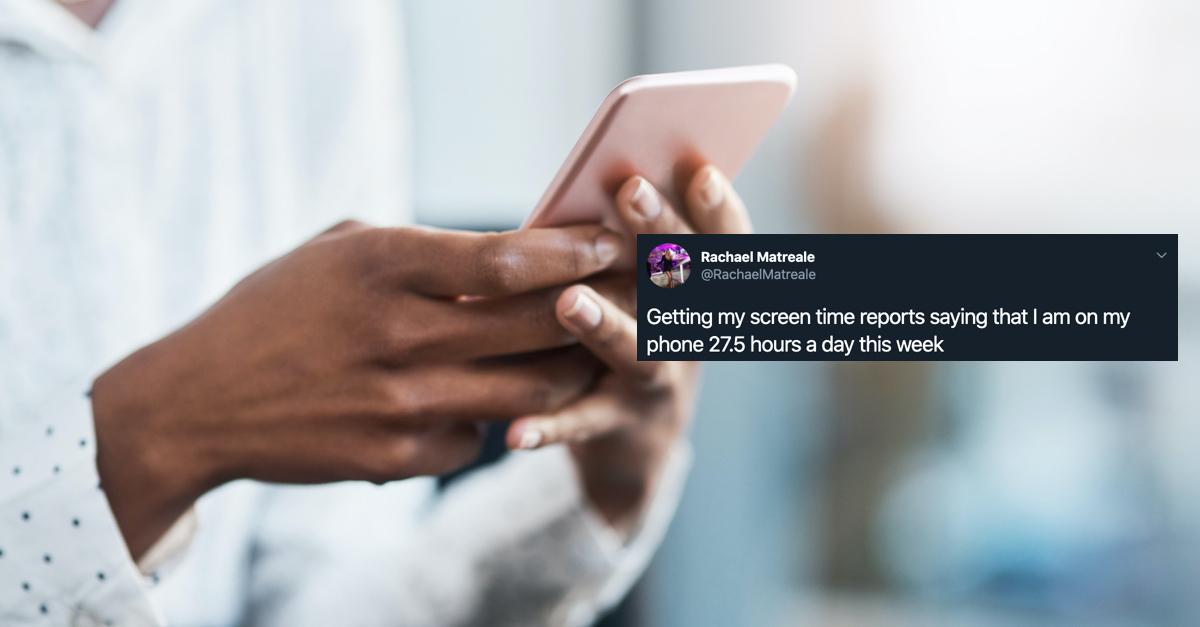 These Memes About Excessive Screen Time During Quarantine Are Too Relatable
Despite your plans to start painting again, read a few books, run three miles every day, and maybe even pick up a brand new hobby during the coronavirus quarantine, let's face it: you've probably spent a majority of your time in self-isolation scrolling through Instagram, Facebook, and Twitter.
Since we're all in this together High School Musical-style, however, I think we can unanimously relate to these memes about increased screen time reports. But fair warning: you'll feel so seen.
Article continues below advertisement
iPhone users always complain about screen time reports, but lately, the complaints have escalated.
Twitter user @_sian_roberts has a solid point here — Apple definitely doesn't need to attack us in this aggressive manner at this moment in time, and really, Steve Jobs never intended for this. Bottom line: leave us alone.
These reports give us the harrowing information that none of us needed.
If your average screen time doubled or even tripled during self-isolation, don't worry — you definitely aren't alone. If you're literally scrolling for over 10 hours a day like Twitter user @hausofgen, however, you may have a serious problem at hand. I'd get that checked out as soon as you can leave the house.
Article continues below advertisement
If your numbers went down, though, you probably deserve a reward. More screen time?
... Or maybe you just need a few more hours playing Temple Run. In reality, though, this definitely means that you have a few hours to catch up on, no?
Article continues below advertisement
If you're scrolling for more hours than there are in a day, though, we're straight-up impressed.
Apparently, @RachaelMatreale learned to defy the laws of time and space while self-isolating, and for that, we salute her. She's truly going above and beyond during this never-ending quarantine, more than any of us can fathom.
Article continues below advertisement
Let's be honest: you tried to do a workout video, but you ended up just watching the workout video.
You were definitely going to use some screen time for the sake of #Gains, but really, you're just eating Hot Cheetos while watching said video. And I guess that's OK.
Article continues below advertisement
Maybe you've found a way to fudge the system.
Joke's on you! I scroll through Instagram on my laptop... so that's something, right?
Article continues below advertisement
...Or you're fudging the system by using an Android.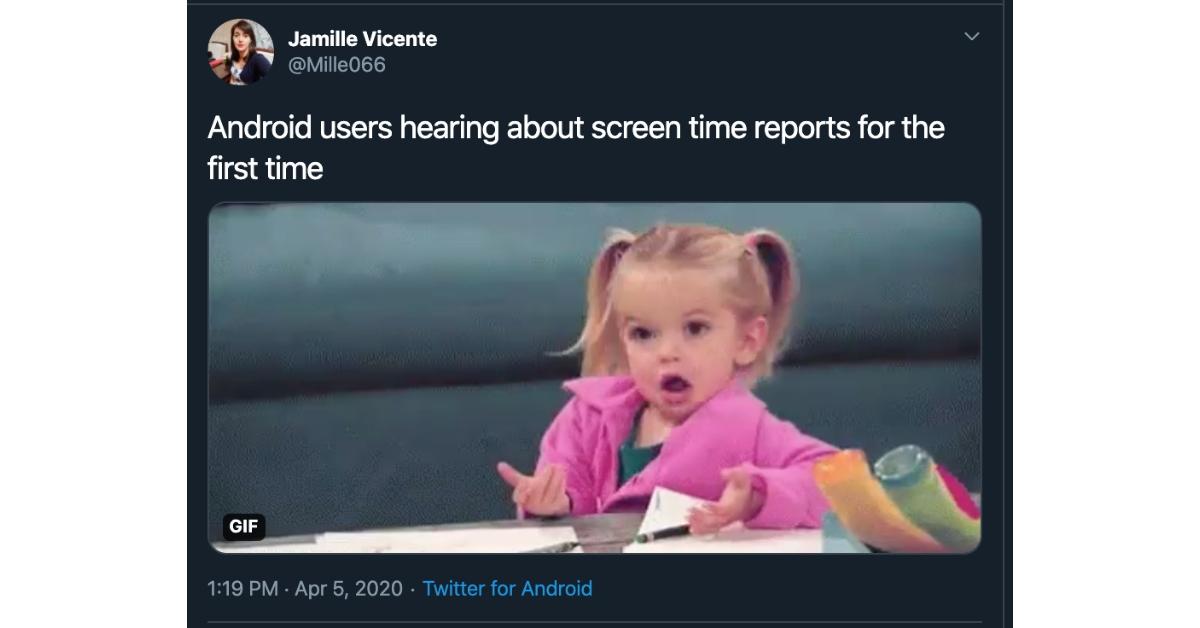 Twitter user @Mille066 is totally right... but hey, their text messages are still green so honestly, I'm not sure which I'd rather have.
Article continues below advertisement
Anyway, your phone is shaming you for these numbers, and maybe it's right.
Seriously, what are you doing on your phone all day? Can you still see after all of that blue light exposure? When push comes to shove, these numbers are honestly just horrifying. If your phone could talk, they would definitely scold you... or blink at you aggressively like this seriously applicable GIF.
Article continues below advertisement
Even though checking off absolutely everything from your quarantine to-do list would be stellar, don't feel pressured to be wildly productive during your time in self-isolation. Maybe don't spend half the day looking at Instagram, but let's be real: a little extra screen time won't kill you.