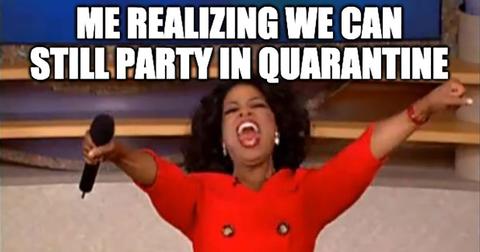 Coronavirus Birthday Memes That Will Make Your Celebration So Much Better
By Nakeisha Campbell

Updated
The coronavirus (COVID-19) outbreak has led to a lot of panic and chaos. People are fighting over toilet paper, hand sanitizers have vanished from store shelves, and coughing in public will get you enough side-eye to make you feel like you've got the plague. With all the uncertainty and fear that's lingering in the air, it's quite a time to be alive.
But on top of being bombarded with scary news updates round the clock, we've also been told to practice social distancing in order to limit the spread of this illness. Of course, we all understand that health and safety comes first, but we'd be lying if we didn't say that staying isolated is... a struggle. Which is why we can only imagine how this is affecting everyone who has birthdays in March and April.
These coronavirus birthday memes are sure to lift your spirits.
If you fall into this category and you've had to cancel birthday plans, trust us, we know how much it sucks. To help you escape those birthday blues, here are some memes to lift your spirits.
Get creative with corona-themed cakes!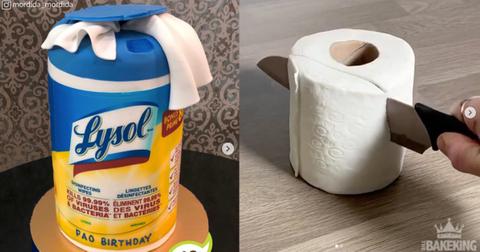 Okay, okay, fine. We know that everyone isn't a baking wizard (us included). But honestly, how cool and creative are these? Perhaps they can serve as inspiration for other corona-themed snacks that are way easier to make...
Don't be shy about inviting people virtually.
It's not the same as having everyone physically there, but it's pretty close! And you don't even need to have a dozen separate laptops to pull this one off.
Remember, you're not the only one who's going through a quarantine birthday.
When you're in isolation, boredom can sneak up on you like a Toyota Prius. On the bright side, alone time means that you're free to do absolutely anything you want.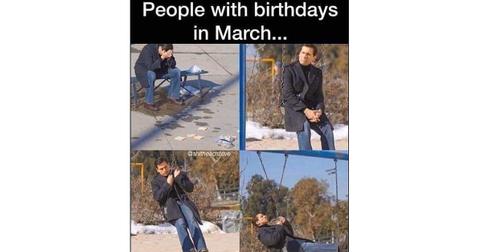 You get the freedom to eat all your snacks, binge-watch Game of Thrones, or take a peaceful stroll at the park. It's the perfect time to self-reflect!
Your birthday cake doesn't have to be fancy.
There's also no pressure to share your food or any of your cake. Even better, you don't have to worry about things like making your food look presentable. Although Cristina might beg to differ.
You can turn up at a dance party (in your own room).
You've got your party outfit, your quarantine snacks (which are probably half done by now...), and your social distancing playlist. Minus all the people. Sounds like a fun time if you ask us.
Quarantine birthdays mean more quality time with your reflection.
A more chill and quiet birthday could be as simple as sharing a drink (or meal!) with your own reflection. Options would be limited when it comes to finding the perfect spot, though...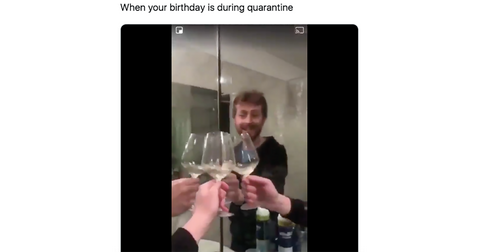 This guy took it to the next level by channeling Marvel's Multiple Man which, honestly, is pretty brilliant. Like, why not celebrate with multiple reflections of your awesome self?
They also mean you'll get some unique gifts.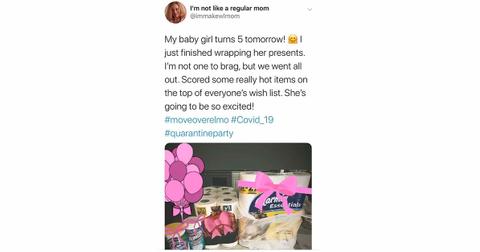 To be fair, these presents are pretty timely. And besides, it's the thought that counts. Anyone else excited to get toilet paper, disinfecting wipes and hand sanitizer for their birthday? No?
Lil Nas X knows the struggle.
On March 16, the rapper (who'll be celebrating his 21st birthday on April 9) tweeted: "Spending my birthday alone in quarantine and that's ok." Might as well make it feel like a huge party by blasting loud music!
March and April babies can still get creative with their celebrations.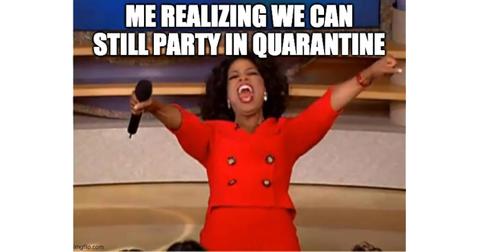 A virtual party could totally make up for the lack of in-person contact, whether it's through apps like Zoom, WhatsApp or Google Hangouts. It's not the same, but at least you'll at least get some facetime your besties.
The best way to prevent contracting or spreading coronavirus is thorough hand washing and social distancing. If you feel you may be experiencing symptoms of coronavirus, which include persistent cough (usually dry), fever, shortness of breath, and fatigue, please call your doctor before going to get tested. For comprehensive resources and updates, visit the CDC website. If you are experiencing anxiety about the virus, seek out mental health support from your provider or visit NAMI.org.