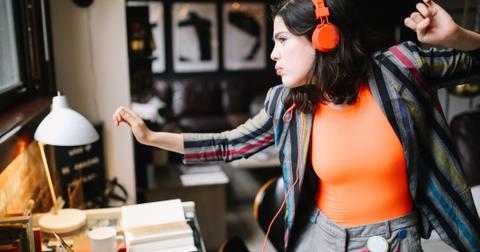 Rita Wilson Makes a 'Quarantunes' Playlist While Under Quarantine for the Coronavirus
By Jacqueline Gualtieri

Updated
It should come as no surprise to anyone that when Tom Hanks and Rita Wilson caught COVID-19, they would be the best among us to handle it. They're currently under quarantine, as anyone with the novel coronavirus should be. And they're doing just fine.
They even have a great sense of humor about it. Rita took to Twitter to ask her followers to help her make a list of "quarantunes" because, well, you need something to pass the time while in quarantine. Here are the best songs from the definitive social distancing playlist, as decided by Rita Wilson.
Quarantunes: Your Social Distancing Playlist
"Right Here Waiting" by Richard Marx
This is the song that you should send to anyone who asks to come over and quarantine and chill. Nope, we're not interested until this virus isn't a threat anymore. Until then, we'll be right here waiting for you!
"Lonely People" by America
A reminder for all of the lonely people stuck in their homes, feeling like life has passed you by. You'll be back to living it up one day, but we have to stay a little lonely to help all the other people, for now.
"So Far Away" by Carole King
You'll be back at their door one day, but, for now, please remain far away from others.
"All By Myself" by Eric Carmen
Anybody else think Rita has a twisted sense of humor? We're here for it, though.
"Locked Up" by Akon
If Rita is listening to this in quarantine, then we want to be in locked up with her. And yes, we understand that defeats the purpose of quarantine.
"Dancing With Myself" by Billy Idol
Is there a better song to jam out to while quarantined? We don't think so.
"I Wanna Be Sedated" by the Ramones
Nowhere to go? Better have an impromptu Ramones jam session!
"I Will Survive" by Gloria Gaynor
"Survivor" by Destiny's Child
We'll be singing/screaming this song while we watch the news.
"U Can't Touch This" by MC Hammer
Until further notice, we are now all required to sing this when someone comes within six feet of us.
"Don't Stand So Close To Me" by The Police
This is also acceptable to sing when someone tries to get in your personal space.
"Unwell" by Matchbox Twenty
"Making friends with shadows on my wall" is pretty much gonna be our lives for a while now.
"In The Air Tonight" by Phil Collins
Okay, this is a classic song, but we also want to use this time to address that, although it was previously reported that the coronavirus can't travel through the air, new studies suggest that it can stay in the air for up to three hours. So, you know, it actually can be "in the air tonight" and that's all the more reason to stay in your own home, away from others.
The best way to prevent contracting or spreading coronavirus is with thorough hand washing and social distancing. If you feel you may be experiencing symptoms of coronavirus, which include persistent cough (usually dry), fever, shortness of breath, and fatigue, please call your doctor before going to get tested. For comprehensive resources and updates, visit the CDC website. If you are experiencing anxiety about the virus, seek out mental health support from your provider or visit NAMI.org.
To listen to the rest of Rita's "Quarantunes", check out the full playlist on Spotify.