Does Vodka Kill the Coronavirus? Why Vodka Is Flying Off the Shelves
Vodka sales are sky high while corona favorability is dropping. But does vodka actually kill the coronavirus like some people believe?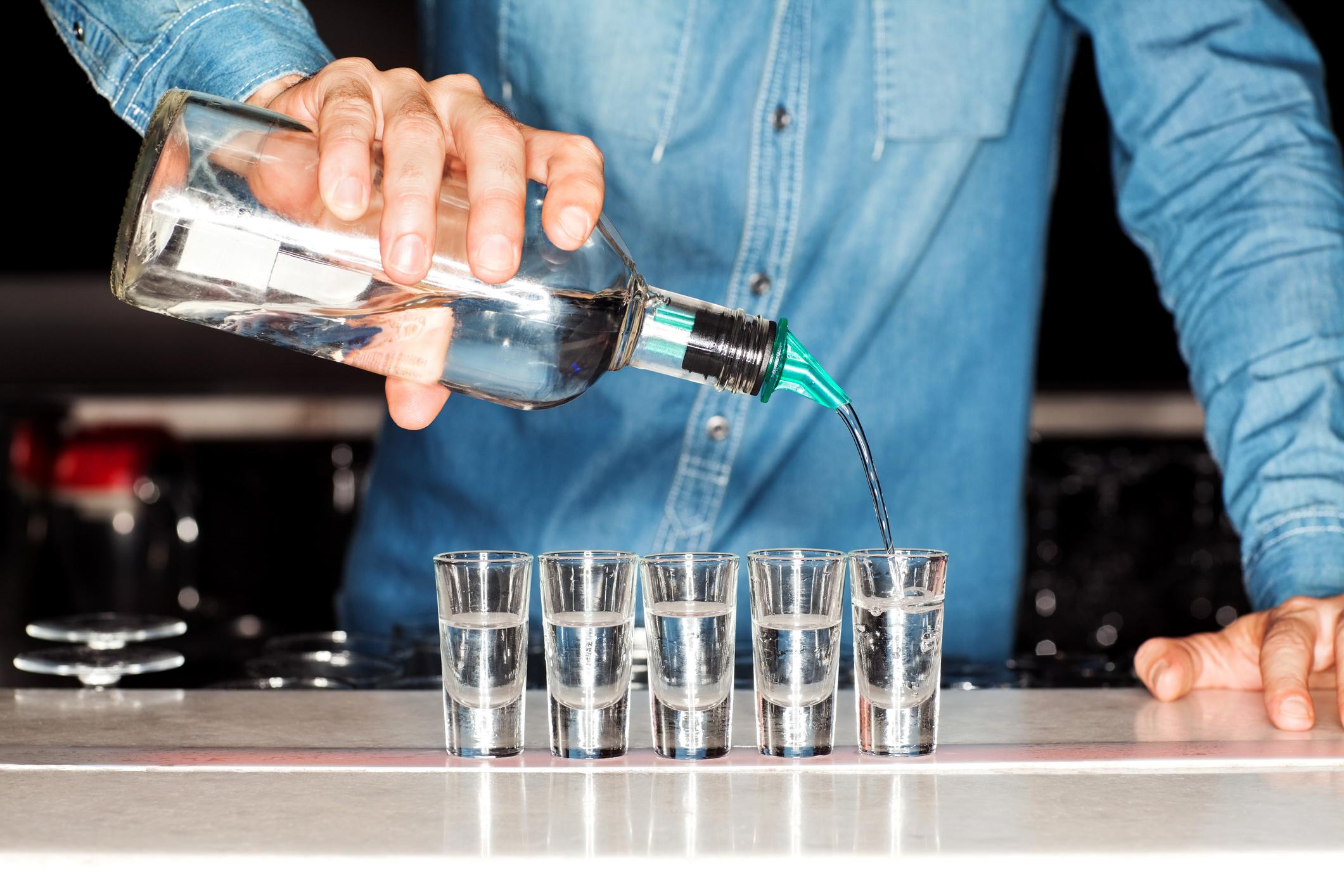 You know, as the coronavirus spreads, we've been talking a lot about the false information that TikTok has been spreading. From the scary (please don't drink bleach) to the downright stupid (please stop trying to use a water bottle as a face mask), TikTokers have been spreading lies left and right that can get people into a lot of trouble.
Article continues below advertisement
So much so that groups like the World Health Organization actually had to start posting on TikTok to address the horrifyingly bad advice being sold on the app.
But, to be fair, one rumor that's in serious need of debunking didn't come from TikTok. It came from reputable news sources. Publications like Good Housekeeping and USA Today are printing retractions and corrections after accidentally spreading information that vodka can be used to kill the coronavirus.
Article continues below advertisement
In particularly, Tito's Vodka was called out on a Twitter by fans of the brand saying that they'll now be using it to kill the virus. Enough people were tagging the brand and telling them about their intended use that Tito's spoke out, saying that, no, you can't use their vodka to kill the coronavirus. But will any other vodka work?
Does vodka kill the coronavirus?
With all the coronavirus panic, anybody who is currently taking a desperate shopping trip to Costco to buy hand sanitizer in bulk can probably turn right around. There's none left. Seriously, at this point even the ingredients to make your own hand sanitizer are basically sold out everywhere, because everyone keeps looking up how to make their own version of Purell.
Article continues below advertisement
And there inlies the problem. Because as the old saying goes, "Don't believe everything you read online." Sometimes, even news sources you trust get it wrong so it's always good to double check that something is a real thing. Online publications were using images of Tito's Vodka in their recipes for DIY hand sanitizer and the rumor that Tito's was the miracle virus killer spread throughout the Internet.
Article continues below advertisement
And, despite the fact that Tito's sales would have definitely skyrocketed because of this misunderstanding, they've been spending days addressing people who tag them online saying that they're about to make hand sanitizer to tell them, "Please, don't do that." They issued an official statement as well, addressing why their vodka is not going to help them fight coronavirus.
Why won't Tito's kill the coronavirus?
This whole debate goes back to another recent debate: Does hand sanitizer kill the coronavirus? And, like the question of whether or not vodka kills the virus, the answer is the same: Sort of.
Article continues below advertisement
You likely saw somewhere on your Twitter feed a rumor that hand sanitizer is just antibacterial. Since the coronavirus is a virus, there's nothing it can do to stop you from catching it. But that's not exactly true. Some hand sanitizers won't prevent the spread of viruses, but others will. And that comes down to the alcohol concentration.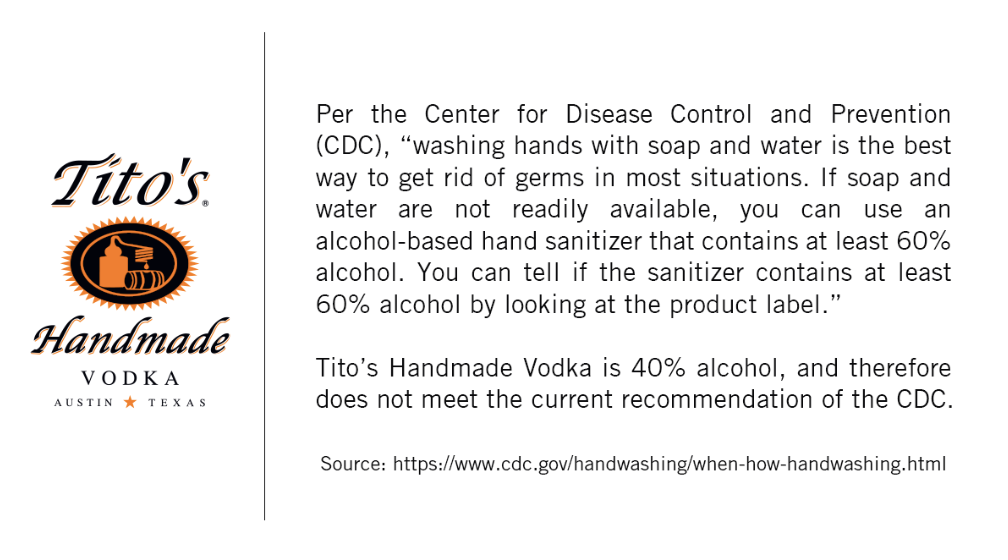 Article continues below advertisement
According to the CDC, hand sanitizers with "an alcohol concentration between 60–95% are more effective at killing germs than those with a lower alcohol concentration or non-alcohol-based hand sanitizers." So if you're using a hand sanitizer that contains a very low level of alcohol, you're not really doing anything helpful.
So what does that mean for vodka? Well, the same rules apply. Tito's is only 40 percent alcohol, which means its not effective in the prevention of the coronavirus. But that doesn't mean that you can just take a bottle of vodka with 60 alcohol and douse your hands in it. If you were to follow a recipe for hand sanitizer, you'd also be using aloe vera gel and that would diminish how much alcohol is actually in your mixture.
Article continues below advertisement
It's recommended that you only use something that is 180 proof, or 90 percent, alcohol. Which is A.) a lot of money and B.) still not as effective as just washing your hands. Seriously, wash your hands, hum the chorus of "Africa" by Toto, and be done with it.
The best way to prevent contracting or spreading coronavirus is with thorough hand washing and social distancing. If you feel you may be experiencing symptoms of coronavirus, which include persistent cough (usually dry), fever, shortness of breath, and fatigue, please call your doctor before going to get tested. For comprehensive resources and updates, visit the CDC website. If you are experiencing anxiety about the virus, seek out mental health support from your provider or visit NAMI.org.