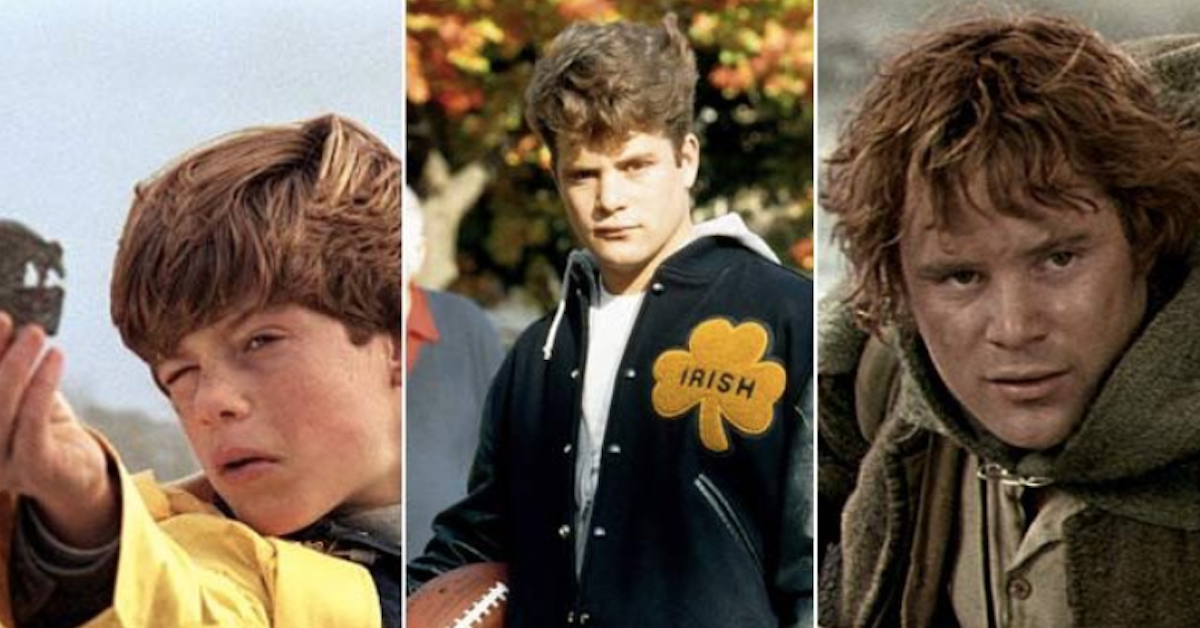 Sean Astin Went Viral for No Reason Other Than That He Is Delightful
When an actor starts trending on Twitter and they don't have a movie coming out, your first thought is probably, "Uh oh. What did they do?" or "Uh oh. Did they die?" I know that's what went through my brain when I saw Sean Astin's name on the list of Twitter's trending topics a couple days ago.
But when I hesitantly clicked to find out more, I was pleasantly surprised. Sean Astin, child actor (The Goonies) turned teen actor (Rudy) turned bonafide adult star (The Lord of the Rings, Stranger Things), was trending simply because he is delightful and people appreciate him.
Article continues below advertisement
It all started when one Twitter user posted these adorable pictures of Sean Astin swimming with otters.
I bet you didn't know you needed pictures of Sean Astin swimming with otters in your life. But you know now. They're adorable. Too cute. This tweet went totally viral and has amassed over 13,000 retweets and 91,000 likes. And not only that, but it also sparked an unofficial Sean Astin Appreciation Day on Twitter. Thanks to this tweet, he started trending in a big way.
However, many people took issue with the fact that the young'un who posted this tweet referred to Sean Astin as "Sean Astin from Stranger Things." Many people know Sean Astin as Bob from the second season of Stranger Things, Joyce's too-nice boyfriend who sacrifices himself at the end. But Sean Astin has been around for decades, and the internet was hell-bent on educating people on the extensive oeuvre of this prolific actor.
Article continues below advertisement
There is indeed a Sean Astin for every generation, starting in the '80s. The Goonies would not be the same without Sean Astin. Rudy pretty much is Sean Astin. And who can forget Samwise Gamgee? But these three iconic parts are not the only roles that Sean Astin has given us, and luckily, more tweets came pouring in to remind us.
Article continues below advertisement
Remember when Sean Astin donned mesh shirts, backward hats, and a lisp for 50 First Dates? He played Drew Barrymore's brother, who constantly worked out and barely had a neck. And he was hilarious! Encino Man, Toy Soldiers, White Water Summer, and so many more movies and TV shoes benefitted from the presence of this delightful dude.
Article continues below advertisement
Not to mention, he narrated Meerkat Manor! And he has had a prolific voice over career in addition to all those other roles. His IMDB bio describes him as an "actor, voice actor, screenwriter, director, producer, family man, author, marathon runner, political activist, and philanthropist." Is there anything this man can't do?
Article continues below advertisement
As more and more people started tweeting out their appreciation for Sean Astin, he began trending, and it only snowballed and resulted in more and more people bowing down to the great Samwise, the inimitable Bob Newby, the Sean Astin we've all always loved. Tributes like these often happen after a person has passed, but luckily, Sean Astin is still with us (and hopefully will be for a long time), so he and his family were able to feel the love and take part in the compliment-fest.
Article continues below advertisement
Sean's own daughter Ali Astin posted this adorable picture of her dad with her when she was a baby. He didn't change her diapers and raise her in a loving household to be reduced to his role in one Netflix TV show. Sean Astin is so many things to so many people. It's not every day that something so wholesome and pure happens on the internet, so I am glad that all of us, including Sean Astin, were around to witness this. He even responded to the craziness himself!
Article continues below advertisement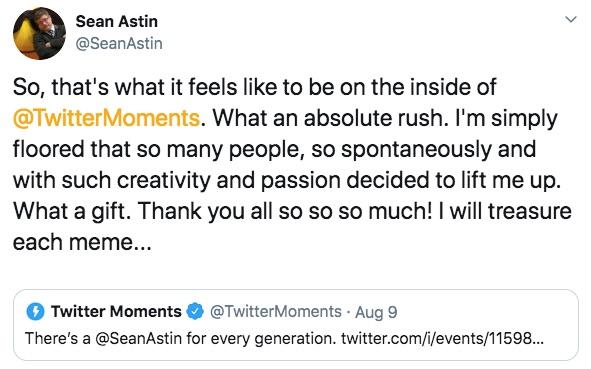 Sean Astin deserves all the love he is getting on the internet. He has given us so much. The least we can do is tell him how much we appreciate him in the form of tweets and memes. Samwise didn't follow Frodo all the way to Mordor saving his life multiple times along the way, Bob didn't sacrifice himself to the Demogorgon monster things, and Sean Astin didn't swim with otters and take adorable pictures for us to just shrug these magical occurrences off as minor things we deserve. We should celebrate the glory of good guys like Sean Astin and let them know how much their work means to us!